First batch of dead recluse's gold goes for $3.5 million
February 26, 2013 - 5:36 pm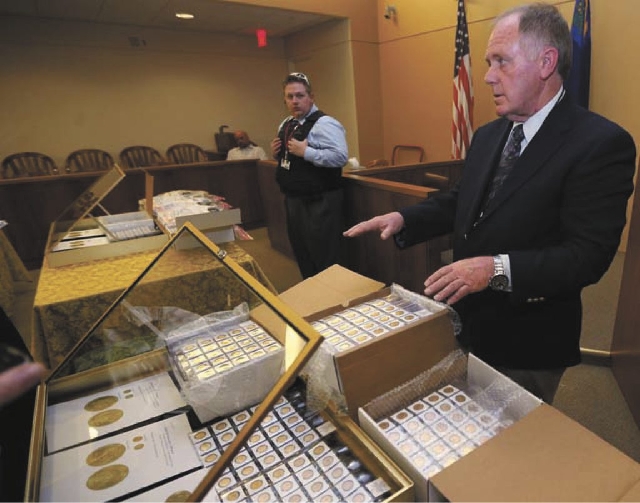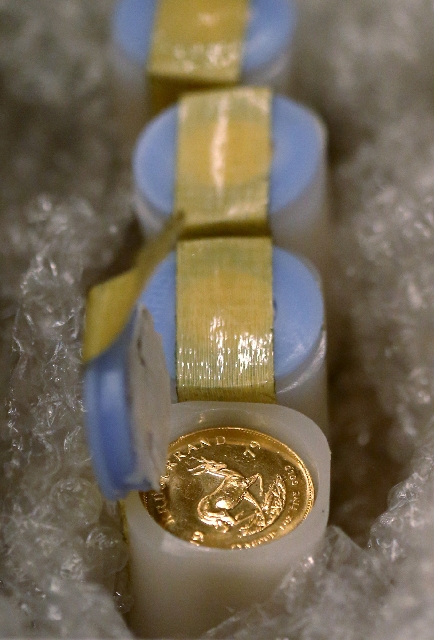 CARSON CITY — "I have a million. Who wants a million one? Now a million two. Anyone bid a million two?"
While six armed sheriff's deputies and bailiffs watched every move Tuesday, auctioneer John Selcer in a matter of minutes sold 2,186 ounces of gold coins for $3,540,500 that were found in the garage of local recluse Walter Samaszko Jr.
Samaszko, 69, died in May or June, but police did not find his body until neighbors called about the stench. Then on Aug. 1, Realtor Jeri Vine, hired by Carson City Clerk-Recorder Alan Glover to clean up the home for sale, found gold and gold bullion in boxes marked "books."
The Samaszko collection drew seven bidders, two District Court judges and appraiser Howard Herz, with Vine, Glover, a horde of press and at least three police officers decked out in riot gear.
Bidders paid $13,000 more for the coins than the current market value of $1,615 an ounce.
"It's a story," said Allen Rowe, the owner of Northern Nevada Coin, a coin shop directly across the old Carson City Mint, and shops in Reno and Minden. "These coins are part of a story that made national attention. Someone who lived so modestly stored these coins in his garage."
Some of the bids he made were on behalf of a coin dealer in Illinois.
Because of the story, Rowe expects to make a profit on his purchases.
But other bidders said the Samasko story is not that usual. One said many people distrust banks, and hordes of gold have been found in septic tanks.
Rowe said he will make some of the coins available at his businesses, and available online for other Nevada residents. He added it will be several months before he sells them off.
What was sold Tuesday were investor-grade coins, Canadian Maple Leafs, South African Krugerrands and Mexican pesos, not coins sought by collectors.
Glover in coming months will auction off the rest of Samaszko's coins. He and Herz said Samaszko was not a coin collector but kept the gold for investment purposes.
Herz, a coin dealer and author of books on gaming tokens, said none of the coins Samaszko owned carried the Carson City mint mark or had numismatic value. The Carson City mint was open from 1870-93 and now is the Nevada State Museum. A one-of-a-kind Carson City 1873 dime sold last year for $1.8 million.
Glover said Monday he decided to sell the coins in large lots because it was the quickest way to get rid of a large amount of coins. The Samaszko estate owes $800,000 in estate taxes to the Internal Revenue Service next month.
After taxes and sale costs are paid, the money will go to Arlene Magdanz, a substitute teacher in San Rafael, Calif.
She is Samaszko's only surviving cousin. Magdanz has never spoken to the media, apparently on the advice of her lawyers.
It is not even known whether she ever visited her cousin in Carson City.
Some of Samaszko's neighbors and his mail carrier had never seen him. One said he used to watch football games on TV with an elderly neighbor who died several years ago.
Samaszko's modest ranch home, a mile north of the Governor's Mansion, sold for $112,000, his 1968 Mustang for $12,000, saw for $10 and a bike for $2.
Vine said she doesn't regret her decision to report her discovery to Glover, rather than running away with the gold.
"I can live with myself. Of course I would be living a different lifestyle now. But I think God approves my decision."
Contact Capital Bureau Chief Ed Vogel at evogel@reviewjournal.com or 775-687-3901.