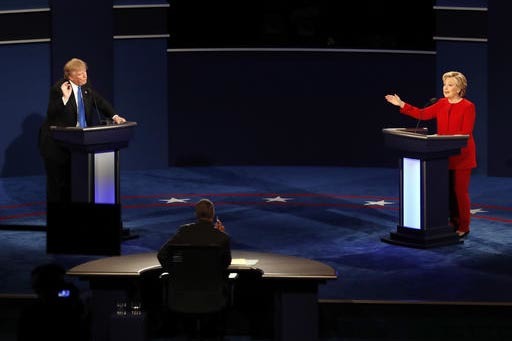 LOS ANGELES — Early Nielsen numbers show Monday night's presidential debate on track for a big total audience.
In early numbers, which will likely change when finals come in, NBC averaged 18.2 million viewers for coverage of the debate between Hillary Clinton and Donald Trump, followed by ABC with 13.5 million, CBS with 12.1 million, and Fox with 5 million.
On cable, Fox News drew 11.4 million total viewers, followed by CNN with 9.8 million, MSNBC with 4.9 million, Fox Business with 673,000, and CNBC with 520,000. Univision averaged 2.5 million for its debate coverage, and Telemundo averaged 1.8 million
That puts a rough count of total viewers thus far at 80.4 million. That number should climb when Nielsen releases final cross-network ratings later Tuesday that include final tallies for the broadcast and cable-news networks and includes the counts for PBS and C-SPAN.
When final numbers come in Clinton-Trump is almost certain to pass the 1980 debate between Jimmy Carter and Ronald Reagan as the most watched in history. That debate — the only one between the two candidates — drew 80.6 million total viewers. The most watched of the three presidential debates in 2012 between President Obama and Mitt Romney drew 67.2 million total viewers.
In the primetime hour ahead of the debate, CBS' freshman comedy "Kevin Can Wait" drew a 2.7 rating among adults 18-49 and 11 million viewers, according to Nielsen live-plus-same day numbers. That's up one tenth of a point in the demo and down less than 1% in viewers from last week's series premiere, despite following an episode of "The Big Bang Theory" that was down slightly from last week. "Kevin" likely benefited from starting a half hour before the debate, with viewers tuning in in search of or in preparation for the Clinton-Trump match-up.
"Big Bang" drew a 3.5, down 8% from last week's premiere, and 14.1 million viewers. "Dancing With the Stars" gained one tenth in the demo from last week on ABC with a 1.8 and 10.7 million viewers. NBC's "The Voice" was even with last week in the demo with a 3.3 and drew 12.1 million viewers. Fox's "Gotham" was down one tenth in the demo at 1.2 and drew 3.7 million viewers.
RELATED
Debate moderator Holt had his hands full with Trump, Clinton
Students gather at UNLV to watch presidential debate
Clinton, Trump both denied making statements that they are on the record as saying