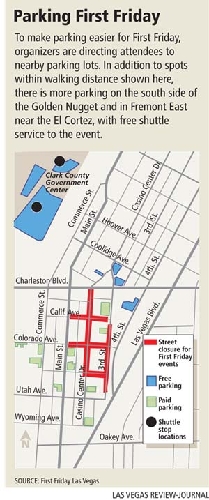 Ten years ago, Ana Robles was a college dropout living with her parents in Venice, Calif.
Robles had no way to know that in a blighted area of downtown Las Vegas three women were starting a monthly art walk called First Friday that would change her life.
But she's glad they did.
Robles, now 33, credits First Friday, created 10 years ago this month in the 18b Arts District, with providing the platform she needed to share her nascent artistic talent with the world.
Last year, Robles sold her first painting at a First Friday event, just months after picking up a brush to occupy herself after being laid off from a tech support call center.
"If I didn't have art, I would have been depressed," said Robles, a married mother of two girls who had been out of work for about a year when she began painting.
"I was already really sad. There was something missing for me to do as far as enriching me and having some joy in my life."
Robles' paintings, inspired by Dia de los Muertos, a Mexican celebration of the lives of the dead, not only gave her an outlet for creativity, they helped her family make ends meet during tough economic times.
Now Robles is a First Friday regular, and her daughter Luna, 7, has started to paint and will join her tonight at this month's event.
Life as an artist marks a big step forward for Robles, who said she had trouble finding fulfillment in Las Vegas before she started painting.
"It was pretty amazing as far as confidence goes," she said of the transformation. "For (the paintings) to all sell and people actually giving positive reactions, I felt like this enormous confidence boosting out of me."
an event transforms
Like Robles, First Friday has evolved in the past decade. It has grown from a few hundred people poking around downtown galleries to a major event that attracts as many as 20,000 people per month.
Whirlygig Inc., the group started by the founders to run First Friday, faced funding shortages and put the event on hiatus in August 2011. Shortly thereafter, an investor group led by Zappos CEO Tony Hsieh bought the First Friday trademark and took over the event.
The new buyers brought fresh energy to organizing, expanded the area of the event and seemingly turned a corner in March when they coordinated a Burning Man-style torching of a 20-foot wooden showgirl statue that attracted an estimated 20,000 people downtown.
But they still haven't solved the First Friday conundrum, a paradox similar to one faced by upstart Internet companies that put relevance ahead of revenue. That is, organizers need to find a way to turn a popular and cultural success into a self-sustaining economic venture.
"Everyone is happier with where we are and where we are going," said Joey Vanas, a friend of Hsieh's who helms day-to-day operations of First Friday LLC. "I'm sure everyone would be happier if it could pay for itself, especially me. It would be a huge weight lifted off my shoulders."
The conundrum is that the more successful First Friday becomes at attracting artists, audiences and vendors, the more it costs to produce.
Vanas knew going in that success would mean higher expenses with no guaranteed additional revenue.
"I told Tony financially this is a black hole, and it is going to get bigger, that's guaranteed," Vanas said. "If we really get behind it like we want to, it is going to get really expensive really fast."
It's a paradox the founders know all too well.
from a trip, an inspiration
Founder Cindy Funkhouser, working with Julie Brewer and Naomi Arin, launched First Friday in Las Vegas on Oct. 4, 2002, after a visit to Portland, Ore., which already had a similar event.
It attracted about 300 people who walked around the Arts District visiting galleries and small businesses that had agreed to stay open late.
"The goal was basically to give artists that didn't have other opportunities a place to show their work," Funkhouser said. "That was pretty much the only goal in mind."
In 2005, the night began to morph into a larger, street festival-style event.
By then, First Friday had attracted the attention of the city, led by arts-loving Mayor Oscar Goodman, whose mission in office was to revive downtown.
City revenue was on the rise then, and First Friday benefited.
"Early on in the first years, the city was doing very, very well with its revenue and gave the event very strong support," said Dick Geyer, president of the 18b Arts District neighborhood association and a Whirlygig board member.
But, as everyone in Las Vegas knows, the boom went bust. The city was forced to reduce financial support. City spending on First Friday peaked in 2007 at a little more than $208,000. It fell to less than $28,000 by 2011 and was bumped up to more than $37,000 for 2012.
The event remained a popular draw, though, and organizers worked hard to keep up with the cost of fencing, security and other infrastructure.
But by 2011 the expense was becoming too much for Whirlygig to bear. Costs were rising faster than Funkhouser and the others could cover, which contributed to the decision to call off the street party for a couple of months and re-evaluate.
"It definitely wasn't going to be happening anymore under the auspices of Whirlygig," Funkhouser said.
"Looking back, at times I would say it was overwhelming. I don't have any regrets, I'm really glad we did it, but I'm also glad we were able to pass it to a newer, younger group," Funkhouser said. "It needed structure to make it run and still does."
a lingering difficulty
Although the new organizers are drawing larger crowds, new artists and more cultural cachet to First Friday, they haven't solved the funding conundrum.
But they're trying.
This week they launched First Friday Foundation Las Vegas, a nonprofit organization that will operate parallel to First Friday LLC, the private company that runs the monthly event.
The foundation's purpose is to provide a vehicle to spread the First Friday culture beyond the monthly event. Its goals include providing support for local artists to continue working and living in Las Vegas.
Vanas, the foundation's executive director, said support may come in the form of commissioned work and also through providing a place for local companies to connect with artists, designers and other creative types.
"Creative services are here all around us. So why are people still in Las Vegas calling up their agency in New York to buy a bunch of media and do their creative work?" Vanas asked. "There is somebody who is right in their neighborhood who does that and does it well; they just might not have the connection to that person."
The foundation will be able to accept tax-deductible donations. Its website, www.ffflv.org, lists donor levels of $1 to $100,000.
On the event side, Vanas said organizers will continue working to improve the quality of the art and the overall First Friday experience.
First Friday hopes to deliver an audience companies want to reach so the event can attract top sponsors and cover expenses without charging visitors admission or making it too costly for artists and local vendors to participate.
"A huge part of this thing is participation and cooperation. It is the best opportunity for everyone downtown to cooperate on something," Vanas said. "We have got the food people out there, we have the artists we have the musicians, we have got everything."
One example of how they're trying to increase the value of sponsorship will be visible at this month's event.
The law firm Callister & Associates will display local art in a '70s-retro-decor space while its lawyers respond to legal questions from attendees.
It's an attempt to increase value by putting sponsors together with artists to build creative spaces for businesses to interact with the audience.
With 10 years behind it, Vanas said the organizers' goal is to stabilize the event for the long haul so more artists like Robles can find a muse and make living in Las Vegas.
"You have got to build the value first sometimes," he said. "It wasn't a two-year plan to begin with, it was a perpetuity plan."
Contact reporter Benjamin Spillman at bspillman@reviewjournal.com or 702-383-0285.