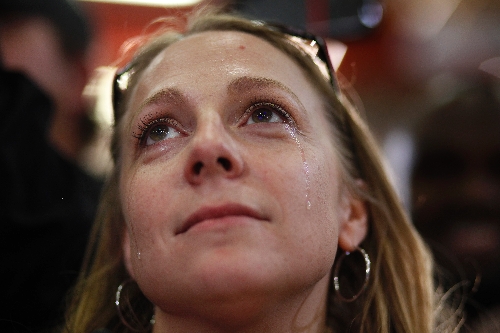 Campaigning in Las Vegas, first lady Michelle Obama told 1,000 supporters Friday that if President Barack Obama wins Nevada, he will be on his way to winning four more years in the White House.
She urged Obama backers at a rally to vote early at Boulevard Mall, across from Orr Middle School where she spoke, and then get neighbors, friends, cousins and old classmates to vote in the Nov. 6 election to ensure GOP challenger Mitt Romney doesn't win the battleground state.
"The folks in this room could swing an entire precinct for Barack," the first lady said, telling rally-goers her husband won Nevada by more than 120,000 votes four years ago, or an average of 69 votes per precinct. "When we win this state, we will be well on our way to putting Barack Obama in the White House for four more years."
The first lady also put in a word for other Democrats on the ballot, saying Obama needs their support in the House and Senate to continue his agenda and the nation's economic recovery.
She gave a shout out to Rep. Shelley Berkley, D-Nev., who attended the rally and needs an Obama boost to unseat U.S. Sen. Dean Heller, R-Nev., in their close Senate race.
"We need her. We need her," the first lady said to cheers from the Obama sign-waving crowd.
She also singled out three Democrats running for Congress: state Senate Majority Leader Steven Horsford, Assembly Speaker John Oceguera and former U.S. Rep. Dina Titus.
Horsford is running against Republican Danny Tarkanian for Nevada's newest house seat. Oceguera is trying to unseat Rep. Joe Heck. And Titus is facing long-shot Republican contender Chris Edwards.
Michelle Obama's fourth visit this year to Nevada came two days after the president rallied supporters in a late-night party at Doolittle Park. Romney and his running mate, Rep. Paul Ryan, R-Wis., also campaigned this week in Nevada as the Republican contenders battled for every vote in the close contest.
Romney and Ryan appeared together Tuesday in Henderson, and Romney campaigned alone in Reno on Wednesday.
While the first lady pumped up Democrats, Romney's son, Craig, rallied Republican volunteers Friday afternoon at two Team Nevada offices, including one in an Hispanic neighborhood.
Latinos are a key voting bloc in Nevada and made up 15 percent of the electorate in the past two elections. Polls show Obama leading Romney by as much as 50 percentage points among Hispanics.
"Feliz Dia de Nevada," Craig Romney said, wishing more than 100 supporters crammed into an East Las Vegas office a happy Nevada Day with the state turning 148 years old next week.
Craig Romney thanked volunteers for their work over the months in calling voters and walking door-to-door, and he urged them to work even harder in the final days of early voting and heading into the election.
"I thank you for everything you've done, and we need more," he said. "Are we going to win Nevada?"
"Yes!" yelled those gathered, cheering the youngest of Romney's five sons.
Craig Romney said he is campaigning to tell voters about the "softer side" of his father, including times he has helped friends and business partners in need. He told the story of when his father shut down his business for a few days to help his partner search for his missing daughter in New York City. They found her, near death from a drug overdose, after distributing photographs of the teenager on the city's streets.
"He's a man of tremendous character and experience," Craig Romney said.
Josh Romney, another son, planned to walk in the Nevada Day parade today in Carson City with actors Kelsey Grammer and John Ratzenberger of the "Cheers" sitcom and actor Jon Voight.
Michelle Obama, at the Las Vegas rally, made the case that her husband needs a second term to get the economy back on track, after inheriting a financial crash that nearly caused another Great Depression. She also said that as the father of two daughters and a man raised by his mother and grandmother, Barack Obama understands the need to protect women's equal rights, opportunities and control over their personal health decisions.
She said Obama will fight for the middle class because that's where he is from.
"You tell them Barack Obama really knows the American dream because he's lived it," Obama said, telling supporters to go door to door to talk up the president. "He has been fighting for us. And that's why, when the stakes are so high, believe me, you can always trust Barack to have our backs."
Polls show the race in Nevada is a near dead heat, with Obama edging Romney. Democrats have a 90,000 voter registration advantage over Republicans in the state, giving the president a larger pool of voters. The race will come down to turnout and who wins independents and late-deciders.
Since early voting began Saturday, Democrats have racked up far more votes than Republicans. The latest figures released Friday by the Nevada secretary of state's office showed Democrats turning in 46 percent of the ballots compared with 36 percent for Republicans for a 25,000-ballot lead.
Titus, who was among speakers who warmed up the crowd before the first lady spoke, noted Nevada's status as one of the battlegrounds that will determine the presidential election.
"Nevada's a swing state. We can put him over the top," Titus said of Obama, winning cheers which broke into chants of "Four more years! Four more years!"
U.S. Sen. Harry Reid's wife, Landra, a popular figure in Nevada, also spoke at the rally, encouraging Democrats to send Obama back to the White House. It was a rare public speech, coming as she battles breast cancer two years after recovering from breaking her neck in a car accident.
Around the same time as her speech, Harry Reid was involved in a car accident as he traveled in his motorcade on Interstate 15. Reid suffered minor injuries.
Michelle Obama did not mention Reid's accident in her remarks, made about one hour after Landra Reid left the rally to be with her husband.
Landra Reid praised the first lady for her work with children and veterans and said the president has demonstrated his commitment to women's right and families.
She talked up the health care law, which provides broader birth control coverage, and she promoted Obama's support for $10,000 tax credits for college tuition.
"It's been a pleasure to watch President Obama make good on his promise to fight for our families like they were his own," Landra Reid said. "And that's what he's going to do for four more years."
She encouraged people to go to the nearby mall and vote early and said, "I will be happy to cast my ballot for Barack Obama."
Contact reporter Laura Myers at lmyers@reviewjournal.com or 702-387-2919. Follow her on Twitter @lmyerslvrj.
Plane trouble grounds first lady
Michelle Obama's visit Friday to Las Vegas lasted longer than intended after her plane broke down at McCarran International Airport.
"The first lady's return flight to Washington has been delayed tonight due to mechanical problems," a White House statement said Friday night. "She will remain in Las Vegas for a few hours but expects to depart tonight."
No other details were available about the problem with the aircraft.
Earlier Friday, the first lady spoke at a campaign rally at Orr Middle School, urging President Barack Obama's supporters to vote early and then get others to the polls for the Nov. 6 election.
She finished speaking about 3 p.m. and lingered to shake hands, but told supporters she was anxious to get back home to her two daughters at the White House before hitting the campaign trail again.
"I'm going to get back to Malia and Sasha because I can get home tonight if I leave," she said.
Instead, the first lady was stuck with taking the red-eye home after her plane is fixed.
LAS VEGAS REVIEW-JOURNAL