December 28, 2010 - 12:00 am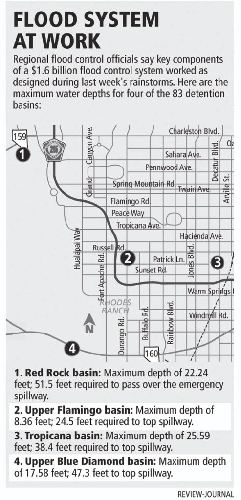 Well, the rain exploded with a mighty crash
As we fell into the sun,
And the first one said to the second one there
I hope you're having fun.
— "Band on the Run," Paul McCartney & Wings
Water and flood control officials were in tune with the lyrics of Paul McCartney's song Monday after the $1.6 billion system proved its worth during last week's rainstorms.
Some of the precipitation even made it to Lake Mead but not enough to raise substantially the level of the drought-stricken reservoir, the Las Vegas Valley's primary drinking water supply.
Engineers at the Clark County Regional Flood Control District were happy and having fun because the 83 detention basins and 550 miles of channels and underground storm drains built since the mid-1980s performed according to design.
"They fared pretty well," said Steve Parrish, engineering director for the Regional Flood Control District. "We had several basins on the west side of the valley that had significant depths of water."
Red Rock Detention Basin prevented flood damage to neighborhoods on the west side of Las Vegas by holding more than 22 feet of runoff with room to spare. The basin can hold water to a depth of 51.5 feet before it flows into an emergency spillway.
Water supply planners at the Southern Nevada Water Authority had smiles as well because the 1.77 inches of rain for the month — most of which fell during the storm event that ended Wednesday — slightly reduced the bathtub ring that marks the toll taken by an extended drought in the West.
Authority spokesman J.C. Davis said Lake Mead's level rose 0.4 inches because of the 2,950 acre-feet of runoff that made it to the lake. An acre-foot is 960 million gallons, enough to cover an acre with one foot of water.
The lake's level depends primarily on snowmelt from the western slopes of the Rocky Mountains and the tributaries that feed the Lower Colorado River.
Residents of Mesquite, Overton and Logandale were, for the most part, spared the kind of damage that they experienced from a similar deluge five years ago.
Parrish said the flood threat in those areas needs to be tackled with diversion structures to steer overflows on the Virgin and Muddy rivers away from communities.
"You can't make a basin big enough to put a dent in the 100-year flood on the Muddy River," he said, referring to an extreme flood event that has a 1 percent chance of happening in any year.
Arizona authorities upstream from the northeastern Clark County communities still have work to do to prevent the kind of flood destruction that happened last week when Beaver Dam Wash left its banks and carried off a half-dozen homes. Many structures were left teetering on the edge of the swollen wash that empties into the Virgin River.
The Las Vegas Valley flood control system acts like a shock absorber, Parrish said, cushioning the blow of intense or persistent rainstorms. Both the Upper Blue Diamond Detention Basin and the Upper Flamingo Detention Basin held plenty of floodwater but did not approach capacity.
Tropicana Detention Basin, southeast of Decatur Boulevard and Russell Road, reached 25.6 feet after the storm event, almost 13 feet shy of the spillway.
Parrish said many more detention basins throughout the valley captured significant amounts of flood flow.
"The existing network of channels and storm drains also appeared to do a good job of intercepting and conveying flow safely throughout the valley," he said.
A key piece in diverting and holding floodwaters was the $336 million Army Corps of Engineers' Tropicana and Flamingo Washes Project. Federal money paid much of the price tag, $239 million. The project removed 18.8 square miles of flood zone by constructing eight basins and 28 miles of channel.
The Regional Flood Control District has planned another 40 detention basins and 250 miles conveyance channels and drains.
This month's rainfall of 1.77 inches raised the annual precipitation tally for Las Vegas to 5.9 inches, more than an inch above the 4.49 inches of normal annual precipitation.
While significant locally in terms of a wet year, the storms had minimal impact regionally.
"Unfortunately, it's not going to go a long way in helping Lake Mead recover," said Davis, the water authority spokesman.
"To the extent that those storms pushed north and east and impacted snowpack in the Rockies, that's a much bigger deal," he said. "Although this is helpful, it's certainly not enough to offset the drought. We're going to need a lot more good storms in the Rockies to make a meaningful difference."
Contact reporter Keith Rogers at krogers@reviewjournal.com or 702-383-0308.
Southern Nevada's worst floods over past 60 years
July 13, 1955: Hundreds of homes and stores in Las Vegas are damaged by floodwaters that are 4 feet deep.
Sept. 14, 1974: Twelve feet of water smashes through Eldorado Canyon, 50 miles southeast of Las Vegas, killing nine at Nelson's Landing.
July 3, 1975: Two people drown, and up to 500 cars at Caesars Palace are damaged by floodwaters.
Aug. 10, 1981: In Moapa Valley, two storms drop 6.5 inches and 5 inches of rain in 15 minutes. Damage in Moapa Valley is $10 million.
Aug. 10, 1983: Four inches of rain fall on the Flamingo Wash watershed. Damage is estimated at $3 million.
July through September 1984: Storms cause massive property damage, prompting President Ronald Reagan to declare Clark County a disaster area.
July 16, 1990: A woman drowns during storms that cause $8.7 million in damage to public facilities.
July 8, 1999: Within 90 minutes, 3 inches of rain fall in the Las Vegas Valley. Hundreds of homes and businesses are flooded.
Aug. 19, 2003: Thunderstorms flood an area near Gowan Road, swamping a firetruck. Stranded motorists are plucked by helicopters from rushing water in nearly 60 rescues.
Jan. 11, 2005: The Muddy River tops its banks and cascades through rural communities 50 miles north of the valley.
LAS VEGAS REVIEW-JOURNAL