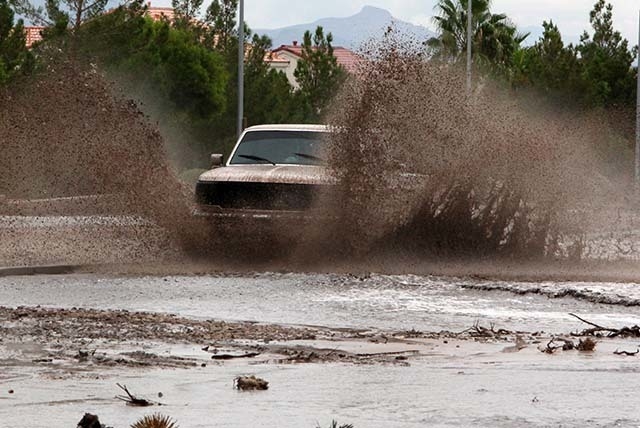 Another round of thunderstorms, similar to those that hit the area last week, have again closed roads and brought debris-ridden floodwaters to the Las Vegas Valley and surrounding areas.
A new set of thunderstorms began to develop over the Spring Mountains about 4:30 p.m. Saturday, according to the weather service.
Flooding is expected along U.S. Highway 95 and in camping areas in the Spring Mountains as the rain moves from the mountains toward the valley.
Water levels in flood basins and washes were expected to rise. According to Las Vegas resident Jeff Byrd, as of 6 p.m. Saturday, they already had.
"It's running real fast— not just a trickle," he said. The only entrance of his community, which is near Arbor view High School, was completely blocked by rapidly-flowing water. He guessed that he would be stuck inside his home for at least two days.
Last Sunday's storm brought an estimated $500,000 in damages to the northwest part of the valley.
The damage centered around Grand Teton Drive, due to a flood basin draining water straight onto the street because channels have not yet been built.
"It's just as bad as before," Byrd said of the water that was was over the curb and at least 12 inches deep, "and you can smell it."
That's because it's not just water causing the mess. Crews from the City of Las Vegas were working on several areas to clean the ash and soot from the Carpenter 1 Fire that mixed with rain to create a muddy, swampy sludge. It is dangerous for drivers because it creates circumstances similar to driving on ice, a city spokeswoman said.
About 6:15 p.m. Saturday, Jessica Dickerson was about to drive through the intersection at Tenaya Way and Farm Road when she suddenly realized that the sooty, muddy runoff from the nearby mountains had oozed up to her hub caps.
"I'm from here and I've never seen it flooded on this side of town. It's not even raining," she said. "What am I supposed to do?"
"Turn around and go back," someone said.
"Is she stuck?" asked a man driving a 4-wheel-drive pickup. By that time, Dickerson had made a U-turn and was heading north on Tenaya Way.
Several street closures were reported, and as of 5 p.m. Saturday: Grand Teton Drive was closed from Quail View Street to Rainbow Boulevard; Rainbow Boulevard was closed from Grand Teton Drive to Farm Road; and Farm Road was closed from Rainbow Boulevard to Tenaya Way.
A city spokeswoman also encouraged drivers to avoid Grand Teton and Tee Pee Lane, as well as Grand Teton and Grand Canyon Drive.
Nevada Highway Patrol closed U.S. 95 in both directions near the Laughlin Highway around 6:30 p.m. Saturday after California Highway Patrol reported major flooding on their side of the state line. A portion of I-15 south of Primm was closed briefly Saturday because of flooding, but quickly reopened.
In Sloan, off of Interstate 15 past St. Rose Parkway, the weather service reported over half an inch of rain fell in 10 minutes during the afternoon.
A spokeswoman at the Resort on Mount Charleston said it had only sprinkled during the day.
Mesquite did not receive rain during the day, but the weather service warned drivers of expected flooding along I-15 north of Las Vegas and into Utah.
Las Vegas city councilman Steve Ross sympathized with stranded motorists and residents. "It's a perfect storm," he said, about the combination of already flood-prone areas, the Carpenter 1 Fire aftermath and these storms right on the heels of the last ones.
Ross was optimistic about cleanup, though. He gave high praise to city crews who worked last week to clean up streets. They did a great job then, he said, and they'll do a great job now.
Reporter Keith Rogers contributed to this report.
Contact reporter Annalise Porter at aporter@reviewjournal.com or 702-383-0264.