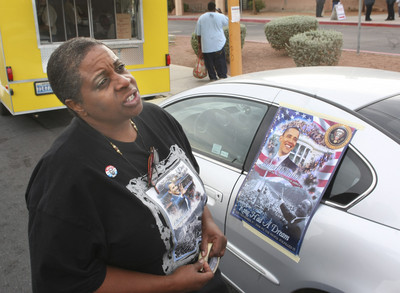 The string of people outside the West Las Vegas Library stretched out into the cold long before the polls opened Tuesday morning.
Ten people. Twenty. Thirty, more.
6:30 a.m.
Black faces, almost all of them. Heavy coats and ball caps, arms crossed, waiting.
7 a.m., the doors opened. History, about to happen.
"It's been a long time coming," said Ron Watson, 49.
Watson was like most of the other voters in Las Vegas' mostly black neighborhoods. He cast his ballot for Barack Obama, and he did so having lived most of his life believing this day would never come.
America was about to elect a black man as president.
It is, in the words of many black voters, the dream, at least partially realized.
"It feels good," said Meg Kern, 39. "I mean, to actually see somebody black running for president? More than words can say."
Marvin Campbell paused when he was asked how he voted. He is 41 years old and, like every voter quoted in this story, he is black.
He is also a Republican. He voted for Obama. This was a tough call, he said. He liked things about both men, he disliked things about both. In the end, he chose the candidate he thinks can best fix the economy.
Obama's race, he said, is a bonus, and a surprising one.
"I thought I'd never see it in my lifetime," Campbell said. "Jessie Jackson got close, but to go beyond that? I just never thought I'd see it."
India Huff celebrated her 24th birthday Tuesday by voting for Obama.
"This is really a historical event," she said after voting at Wendell Williams Elementary School, also in West Las Vegas, the historic neighborhood generally bordered by Carey Avenue on the north, Bonanza Road on the south, Interstate 15 on the east and Rancho Drive on the west. "It's a really big deal to me. It means the world has changed."
Alex Griffin, 53, handing out pamphlets for Democratic candidates at Williams Elementary, echoed that.
"We have just as much opportunity as white people have now," he said. "I feel really good about that."
This was coming from a guy who got hurt on the job, who can't work. He grew up in this neighborhood back when segregation was the rule. He remembers how bad things were, knows how good they could be.
"We're still a long ways away," he said. "It's just a start. It's just a start."
Chrystal Savage, voting at Hoggard Elementary school, said this election had a "wow factor" that hadn't been there before.
Savage is 24 and a little cynical. She thinks Obama will serve out eight years, and that will be it. There won't be another black president in her lifetime.
"I want to have hope, hope," she said. "But I don't think it'll happen again."
Which brings us back to the library, where the Rev. Lillie Brandy voted for Obama on Tuesday afternoon.
Brandy gave her age as in her 70s. She was born in Chicago, grew up in Tuscaloosa, Ala., and came to Las Vegas 51 years ago.
She remembers all the horrible times. She appreciates that, as racist as some folks are down south, at least they're not afraid to admit it.
Here, such things stay hidden, she said, until the ugliness spills over.
She sees good in the old Las Vegas, segregated or not. At least back in those days, you didn't have to lock your door, didn't have to fear your neighbors. She raised four kids here and has seen the city change for the worse.
She voted for Obama, she said. But the election is not up to her. It is up to God, as she sees things.
With that, Brandy left. Voters came and went. Campaign workers huddled in the parking lot.
And a white van, late in the lunch hour, adorned with advertising for a local DJ service, came barrelling through.
Its loudspeakers played soul music, old-school James Brown.
"Get out and vote! Get out and vote!" the speaker screamed.
"Did you vote for a black man today? We're getting ready to make history this evening. We voted for a black man!
"Get out and vote! Get out and vote!"
Contact reporter Richard Lake at rlake @reviewjournal.com or 702-383-0307.