Forest Service preps for long, hot summer in Spring Mountains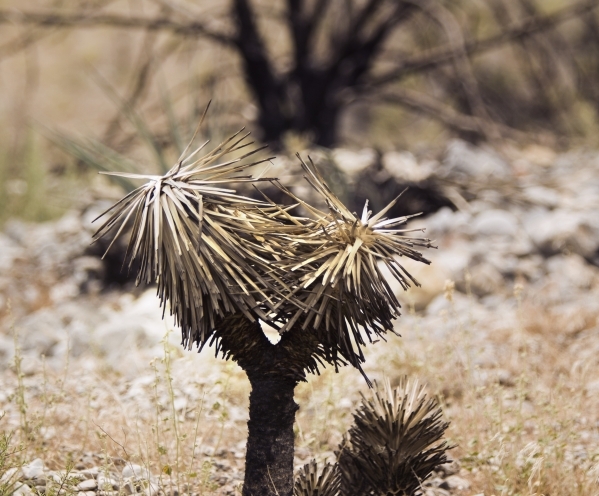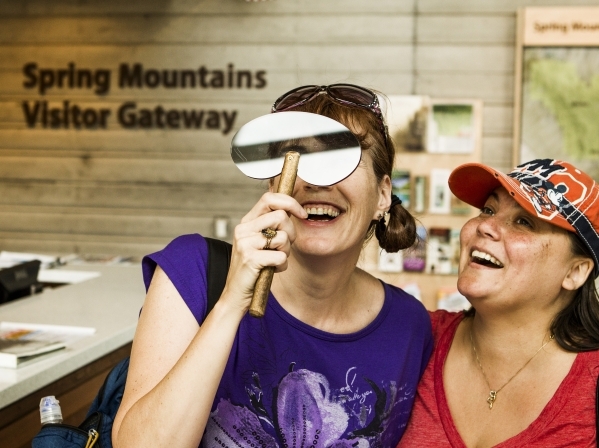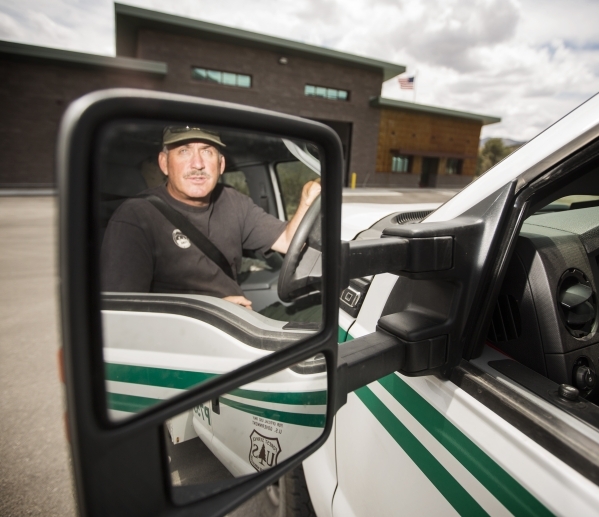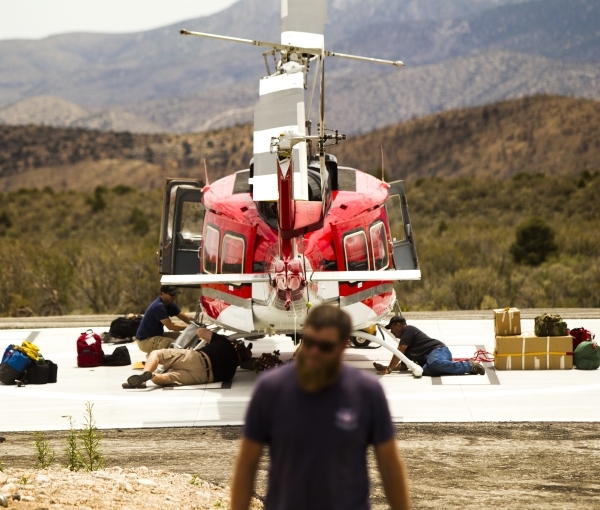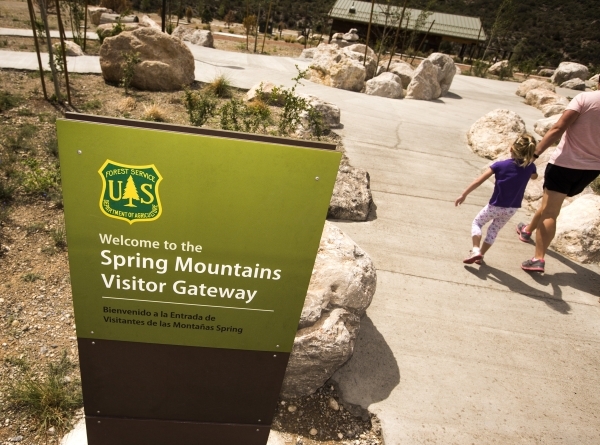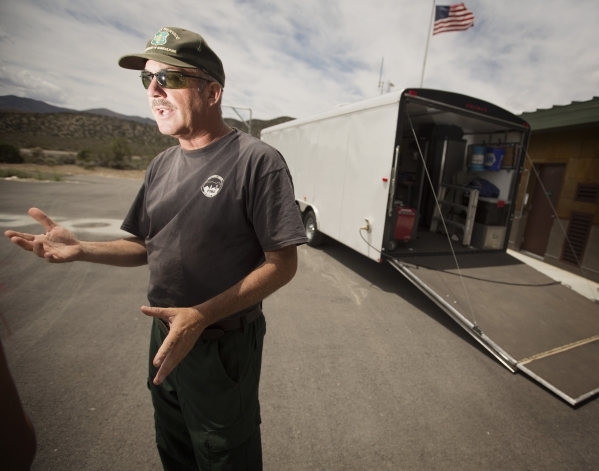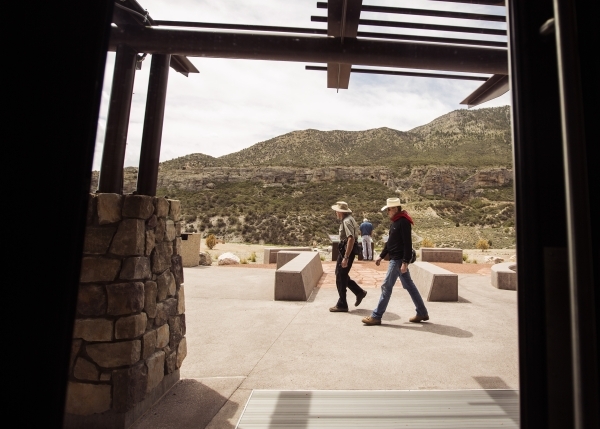 A black, 48-inch television monitor hangs to the right of Fire Management Officer Ron Bollier'€™s desk. On it is a digital map of the Humboldt-Toiyabe National Forest with tiny multicolored dots across it.
Each dot represents a lightning strike and the time it occurred in the Spring Mountains, Bollier said as he pointed to a red dot in the bottom left of the map.
"We got lightning last night at Deer Creek and BLM had it at the front side of Red Rock in the state park," he said a few weeks ago.
Bollier said this is one of the reasons the U.S. Forest Service is as well-equipped as it has ever been and is doing everything in its power to take proactive and preventative measures to ensure a fire such as the Carpenter 1 fire, which decimated nearly 30,000 acres of timberland in the Spring Mountains more than two years ago, doesn'€™t happen again.
Ray Johnson, a spokesman for the Forest Service and a prevention patrol officer, agreed.
"Carpenter 1 fire was a major event here, but I don'€™t think it really changed how we do things," he said.
New equipment
Technology –€" like the digital weather map in Bollier'€™s office —€" is always being upgraded and equipment is improving, so that the Forest Service can be more effective at doing its job, but the tactics are all the same, Johnson said.
Charred remains of roasted pine trees and burned brush, which serve as a reminder that the fire nearly consumed about 500 homes of Kyle Canyon residents, scatter the mountains near Harris Springs and the new Spring Mountain Visitor Gateway.
To protect against another catastrophic fire, government agencies that assisted with the $30 million relief effort –€" like the Forest Service –€" have been working together to improve coordination, communication and resources to be better prepared to handle not just "anomalies" such as the Carpenter 1 fire, but all natural wildfires.
Bollier said the Forest Service is adding at least seven new-generation air tankers to its national aerial firefighting fleet within the next four years.
The Bureau of Land Management in Nevada plans to add at least five more fire engines to Northern Nevada with personnel to staff those trucks in as much time, said BLM Acting State Fire Management Officer Paul Petersen. But none of those engines will be in Clark County, he said.
A new Forest Service administrative building, which houses a fire station —€" complete with a helipad –€" opened in Kyle Canyon less than three months ago just a few miles west of Harris Springs on state Route 157.
Johnson said the fire station, which came along with $55 million in renovations —€" including the Spring Mountains Visitor Gateway '€" is "a much needed upgrade."
The Forest Service has also updated some of its radios with newer models, Johnson said.
The outlook for significant fires this season ranges between normal and above normal because temperatures have been above average and fuels have been drier, according to the National Interagency Fire Center.
For fire experts like Bollier, Johnson and Petersen, fighting fires is a perpetual battle, something Bollier said he'€™s prepared for on a daily basis.
National 'chess game'
Petersen said strategizing and planning for a fire is about anticipation and preparation. That way BLM is able to get crews where they need to be.
"We'€™re able to shift our resources pretty quickly," Peterson said. "We bring in the resources to staff the need. We can order an engine and they will be there the next day."
But fire experts agree that strategizing was a problem during the beginning of the Carpenter 1 fire, because the fire started in a remote area. The area would have necessitated bringing in smokejumpers or initial attack responders, Petersen said.
Fire Management Officer Bollier agreed, but said national resources such as smokejumpers, hotshot crews and rappellers were spread too thin at the start of the Carpenter 1 fire.
The resources were being used at other higher priority fires such as the Yarnell Hill Fire in 2013 where 19 members of the Granite Mountain Hotshot crew had just died one day before the Carpenter 1 fire started, he said.
"I brought in two hotshot crews and a strike team of engines to support the resources we already had here," he said. "Had there been rappellers available, or smokejumpers available or retardant available, we would have ran that at what was the Carpenter 1 fire."
Matt Hoggard, superintendent of the Forest Service's Black Mountain Interagency Hotshot Crew in Carson City, said his crew has always been able to mobilize within a day of being called to duty.
"It depends on where the incident is," Hoggard said. "It'€™s just a matter of driving. It might take us two days to get there. Or we can get there within minutes. With hotshot crews, it'€™s basically as soon as we get our paperwork on where we need to go."
Positioning your available resources is "like a chess game," Bollier said. Multiagency coordinators prioritize fires based on "values at risk" and whether the fire is a threat to communities and wildlife, he said.
"There were other priorities nationally (during Carpenter 1)," he said. "The Yarnell fire in Arizona just happened to start before ours, so they were able to get the aircraft. So when we went for the aircraft, they were already committed."
That'€™s why prepositioning is so crucial, he said. And that's why Bollier said he is always checking the dots on the lightning digital map, so he can get ahead of a threat before it even starts.
BLM coordinates with the National Weather Service and the Forest Service to get ahead of fires by having teams constantly monitor lightning activity four to five days ahead of the week, Petersen said.
"When they see potential lightning, they will coordinate, we'€™ll order six more engines and maybe three of them will go to the Forest Service and three of them will go the BLM lands," Petersen said.
Bollier said he receives alerts when a fire requires his attention. That way he can get a prevention patrol unit to set up as reconnaissance. It'€™s about being prepared for potential fires, he said.
But having more fire engines, airtankers and upgraded technology helps too, Johnson said.
"Having more availability to these national resources should help things be safer," he said.
Contact Michelle Iracheta at miracheta@reviewjournal.com or 702-387-5205. Find @cephira on Twitter.