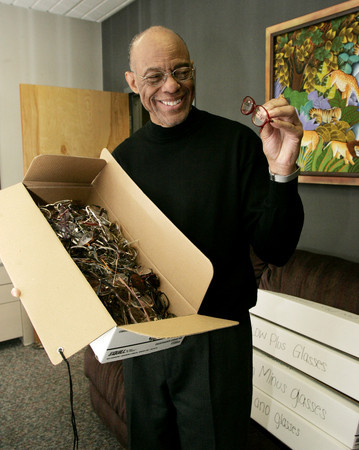 Among the lost and forgotten belongings at Las Vegas casinos and McCarran International Airport is an unexpected treasure for Haiti earthquake relief efforts: eyeglasses.
They come in all shapes, sizes and prescriptions. Some are found near slot machines, others in hotel rooms and some are left behind at airport checkpoints. After 30 days, these places box up the pairs of glasses and donate them to those in need.
For Kenneth Westfield, an Las Vegas ophthalmologist who heads to the Western Hemisphere's poorest country every year to conduct free eye clinics, the glasses could be a gold mine for those devastated by last week's 7.0 earthquake that crumbled most of the capital city.
"You would not believe the number of eyeglasses we get," Westfield said. "We stopped counting. We tell them we'll call them when we need more. That's a faucet we can turn on and off."
He has collected eight large boxes full of glasses — more than 800 pairs — for his mid-February trip.
Once the glasses reach his office, Westfield's technicians throw "reading parties" where they determine the prescriptions, separate them into groups and clean and package them for the trip.
"We can get the prescription of their eyes (in Haiti) and tell them to try these glasses on," he said. "One of the biggest things we do over there is fit people with eyeglasses."
He says most of his patients in Haiti are adult women looking to correct their vision for sewing and reading.
A few years ago, he collected about 2,000 pairs of eyeglasses, mostly from forgetful tourists but some from his patients. He hits up casinos and McCarran's lost and found two to three times a year.
Chris Jones, airport spokesman, said hundreds of glasses have been sent to Westfield's office, most recently in 2008.
"The eyeglasses come in such a high volume, and most are from checkpoints or could have come from any public places in the airport," Jones said. "But this doesn't include anything left on a plane, those would be taken by the airline in question."
Texas Station's lost and found donates about 120 pairs of glasses per year to Westfield's cause and has done so for the past three years, said Lori Nelson, spokeswoman. It averages out to about 20 pairs of glasses every other month. Green Valley Ranch has donated more than 300 pairs over the past two years. Other Station Casino properties donate glasses, too.
The Orleans and the Flamingo also have donated, Westfield said.
As they have for 15 years, Westfield and his colleagues head to a children's hospital in Lascahobas, about 45 miles northeast of Port-au-Prince. Westfield said the hospital building has fared well and could take on a few hundred patients injured by the rubble. The mission could change from eye care to more medical relief efforts if the American Red Cross calls on his group for assistance, he said.
Minutes before the earthquake hit, Westfield said he was speaking on the phone with a friend. The phone line went dead, and he said he is unsure if his friend is alive.
"There's no infrastructure there, there's no police, there's nobody to call," he said. "They will never know how many people died in this thing. We don't know what to expect. We'll fit eyeglasses and do surgeries, but now I'm hoping Lascahobas is far enough away to not have the devastation in Port-au-Prince."
Contact Kristi Jourdan at kjourdan@reviewjournal.com or 702-383-0279.
TO DONATE
To drop off your old glasses contact Westfield Eye Center, 2575 Lindell Road, or call 702-362-3937.