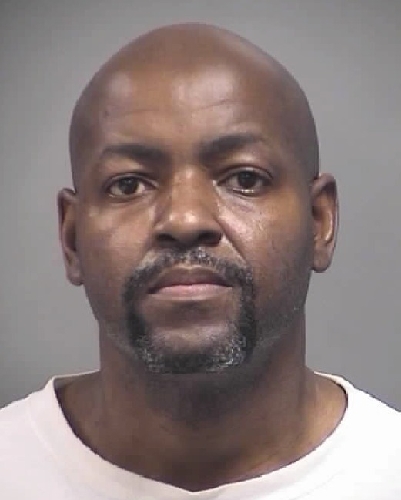 A former Clark County court marshal was sentenced Wednesday to 10 years to life in prison in connection with the sexual assault of a teenage girl in February.
Johnnie Jordan, former bailiff for ousted District Court Judge Elizabeth Halverson, pleaded guilty in March to one count of lewdness with a minor under 14.
The victim's mother, Sonja Hall, spoke at the sentencing hearing and called Jordan "a monster" who destroyed the happiness in her home.
"There's no more laughter in my home. There's a lot of sadness, a lot of crying, a lot of fear. I hate what he's done. I view him as a monster. I don't see a human being," Hall said.
The victim attended the hearing but did not speak.
Jordan was arrested by North Las Vegas police in February after being accused of sexually assaulting a 14-year-old girl. The police arrest report said that Jordan, 41, arrived at the victim's house with his mother and his ex-fiancee on Feb. 13. While the two women talked to the victim's mother outside the house, Jordan went inside for about 10 minutes.
The victim told police that during that time, Jordan went into her room and sexually assaulted her.
Two other people were in the house at the time but did not hear anything.
When the responding officer saw the victim, the officer noted in the report that the teen's underwear appeared bloody. She was taken to Sunrise Hospital and Medical Center. The report does not mention what Jordan told police upon his arrest.
Before he was sentenced, Jordan said he received unfair treatment and was being "railroaded for testifying against Judge Halverson." He said he regretted testifying against Halverson because it had destroyed his life.
Jordan said he could not receive fair representation from the public defenders' office because he was familiar with the attorneys as an employee of the court.
"I'm sorry for this day. I'm very embarrassed. I'm sorry for the actions. I'm sorry for everything," Jordan said.
Judge Douglas Smith responded, "Actually, I could care less about Judge Halverson."
Smith said he was unaware that Jordan had worked for Halverson or that he had testified against her. He added that it would have played no role in his decision if he had known.
Smith then sentenced Jordan and ordered him to register as a sex offender for the rest of his life upon his release from prison.
A prosecutor explained that though the victim was 14 at the time of the sexual assault, the deal offered to Jordan was for lewdness with a minor under 14 to secure a maximum life term and for the defendant to be labeled as a sex offender against a minor.
Jordan was the former bailiff whose tearful testimony helped oust Halverson in 2008. He accused her of treating him like a personal slave in the courtroom. He said she made him remove lint from her judicial robes with tape and get on his knees to slip on her shoes.
In 2008, Jordan said he had a heart attack and no longer worked for the county as a marshal.
Contact reporter Francis McCabe at fmccabe@reviewjournal.com or 702-380-1039.