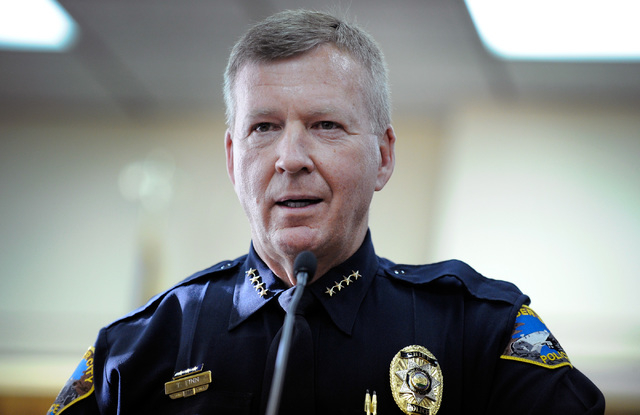 Former Boulder City Police Chief Thomas Finn has raised concerns with the Nevada Commission on Ethics about that city's attorney, David Olsen.
Finn recently filed a request with the commission for an opinion about Olsen's purported involvement as an expert witness on behalf of his son, Brian Olsen, in a lawsuit against Boulder City and Henderson.
Finn's request includes a court affidavit signed by the city attorney and filed with the lawsuit. The affidavit called the younger Olsen's arrest "wrongful," with civil rights violations.
The city attorney "clearly slept through the 'attorney ethics' and 'conflicts of interest' classes in law school," Finn said in a statement, adding that the behavior deserves scrutiny.
David Olsen, after receiving a copy of Finn's request from the Review-Journal, didn't respond to a request for comment Monday.
The lawsuit stemmed from the March 20, 2010, arrest of Brian Olsen. He was arrested, but not charged in court, after Henderson police received a complaint about him from a female classmate who knew him from a cosmetology school that both attended. The classmate complained that Olsen, when borrowing her cellphone, located and sent two nude photos of her to his email address, court records from the lawsuit show.
Henderson police determined there was probable cause for an arrest and dispatched a Boulder City police officer to arrest Olsen, a Boulder City resident.
After prosecutors declined to prosecute the case because of a lack of conclusive proof, Olsen sued both cities in U.S. District Court. He alleged police violated his constitutional rights to be free of unlawful arrest, false imprisonment and infliction of emotional distress.
U.S. District Judge James C. Mahan ruled against Olsen and in favor of Henderson and Boulder City on Feb. 27.
The commission hasn't yet decided whether the request will go forward for a full hearing.
It is the second request for an opinion that Finn has filed with the Ethics Commission that is tied to officials in Boulder City.
Finn was fired from the city in April 2013 after seven years as chief.
The first request for an opinion was in connection to a 2012 vote that Boulder City Councilman Cam Walker cast in support of a $1.4 billion solar project. Walker's employer at the time, McCarthy Construction, was listed as a potential, qualified general contractor for the project, according to Ethics Commission documents.
The commission has decided to move that case forward for a full hearing to determine whether Walker failed to make required disclosures. A hearing is scheduled for April 16 and 17.
Contact reporter Ben Botkin at bbotkin @reviewjournal.com or 702-405-9781. Follow him on Twitter @BenBotkin1.