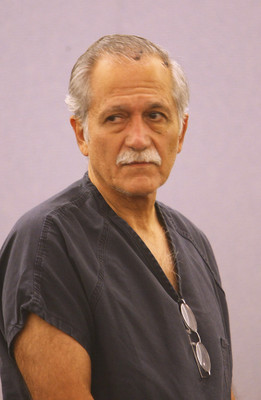 On paper, Edward Preciado-Nuno looks like a saint.
A former Marine who served during the Vietnam War, Preciado-Nuno worked as a special agent with the FBI for more than two decades before retiring in 2003.
He's never been convicted of a crime, has been married for 40 years and has two adult children.
Preciado-Nuno, 61, is behind bars at the county jail. Authorities said he beat his son's girlfriend to death with a hammer last week in Las Vegas.
He appeared in court Tuesday to ask to be released on bail. Las Vegas Justice of the Peace Abbi Silver denied his request, saying she "smelled a rat" when she looked over the paperwork on the case.
"There are some really weird facts in this case," Silver said. "It doesn't make sense though, the facts as I read them, especially with a retired FBI agent, to turn out like this."
Preciado-Nuno appeared in court dressed in a navy blue prison uniform.
Preciado-Nuno's attorney, Richard Wright, argued that the former federal agent was acting in self-defense when he killed Kimberly Long, 31, on Thursday. Wright, citing police reports described by the media, stated in a court document it appeared that Preciado-Nuno was defending himself from Long, who was also armed with a hammer.
Wright stated that Preciado-Nuno called for help and tried to resuscitate Long after the incident.
Prosecutors disputed that.
Prosecutor Giancarlo Pesci said Long was struck eight times in the back of the head with the hammer and had defensive wounds on one arm. She also had a broken or fractured wrist, he said.
Just because Preciado-Nuno has been a law-abiding citizen his entire life, prosecutor Sandra DiGiacomo said, doesn't mean he's not a "cold-blooded killer."
Preciado-Nuno is scheduled to be back in court for a preliminary hearing on Dec. 2.
Authorities said Preciado-Nuno's son called him in San Diego asking for his father's help in evicting Long. The son and Long had fought, the son said, when she returned home after two days of partying.
Preciado-Nuno arrived in Las Vegas, checked into the South Point and began documenting Long's behavior to show that she is a bad mother, the report states.
Father and son hoped to confront Long with the evidence and document her response with the intent of catching her saying something incriminating, the report states.
The pair set up a camera at the garage of the home, near Durango Drive and state Route 160. Preciado-Nuno called his son at some point on Thursday morning saying Long was attacking him with a hammer. When police arrived to the home they found Long dead with severe head injuries and two bloody claw hammers nearby.
Preciado-Nuno also appeared to have had cuts on his head, according to his mug shot.
Contact reporter David Kihara at dkihara@reviewjournal.com or 702-380-1039.