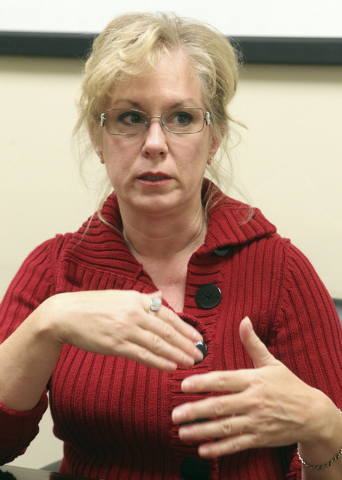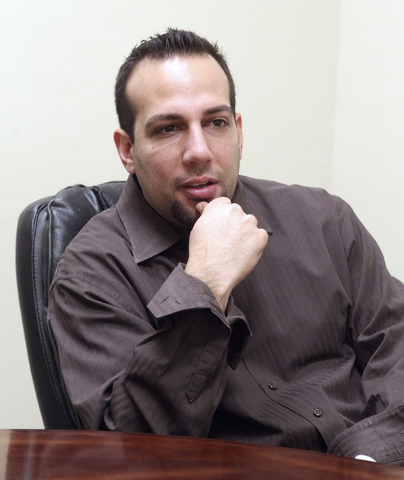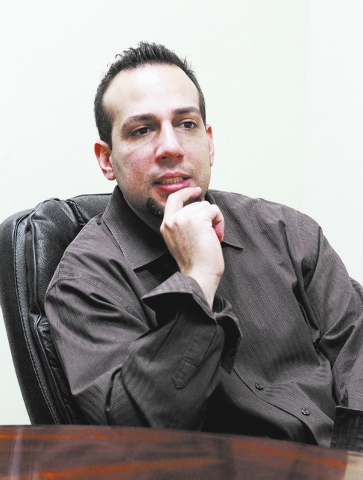 Three tuberculosis tests have turned up negative for respiratory therapist Scott Taber in recent months, but that doesn't mean he has stopped worrying.
"I don't know if I'm in the clear or not," he said. "Only time will tell."
Taber and seven other people filed a lawsuit Monday against Summerlin Hospital Medical Center. The plaintiffs allege they were exposed to the respiratory disease at the hospital, although none of them has tested positive.
"I'm not certain what the damages are yet," attorney Matthew Callister said Thursday as Taber and others gave interviews at his law offices in downtown Las Vegas.
He conceded that the class action lawsuit will not "be the monetary case of a lifetime."
According to the complaint, the plaintiffs "have sustained emotional distress from fear of contracting tuberculosis" and may sustain other damages in the future.
The lawsuit comes after Vanessa White, 25, and one of her newborn twins died from TB. The other twin, who never was tested for the disease, died from respiratory failure and other complications from premature birth.
White died at UCLA Medical Center in Los Angeles on July 1, hours after her family had her transferred there in failing health and without a diagnosis at Summerlin Hospital. An autopsy said tuberculosis killed her.
According to the lawsuit, White first was admitted to Summerlin Hospital on May 9 and gave birth May 11 to premature daughters, Abigail and Emma. The mother was discharged May 16 but returned to the hospital twice more for treatment during the next month.
Her husband, Ruben White, has said she was allowed to visit her babies in the neonatal intensive care unit without a protective gown or mask despite her fever. She never was given a TB test.
Emma, who never was tested for TB, died June 1. Abigail lived in the neonatal intensive care unit for two months before dying there from TB on Aug. 1.
The lawsuit accuses Summerlin Hospital of negligence and a lack of oversight for failing to screen patients, maintain proper infection controls or adequately respond once officials there were notified that a former patient had died from tuberculosis.
Valley Health System, which runs the hospital, insists the facility did what it should have.
"Although we have not yet seen the lawsuit, Summerlin Hospital intends to defend this case vigorously and looks forward to our opportunity to present all of the facts of this matter in court," spokeswoman Gretchen Papez said.
According to the lawsuit, more than 400 people have been tested, and testing is ongoing.
Taber, 35, and fellow plaintiff Linda Gilliam, 53, both were working as respiratory therapists at Summerlin Hospital before they were fired in September. Both are pursuing wrongful termination cases against the medical center, in addition to the negligence case.
Gilliam said she worries that she will test positive for TB. "It's always in the back of your head."
Taber, who now works at two other health care facilities, said he decided to join the negligence lawsuit because he believes Summerlin Hospital failed to protect its staff and the community.
A hospital is "almost considered a sanctuary," he said. "It's a place of healing. It's a place of comfort. It's not a place of working in fear."
Taber said he "most likely will never be able to work for another hospital again" if he tests positive for TB.
"There's a stigma on it," he said.
Lora Snyder, 43, and her 36-year-old sister, Angela Laird, said they visited their father regularly at Summerlin Hospital from April 18 until he died June 14.
At the hospital, Laird found out she was six months pregnant. She later gave birth to a son at a different hospital. Both will be tested for TB next week.
Snyder called news of the TB deaths a "double whammy" for the grieving sisters. Laird plans to join Snyder as a plaintiff in the negligence lawsuit against Summerlin Hospital.
The sisters also are pursuing a wrongful death case against the hospital. They said their 61-year-old father, Stanley Laird, came to the facility for an emergency hernia repair and died because of a misplaced trachea tube.
"It's like there's no end to the damage they've done from then to now," Snyder said.
Contact reporter Carri Geer Thevenot at cgeer@reviewjournal.com or 702-384-8710. Follow @CarriGeer on Twitter.