Former R-J city editor dies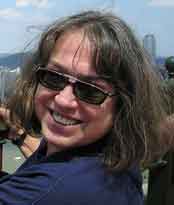 In 12 years as an editor for the Review-Journal, Annette Caramia Moller honed her love of two things: the newsprint on her fingers and the desert sand in her shoes.
Moller died Tuesday in Louisiana at the age of 55 after a heart attack.
Moller came to work for the Review-Journal 1988 as an editor for the opinion section. She spent seven years as an assistant city editor before being named city editor, overseeing all state and local coverage, in 1997.
"Annette was a real kick in the pants. She chain-smoked, growled at people, edited like a dream," said current City Editor Mary Hynes, who worked with Moller. "She had a sharp sense of humor and made me laugh harder than just about anybody in the newsroom. Many R-Jers, past and present, feel a sense of loss today."
She was born Antoinette Marie Caramia on Dec. 19, 1952, in Vacaville, Calif., where her father served as an Air Force officer.
She started her career in 1979 as a reporter and film and music critic for the Shreveport Journal. While working at the newspaper, she earned her degree in communications from Louisiana State University, Shreveport, where she graduated summa cum laude in 1983.
Five years later, she traded the swamp for the desert.
"Her favorite author was Edward Abbey, and her favorite book was 'Desert Solitaire,'" said Jan Moller, whom she worked with at the Review-Journal and married in 2000. "That's what brought her out to Las Vegas. It wasn't the slot machines."
Eventually, though, she figured them out, too.
"Annette Caramia taught me to play video poker," said Review-Journal Editor Thomas Mitchell, who also worked alongside her in Shreveport. "I should have taken more lessons. She always did better than I."
But Moller especially loved Nevada's hidden gems — the little-known caches of history and scenic splendor far from the lights of the Strip.
Jan Moller said his wife steered him down too many dirt roads to remember, yet she never seemed to forget a single one of them.
"She had an absolutely encyclopedic knowledge of the back roads of Nevada. She knew the desert backwards and forwards," he said.
Wherever they went, she seemed to know "every plant, every ghost town" and the stories behind them all.
"She loved Las Vegas, loved the Southwest, loved the desert," Mitchell said.
Moller left the Review-Journal in 2000. A year later, she took over as managing editor of the trade magazine International Gaming & Wagering Business.
In 2003, she and her husband moved to Louisiana, where he works as a capital bureau reporter for The Times-Picayune of New Orleans.
Starting in 2006, she worked as a copy editor, then assistant metro editor for The Advocate newspaper in Baton Rouge, La.
"Annette loved newspapers more than any editor I have ever known," said Doug Puppel, a longtime friend who worked with her for a decade at the Review-Journal and until last year at Carpenter, a trade magazine where he is managing editor. "She could — and would — loudly debate everything from punctuation to politics to philosophy, but her legacy should be her commitment to the printed word and always doing the best job she could."
"She was a free spirit who cared passionately about good journalism," Jan Moller said of his wife.
"There was nothing she liked better than a good police yarn, and there was no one she loved more than cop reporters," he said.
In addition to her husband, Moller is survived by her sister, Joanne Leitz, of Frisco, Texas.
Plans for a memorial service are pending.
Contact reporter Henry Brean at hbrean@reviewjournal.com or (702) 383-0350.