Fraud hotline has ID snag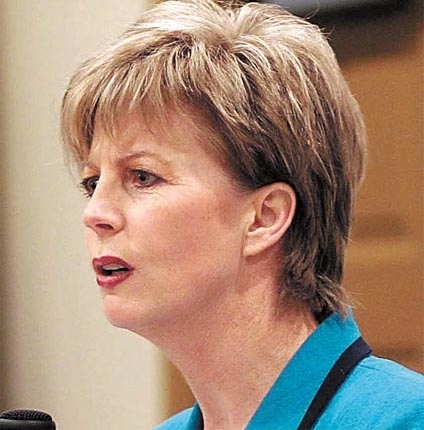 CARSON CITY — A new telephone hotline established by the state of Nevada to receive reports of fraud, waste and abuse will protect a caller's identity but anonymity is not guaranteed if a concern becomes a criminal investigation.
Steve Weinberger, administrator of the state Division of Internal Audits, which oversees the new fraud hotline, said people can leave anonymous complaints, although such a report would need to be detailed enough to allow the agency to move forward with an investigation.
Those who leave their names will be guaranteed anonymity by the division, he said.
But Weinberger acknowledged that if a matter becomes a criminal case investigated by the attorney general's office, a person's identity could eventually become public.
The fear is if that occurs, administrators and fellow employees could seek retribution against the whistle-blower, which could include demotion, harassment or even firing.
So far state employee groups have been mum on the new hot-line and whether workers are likely to use it. A spokeswoman for the American Federation of State, County and Municipal Employees, AFL-CIO Local 4041, which represents state workers, plans to comment this week.
But Assemblyman Andrew Martin, D-Las Vegas, who sought legislation to establish the hotline, said it would be rare for a person's identity to be revealed even if a tip proceeded to a criminal matter.
There are protections in state law for state employees or officers who report to the attorney general's Public Integrity Unit potential crimes committed by state employees and officials in the course of their duties.
Nevada's "whistle-blower" statutes say that the public policy of the state is to encourage employees to disclose improper government actions when such disclosures are not prohibited by law, and that it is the intent of the Legislature to protect employees or officers who do so.
Law given high rating
At least one national group rates Nevada's whistle-blower law very highly, placing it in a tie for fourth strongest among all states. The group Public Employees for Environmental Responsibility released its rankings earlier this month and noted that Nevada in the 2013 legislative session improved the law, including lengthening the statute of limitations for bringing civil actions based on retaliation.
But efforts by employees to use the law don't always succeed.
James Richardson, a pilot with the state Department of Transportation who was fired in 2008 for allowing the engine on the state's Cessna Citation to "over-speed," won his case when the Nevada Supreme Court said he could be demoted but not fired for the infraction.
The personnel action came after Richardson claimed a fellow pilot violated safety rules, including letting his teenage son fly a state plane.
Richardson was never offered a new flying job by the state, however, and in 2012 he sued for $250,000 in back pay. The case is pending.
"Basically NDOT has ruined me," Richardson said.
HOTLINE GETS SOME CALLS
The new state fraud hotline telephone number, 775-687-0150, allows a caller to leave a voice mail message. A website link is expected to be added soon.
The hotline is primarily directed at state employees, although the public can call if the concern involves a state agency or its use of public money. Public money includes state and federal funds. Contractors and vendors are included in the fraud reporting outreach effort.
Weinberger said the hotline has received eight messages since becoming active, although none of the calls have generated any evidence of major concerns within state government.
The concerns identified in the calls did not relate to the mission of the program, which is to investigate instances of embezzlement, fraud or related activity, he said.
"One call was a concern about the food served at a juvenile detention facility," Weinberger said.
The calls were referred to other agencies.
State Controller Kim Wallin said she plans to keep a fraud reporting link on her website active because it is another option for state employees who might not feel comfortable reporting to an agency that ultimately reports to the governor.
The controller is a constitutional office separate and distinct from the governor's office.
That complaint telephone number, 775-684-5632, and website form have generated a few concerns, but they have primarily been resolved by other agencies and were not related to fraud or waste, she said.
One issue that came to her office was about whether a mentally disabled worker was being paid appropriately by a business. The Department of Labor investigated, found out the employee was not being paid correctly, and the issue was resolved, Wallin said.
Another inquiry was from an individual who questioned whether a neighbor had properly received disaster recovery funds. Wallin investigated and found that the payment was legitimate.
HOTLINE'S INTENT
The hotline was mandated by Assembly Bill 327 from the 2013 legislative session.
The bill as originally written would have moved the Division of Internal Audits to the controller's office but that section was deleted in the bill's final form. Martin said in his testimony that having the division under the governor's control could compromise its independence.
Flyers with the hotline number are being conspicuously posted in each public building, but they make no reference to confidentiality. The voice mail message does talk about the issue, however.
Martin's proposed flyer clearly stated that reporting would be confidential, and included language that said "We will protect you."
"Prosecutors do not 'out' people," Martin said Thursday. "It would be my expectation that only when a matter comes to indictment or trial, would the identity or testimony of a key witness be possibly revealed."
Martin said that as a member of the Association of Certified Fraud Examiners he believes strongly in protecting taxpayer money.
"I was very pleased to see this bill pass with no opposition," he said. "Even showing the commitment to fighting fraud will help to deter it."
FLYERS URGE VIGILANCE
The new flyers ask employees to be vigilant for fraud, waste and abuse by watching for colleagues who don't report leave time, engage in excessive travel or who circumvent established procedures.
"The State of Nevada will not tolerate fraud, waste or abuse of state and federal funds," states the policy directive from the state Department of Administration.
Fraud investigations already occur within the state. The attorney general's office, for example, has a Medicaid Fraud Control Unit, and other state agencies also look for abuses in the program.
The attorney general's office recovered $5.7 million in Medicaid funds in 2010, and $5.5 million in 2009, the most recent numbers available.
But it is hard to get a handle on the amount of fraud or abuse that might be occurring within Nevada state government. Both the Division of Internal Audits and the Legislative Counsel Bureau's Audit Division review state agencies looking for such concerns.
Contact Capital Bureau reporter Sean Whaley at swhaley@reviewjournal.com or 775-687-3900.