Fredericks bidding KVBC-TV farewell
December 25, 2008 - 10:00 pm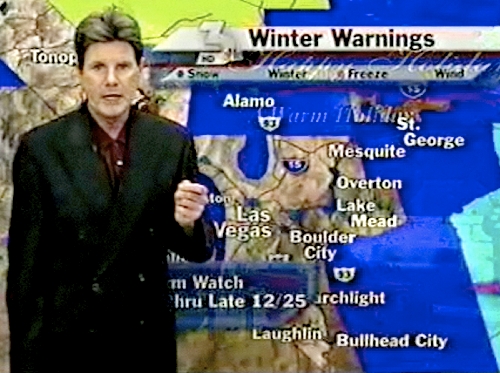 KVBC-TV, Channel 3, and weatherman John Fredericks mutually announced the end of a 12-year relationship Wednesday, a day after Fredericks shaved his head.
General manager Lisa Howfield and Fredericks announced he was leaving in January to pursue a career as an author.
She said Fredericks asked for early retirement during a meeting last week.
He was granted the request, said Howfield, "although we had mixed feelings. We know we'll miss him and his fans will miss him."
Fredericks said he has finished a book titled "Jordan's Paws Across America." He said it's a true story about "a dog and his best friend. It's being read by a publisher at this time."
I asked Fredericks whether he was leaving because of health issues. Viewers who saw his Wednesday weather-casts sent e-mails to me asking whether Fredericks was wearing a wig or had shaved his head.
"Like I told Lisa," said Fredericks, "I was just having an exceptionally bad hair day."
He added, "I am not sick in any way, shape or form."
When I asked whether he had indeed shaved his head, he said, "I did. Actually, I did. It's very embarrassing. I got a hatchet job at a local hair salon. I fell asleep in the chair, and when I saw what happened, I asked for it all to be shaven off."
The haircut, he said, "is not the main issue here."
It has been well-documented that Fredericks has been at odds with the station this year over his young golden lab LJ, short for "Little Jordan," a replacement for Jordan, who died 16 months ago.
LJ went missing from the newscasts in March when Fredericks, who had a long-term contract, sought a contract for the pup. Last month, after LJ nipped an employee, Howfield ordered that the dog not be allowed at the station or company-related events "for the safety of employees and the public."
Fredericks said Wednesday that it was "heartbreaking not to have him here" but added the early retirement has been planned for some time.
RUMORS, RUMORS, RUMORS
A blizzard of rumors have been sweeping the Strip, and that was before former Frontier hotel-casino owner Phil Ruffin purchased Treasure Island from MGM Mirage for $775 million.
There's buzz that Bally's is in play and that The Light Group has tossed in the towel on The Harmon, one of the hotels in the CityCenter project.
Requests for comment from The Light Group have gone unanswered.
KVBC entertainment reporter Alicia Jacobs reported this week that The Mirage is about to be sold to Penn National Gaming Inc. That's the company that wanted to purchase Bellagio, Steve Wynn told Vegas Confidential back in November.
Another rumor that hasn't faded away is word that two CityCenter projects could be scrapped, but wrapped rather than knocked down.
I asked Alan Feldman, vice president of communications for MGM Mirage, to respond to that one.
"I've heard any number of rumors — including that one," he said in an e-mail. "Unfortunately, in this economy, people are spending time speculating about all kinds of stuff. Wish they'd focus on how to get more people here!"
TYSON UNDER SCRUTINY
Trouble-prone Mike Tyson might be hearing from his probation board in Maricopa County, Ariz.
The board has been keeping track of him since late last year when his punishment for drug possession and driving under the influence included three years probation and court-ordered sobriety.
He agreed to drug and alcohol testing.
Two recent outings reportedly got the attention of the probation board. Tyson has been living in Las Vegas for about a year after spending about four years in Phoenix.
Earlier this month Tyson was seen drinking sake with his girlfriend at Tay-Yo Sushi Seafood Buffet in Henderson.
Early on Thanksgiving morning, Tyson crashed his Escalade into the security gate at Monarch Estates.During the 7:45 a.m. incident, he veered away from the visitor's gate and crashed into the resident's gate. While backing up his vehicle, the gate was knocked off its moorings. Police were called to the scene to investigate and gave him a breath test, which he passed. He received a traffic ticket for the incident.
THE PUNCH LINE
"It's so cold, O.J. (Simpson) led an armed raid to retrieve his space heater." — From David Letterman's "Top Ten Answers to the Question 'How cold is it?' "
Norm Clarke can be reached at (702) 383-0244 or norm@reviewjournal.com. Find additional sightings and more online at www.normclarke.com.