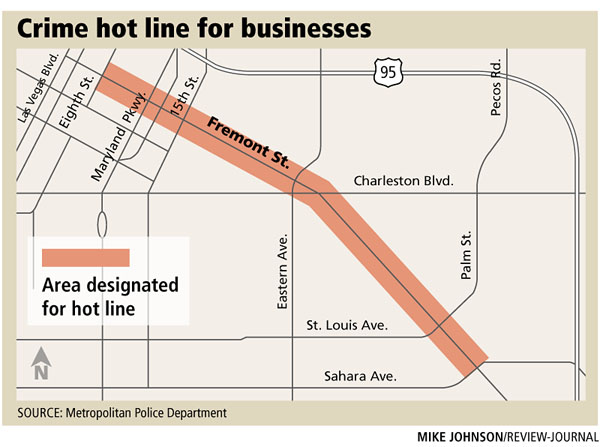 Let's say you're a business owner in a high-crime neighborhood and there's something suspicious going on nearby.
Maybe it's a guy who's been standing on a street corner for hours, possibly dealing drugs. Maybe it's a woman who's getting into and out of cars that are driving around the block, or a lot of people are coming and going from a certain hotel room or apartment.
You could call 911, but since there's no immediate danger or violence, chances are you won't rate a response. There's 311 for nonemergency police calls, but that could take hours.
Downtown Las Vegas businesses soon will have another option: DOAP, which stands for Direct Officer Access Phone.
It's actually a resurrection of a program that fell by the wayside. Business owners, starting in the Fremont Street corridor east of Eighth Street, will be able to call a mobile phone carried by officers on patrol in the area.
Police and business leaders went door to door on Fremont Street on Thursday asking owners and property managers to sign up for a class on what kind of activity to look for and how to file a DOAP report.
"Yes!" exclaimed Shari Butler when told about the program. She manages the Mediterraneo Apartments at Fremont and 15th Street and said the complex has trouble even though tenants are screened.
Police are already responsive, she said, but "I'm hoping this being a separate number will get to 'em faster."
Patrick Morrow, business manager at the Alicia Motel on Fremont, was equally enthusiastic. He said having the number available in the program's previous incarnation was invaluable.
"You were able to call immediately to the guy in the car," he said. "You had somebody there within a minute."
He said he used the hot line to report drug activity and potential assaults.
"When you know for a fact that someone's dealing drugs, you call 311, it's maybe an hour response," Morrow said. "By then, they're long gone."
Metropolitan Police Department Capt. William Minor, who oversees the Downtown Area Command, said the hot line number got lost in the shuffle as leadership rotated in the department and as employees came and went at Fremont Street businesses.
People also weren't trained on the proper use of the hot line, he added, which is why organizers were signing people up for a seminar this month.
"It got into somewhat of an abuse — being called for all the personal issues, as opposed to the dope and prostitution issues," Minor said.
The Downtown Business Operators Council pushed for a revival of the popular program.
"It will be throughout the Downtown Area Command, but we're going to start here" on Fremont Street, Minor said. "This is where a big amount of our issues are."
Ashok Sehdev, who owns the Gables Motel, was particularly fervent about the possibilities for more enforcement.
"I need the help," he said.
He can kick out miscreants and ne'er-do-wells, he said, but "they go next door and next door" or sneak in after having someone else rent a room for them.
In fact, Sehdev wanted to join police on the front lines.
"Give me a part-time job," he said. "Hire a private contractor. Teach them a lesson."
But Minor cautioned, "Now, we can't have a militia."
Crime in the area isn't as severe as it once was, said Palli Singh, who manages the 7-Eleven store at Fremont and 15th.
Two years ago, the corridor was rampant with illegal activity, he said.
"It's a lot cleaner than before, a lot safer," Singh said.
Lonnie Wentworth, the manager at Travelers Motel on Fremont, agreed but said she still sees suspected drug and prostitution activity almost every day, and it persists despite already good police response times.
"They can't be everywhere 24-7," Wentworth said. "This is a rough area. They're cleaning it up. It's gotten a lot better — but it's a city."
Contact reporter Alan Choate at achoate@reviewjournal.com or (702) 229-6435.