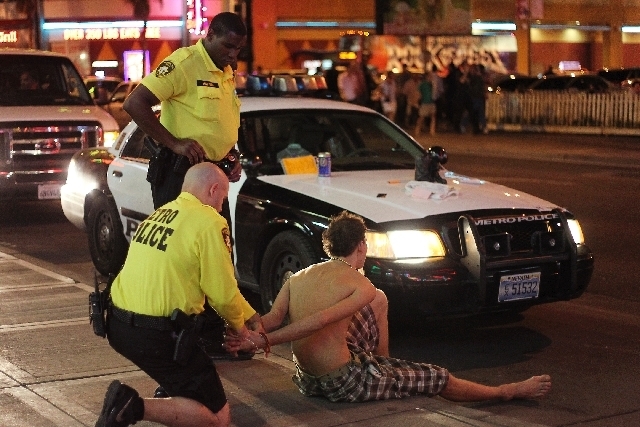 With police cracking down on drunken partying on Fremont East, the operators of the popular Fremont Street Experience light show are looking for new booze restrictions as well.
The Experience, which is operated by downtown casinos between Main Street and Las Vegas Boulevard, wants the Las Vegas City Council to block new applications for liquor stores in the area.
Specifically, Experience officials oppose four proposed package liquor licenses the council is scheduled to consider on Wednesday.
Executive Director Jeff Victor said there's no need for more package booze outlets considering city code prohibits anyone from cracking open a bottle or can within 1,000 feet of a liquor store, although the rule is widely ignored, especially under the canopy.
"The abundance of really inexpensive package liquor sold in quantity contributes to bad behavior. Period," Victor said.
Victor was among several who testified in opposition to four proposed licenses last month before the Planning Commission. Three licenses failed to get the four votes needed for approval from the commission and the fourth was approved 4-2.
With the council set to consider them, Victor said it is important to differentiate the liquor stores from bars, taverns and casinos, which are abundant at the Fremont Street Experience.
"A bartender pouring a glass of beer or alcohol for you one at a time and handing it to you looking at you and knowing what condition you are in … is a very different thing than somebody selling a 12-pack or a 24-pack or a 36-pack of beer or a full bottle of liquor," Victor said.
But Chris Kaempfer, an attorney and lobbyist for two of the license applications, said his clients aren't to blame for Fremont Street rowdiness.
"If you want to address the issue of drinking on Fremont Street you really have to start with the fact you have open bars on Fremont Street that offer customers liquor as they are walking up and down," Kaempfer said.
He said if the city wants to restrict stores from selling certain kinds of cheap, high-alcohol beverages it should do so in a way that affects all sellers the same way.
And he questioned assertions that his clients, who are seeking to add alcohol sales to existing souvenir shops, would contribute to an increase in alcohol-related problems in the area.
"The fact that there is an Albertsons across from a Smith's doesn't mean that all of a sudden I eat twice as many groceries," Kaempfer said. "I don't think you can make a rational argument that the fact there are more places that sell alcohol that there are more people who will be getting drunk."