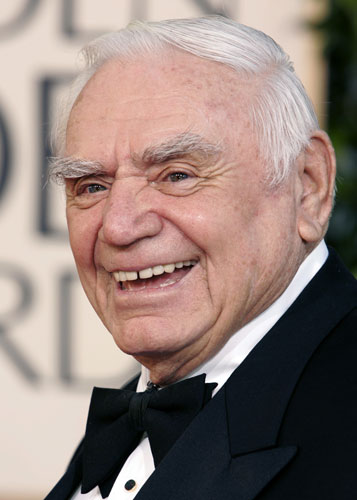 The death of Oscar winner Ernest Borgnine on Sunday devastated longtime Las Vegans Mel and Marilyn Larson.
They've been close for many decades.
Borgnine, who won a best actor Academy Award for "Marty" in 1956, died at Cedars-Sinai Medical Center in Los Angeles. He was 95.
The Larsons met the actor more than 30 years ago when Mel was asked to ferry Ernie and his wife, Tova, from Las Vegas to a chili cookoff in Lancaster, Calif.
The Larsons shared their love of helicopters with Borgnine, who starred in the 1980s "Airwolf" TV series about a super chopper.
Marilyn Larson recalled one of Mel and Ernie's favorite stories.
"They would travel in RVs," she said. "They stopped at a truck stop and a waitress said, 'You look like that actor.'
"Ernie said, 'Ernest Borgnine?'
"Yes," said the waitress. "He died you know."
Borgnine had to show his driver's license to prove otherwise, Marilyn Larson said.
"He was a helluva nice guy, our kind of guy. Never put on airs," said Mel Larson, who is a longtime Las Vegas gaming executive and car racing enthusiast.
MEDIA UPDATE
Former KLAS-TV, Channel 8, morning co-host Dayna Roselli has been inundated with fan mail and offers since she was let go last month in a media development that came as one of the more shocking in recent years.
Roselli said she's answered about 250 messages and has another 35 to go. She's had about 15 offers unrelated to TV.
Basically, from people who are saying "we want you to be a part of this community."
One little lady offered to bring her soup, others offered "brainstorming" outings. "A lot of dinner and drink proposals (nice try, guys)."
"The flattering part is no one is saying come interview; they're saying come to work tomorrow," said Roselli, who must serve a one-year, noncompete in the local TV market.
Meanwhile, she's continuing to blog at DaynaRoselli.com. …
That new voice in the morning at KDWN-AM, 720 last Thursday and Friday was Serena Carey, daughter of talk show host Alan Stock. She filled in for him. …
Former celebrity hairstylist/disco icon Monti Rock III told Michelle LaFong, host of "Las Vegas Backstage" (KNUU-AM, 970) on Thursday that his near-death experience earlier this year was a wake-up call. It changed his perspective. "I got rid of a lot of people. Send 'em sympathy cards."
SIGHTINGS
NBA champion LeBron James, hosting his official championship celebration Saturday at Tao nightclub (The Venetian). James flew in his favorite DJ Steph Floss from Cleveland to spin. … U2's Bono, hosting a large 21st birthday celebration for his actress daughter Eve Hewson at Tao Asian Bistro on Saturday. Her given name is Memphis Eve Hewson. … At XS (Encore): Kobe Bryant, Tito Ortiz with Jenna Jameson and UFC legend Chuck Liddell, who earlier hosted a party at LAX (Luxor). … Also At Tao nightclub: NBA stars Kevin Durant and Russell Westbrook, Deron Williams, Andre Iguodala and Ray Rice of the Baltimore Ravens. … Wilmer Valderrama, dining with longtime friend UFC ring girl Arianny Celeste at Tao Asian Bistro (The Venetian) before partying in Marquee's Boombox Room (Cosmopolitan) with singer Omarion, Pussycat Doll Lauren Bennett and friends. … Also spotted at UFC 148 (MGM Grand Garden) on Saturday: Steven Seagal, reality stars Rob Dyrdek and Big Black of "Fantasy Factory," retired NFL players Willie McGinest and Michael Irvin, Dallas Cowboys running back DeMarco Murray and Mike Miller of the Miami Heat. … Luxor headliner Criss Angel, at Surrender (Encore) on Saturday.
THE PUNCH LINE
"When you come to, he's wearing your clothes." – From David Letterman's "Top 10 Signs You've Gone to a Bad Hypnotist"
Norm Clarke can be reached at 702-383-0244 or norm@reviewjournal.com. Find additional sightings and more online at www.normclarke.com. Follow Norm on Twitter @Norm_Clarke.