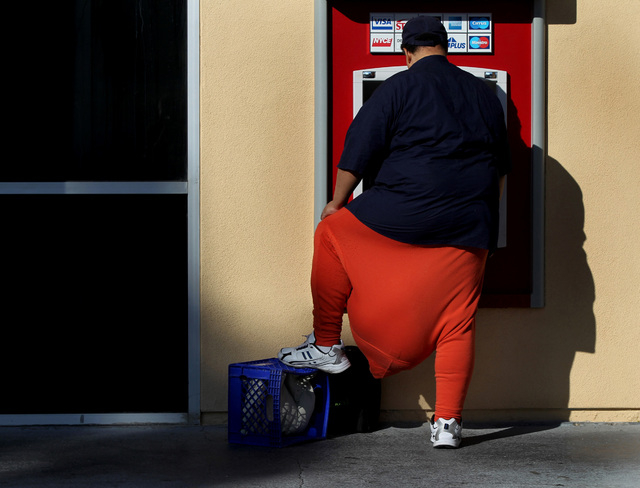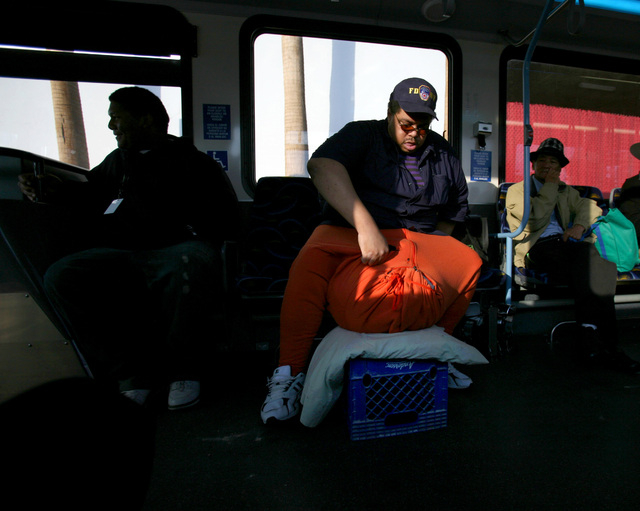 Wesley Warren Jr. , who attracted worldwide attention for his problems with a scrotum that grew to 132 pounds by the time he had it surgically removed last year, died Friday at University Medical Center.
He was 49.
UMC officials, citing federal privacy laws, would not disclose a cause of death, but a friend said Warren suffered two heart attacks in recent weeks.
"He was in the hospital for five and a half weeks, " said Joey Hurtado, who said he had shared an apartment with Warren in Las Vegas for years. "He had infections that I think were brought on by his diabetes and then he had those heart attacks."
Hurtado said he was sure that the scrotum operation performed last April by Dr. Joel Gelman, who heads the Center for Reconstructive Urology at the University of California, Irvine, played no role in Warren's death.
"He had been in good spirits after the operation, traveled around in a new van he bought," Hurtado said. "We went on a trip to Los Angeles from Las Vegas and he was fine. I kept trying to get him to lose weight so he'd be healthier. He'd get depressed sometimes that he wasn't healthier than he was."
Warren, who was 6-feet tall, weighed more than 500 pounds before his scrotum surgery and had a history of high blood pressure and asthma.
He was originally from Orange, N.J., and moved to Las Vegas with the hope of working on the production crew of the movie "Casino." When that didn't work out, he remained, working for a company that found sites for ATMs. He had no immediate family in the area.
"There are a lot of shows about makeovers, but this is a real makeover," Gelman told the Review-Journal after he and three other California physicians donated their expertise and cut away simultaneously for 13 hours on the grossly enlarged protective sac of skin and muscles that contained Warren's testicles and penis. "He's basically a new man."
After Warren agreed to be interviewed by the Review-Journal in 2012, his plight captured the attention of more than a million readers around the world through the newspaper's website.
When he walked in Las Vegas, he did so with the uneasy steps of a toddler. With each step, he sounded like someone breathing in the last quarter mile of a marathon. He wore a hoodie upside down to cover his scrotum, using a safety pin and belt to hold the sweatshirt up.
At home, Warren often sat in the living room of his near downtown apartment with his scrotum atop a milk crate as he watched TV. Because his penis was buried deep inside his scrotum, he was unable to control his urination. He frequently sprinkled the scrotum with baby powder to kill the smell of urine.
Much like Victorian England's Joseph Merrick, whose life with severe deformities became the subject of both the play and movie, "The Elephant Man," Warren concluded in 2011 that to escape his life of "hell" he had to allow himself to be exhibited. Often, he said, depression filled his life.
He told the Review-Journal that the doctors he hoped would do the surgery at the University of California, Los Angeles — surgeons he researched and believed to be the best at complex urological surgery — said he needed $1 million for a procedure.
After reading the story, Gelman and TV's Dr. Mehmet Oz offered to donate their services. But Warren didn't immediately examine either offer seriously. He recalled how his Las Vegas urologist, Dr. Mulugeta Kassahun, warned him that it might be impossible to stop the bleeding during such a complex procedure.
"I'm worried about dying on the table, about bleeding out," he said.
He went on shock jock Howard Stern's radio show and "Tosh.O" on Comedy Central. That TV show played a video where a skateboarder appeared to get knocked down when he ran into Warren's scrotum.
Warren, who loved to tell people that he had been on national shows, grew angry at suggestions that he wanted the spotlight more than the corrective knife.
"Who would want to live like this?" he said. "I just don't want to die during the operation."
To this day, no one knows what caused Warren's condition. Doctors said a common cause of some enlargement, a hernia and fluid accumulation between the testicle and skin, could not have done it. He also did not travel to Africa, Asia Central American or South American where a mosquito-spread parasitic infection causes the condition. Las Vegas surgeon Kassahun has discounted Warren's theory that bumping his testicles in bed in 2008 with his own leg caused the problem.
Living on disability and unable to work, Warren said he hoped what he called his "freak show" could earn him money. He signed a contract with a British company that filmed his struggles with his condition and his subsequent operation.
Firecracker Films' documentary, called "The Man with the 10-Stone Testicles," was a ratings hit in Great Britian, with nearly 4 million viewers. It also aired in the U.S. on TLC under the title, "The Man With the 132 lb Scrotum," and in Australia under the title of "The Man With The Biggest Testicles."
"I don't know how much he made," Warren's friend Hurtado said. "He never told me. He got a van and we did some traveling. But it wasn't enough for what he went through. He was basically trapped by his own body for years."
Contact reporter Paul Harasim at pharasim@reviewjournal.com or 702-387-2908.
Related links
Las Vegas man with 100-pound scrotum seeks money for surgery
<a href="https://www.reviewjournal.com/life/health/las-vegas-man-giant-scrotum-embraces-celebrity
">Las Vegas man with giant scrotum embraces celebrity
Scrotum surgery leaves Las Vegas man 132 pounds lighter