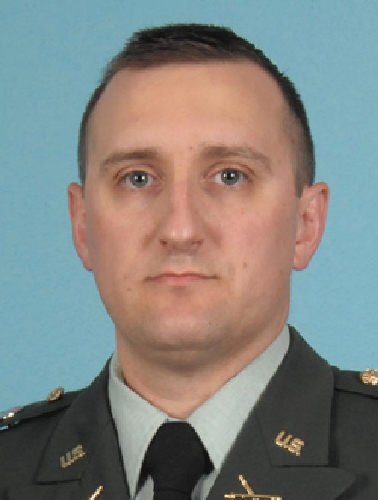 CARSON CITY — While authorities tried to sort through evidence from Tuesday's deadly shooting rampage at an IHOP restaurant, friends described the three Nevada National Guard soldiers who were killed as "rock solid" patriots who went out of their way to help others.
And a friend of the only civilian killed when 32-year-old Eduardo Sencion opened fire with an assault rifle said Florence Donovan-Gunderson was the loving wife of a retired Marine and was fond of baking and knitting.
Five soldiers from the Guard's headquarters were shot with six civilians. Friends and members of the Guard offered their impressions Wednesday of the fallen.
■ Maj. Heath Kelly, 35, of Reno, was a field artillery officer who served in Iraq from 2004 to 2005 and was married with two children.
Col. Kim Laberie, the state aviation officer for the National Guard, said Kelly spent a year as his administrative officer.
"He was rock solid. He was a good guy. He would want to be remembered as a professional officer, loving father and husband who enjoyed outings with his family," Laberie said.
Although Kelly served as an Army field artillery officer in Iraq, he did not talk often about his experience.
Laberie, however, said he knows Kelly was in several "dicey" situations.
"Most of my guys (who) have deployed … all carry something back. But Major Kelly was very positive and had no lingering issues. He looked forward."
On Kelly's block in Reno, neighbors cried openly after being told of his death.
"That guy was very nice, very energetic," said neighbor Charlie Stokes between sobs.
Friend Jan Nowack said Kelley and his wife had an infant son born on July 5 and a daughter.
"He was just a great guy who was always helping people," Nowack said. "Why does this happen to good people?"
■  Sgt. 1st Class Christian Riege, 38, of Carson City, served with the 1st Squadron, 221st Cavalry Regiment in Afghanistan from 2009 to 2010.
He was a soft-spoken soldier who was "funny, intellectual and witty," said Sgt. 1st Class Erick Studenicka, Army National Guard spokesman.
He said Riege's children "were foremost on his mind."
Brig. Gen. Bill Burks, commander of the Nevada National Guard, remembered Riege for "earning his combat spurs," being a fitness buff and serving in the Navy for two years before joining the Guard.
Riege's friend, Sgt. Paul Kinsey, served with him in Afghanistan and was supposed to go with him to the IHOP on Tuesday.
"I had to pick up my wife at the airport," Kinsey said, bursting into tears. "He was my friend. God could not have taken three more gentle souls."
Riege was a longtime Yerington resident who moved to Carson City in June. He was divorced and had four children.
He once did 2,000 pushups in one day.
"He cared for soldiers to a fault," Kinsey said. "He helped people out of financial problems. He sacrificed his well-being many times to make sure soldiers were taken care of."
In Afghanistan, Riege worked in logistics, helping soldiers get clothing, equipment, food and whatever they needed.
Kinsey said Riege's passions were his children and fast cars. Riege recently bought a 1965 metallic green GTO.
"He was an indispensable asset to the Guard community, a master chess player and loved to eat, especially steak," Kinsey said.
■ Sgt. 1st Class Miranda McElhiney, 31, of Reno, was an administrative sergeant for the Joint Force Headquarters. She had an upbeat personality and often baked and handed out cupcakes at work.
Elexia Casteel sobbed as she spoke of McElhiney.
"She was pretty much part of my family," said Casteel, a Guard sergeant no longer on full-time duty. "She made my kids cakes, cupcakes. She organized their birthday parties. Baking was her passion."
McElhiney graduated from a culinary school in Alabama and dreamed of owning her own bakery.
"She was pretty much selfless," Casteel said. "She would drop everything to take care of somebody."
McElhiney received a bachelor's degree from an online college in Alabama and was saving up money to attend ceremonies next year when she would get her master's degree.
Master Sgt. Thomas Sauls, who was McElhiney's past supervisor, said she was a perfectionist who "loved being a soldier and caring for soldiers."
"I sometimes wonder if she had a personal life," Sauls said. "She spent so much time on work, on school, on cupcakes. I wonder if she had time for Miranda."
He added that what happened at IHOP is so out of character for Carson City.
"I don't think there is a day we go to a restaurant when someone doesn't come up and thank us for what we do. I have never heard anyone say anything disparaging about the National Guard. Miranda's presence will be missed."
■  Civilian Florence Donovan-Gunderson, 67, of South Lake Tahoe, Calif., was at the restaurant with her husband, Wally, a retired Marine who was wounded in the shooting but is expected to survive.
"For them to stop and have pancakes and have this happen is just horrible," said Suzy Krzaczek, a friend.
Krzaczek described them as loving, energetic and kind. They were longtime friends of Krzaczek's parents, Dale and Carole Sare, and had looked after Carole since Dale died of cancer in 2008.
"They were at my parents' house last week. We still have some of her carrot cake," Krzaczek said.
She described Wally as a "semper fi kind of guy" who is outgoing and loyal and, with his wife, was active in the Republican Party.
Florence, who went by Florrie, liked to cook, bake and knit. She was known to make hats for friends and family members.
She also was active in the community, raising money for charity and conducting local home tours.
"She had the energy of someone half her age," Krzaczek said. "She was an incredible mom and grandma."
The couple were in Carson City for shopping and breakfast along with Tera, a service dog for Wally, who uses a wheelchair.
The couple were planning a trip to Monterey, Calif., with Carole Sare.
"I cannot express what good friends they have been to my mom," Krzaczek said.
911 calls in IHOP shooting in Carson City
Warning: due to extreme nature of incident, content may be upsetting.
AC_FL_RunContent( 'type','application/x-shockwave-flash','data','https://www.reviewjournal.com/media/audio/mp3small','FlashVars','MFILE=https://www.reviewjournal.com/media/audio/ihop911_001.mp3&MSTART=no','width','135′,'height','30','movie','https://www.reviewjournal.com/media/audio/mp3small','classid','clsid: D27CDB6E-AE6D-11cf-96B8-444553540000′,'codebase','http://download.macromedia.com/pub/shockwave/cabs/flash/swflash.cab#version=8,0,0,0′ ); //end AC code
AC_FL_RunContent( 'type','application/x-shockwave-flash','data','https://www.reviewjournal.com/media/audio/mp3small','FlashVars','MFILE=https://www.reviewjournal.com/media/audio/ihop911_002.mp3&MSTART=no','width','135′,'height','30','movie','https://www.reviewjournal.com/media/audio/mp3small','classid','clsid: D27CDB6E-AE6D-11cf-96B8-444553540000′,'codebase','http://download.macromedia.com/pub/shockwave/cabs/flash/swflash.cab#version=8,0,0,0′ ); //end AC code