Fugitive biker surrenders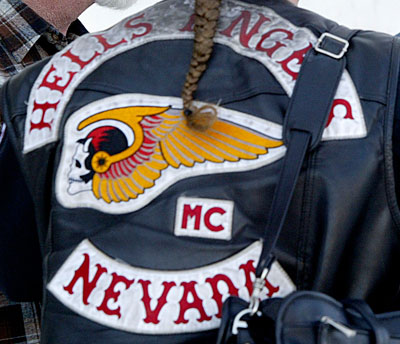 After six years and several court proceedings, the criminal cases against members of two motorcycle gangs who engaged in a deadly gunbattle at the Laughlin River Run was seemingly put to rest.
Six members of the Hells Angels were sent to prison; charges against 36 others were dismissed. Six members of the Mongols motorcycle club also were sentenced.
Then came Frederick Donahue.
The 43-year-old Hells Angel from Rodeo, Calif., vanished after indictments were handed down following the 2002 melee inside Harrah's hotel-casino.
While his associates sat through a federal trial that ultimately resulted in plea agreements and dismissals, Donahue was nowhere to be found.
"Essentially, he disappeared off the face of the Earth for the last five years," Assistant U.S. Attorney Eric Johnson said Friday. "He has avoided prosecution."
Donahue surrendered to federal authorities earlier this month. Johnson said he has refused to grant interviews with federal officials, leaving prosecutors at a loss as to Donahue's whereabouts or his decision to turn himself in.
Donahue was in U.S. Magistrate Peggy Leen's courtroom Friday, shackled and dressed in black-and-white striped North Las Vegas Detention Center clothing.
Leen told Donahue that she would not release him in part because he declined to tell representatives of the Bureau of Probation and Parole about his ties to the community, job history and other information she needs to fashion restrictions for a release.
Leen scheduled Donahue's trial for Sept. 8 before U.S. District Judge James Mahan.
Johnson said Donahue played a key role in the shooting that occurred in the early morning hours of April 27, 2002. He said Donahue sneaked his gun into Harrah's by hiding it under a bandana and later fired shots.
Security footage presented to jurors during the Hells Angels' trial in 2006 show gamblers scattering and ducking for cover as shots were fired.
Two members of the Hells Angels and one Mongol were killed in the battle.
Donahue was named in a 32-count indictment that includes charges of violence in the aid of racketeering and use of a firearm in commission of a felony.
The Hells Angels claim they simply defended themselves from the Mongol bikers, who plotted an attack and executed it as Hells Angels members drank at Rosa's Cantina, a bar inside Harrah's.
Federal prosecutors lumped all the Hells Angels into the same indictment with the same charges because, while not all were seen taking part in the fight, they planned the confrontation together.
Grainy video repeatedly played in the 2006 trial showed several Hells Angels committing crimes. Defendants Calvin Schaefer and Maurice Eunice were seen firing guns; Dale Leedom beat and stabbed a Mongol; James Harrigan knifed a rival; Rodney Cox hit a Mongol on the back of the head with a wrench, and Sohn Regas sprinted across the floor and tackled a Mongol.
The prosecution did not specifically point out Donahue during its presentation.
"I don't accept that he had a gun under a bandana or that he fired a weapon at anybody," Donahue's attorney, Alan Caplan of San Francisco, said Friday.
Caplan was also a defense attorney in the 2006 trial that resulted in dismissals and plea deals that sent six Hells Angels to prison for terms ranging from 12 months to 30 months.
Security videos presented in the first trial show that the Mongols fired the first shot and a responding officer with the Metropolitan Police Department fired the second.
"At this point we're making a good faith effort to reach results that are satisfactory," Caplan said, referring to an attempt to craft a plea agreement similar to the one extended to Donahue's associates. "We will just go from there."
Caplan said he does not know where his client has been for the last five years or why he decided to surrender.
"All I know is he turned himself in," he said.
It is unclear whether Caplan will be able to work out a similar agreement with the government because of Donahue's lengthy disappearing act.
Three weeks into the 2006 trial, Mahan became infuriated that the government did not share all video evidence with defense attorneys. He threatened to prohibit two witnesses, both agents with the Bureau of Alcohol, Tobacco, Firearms and Explosives, from testifying. He called the prosecution's failure to turn over evidence "out of control."
The defense and prosecution promptly struck the plea deal, ending the trial.
Leen declined to release Donahue from custody, agreeing with Johnson that he poses a potential danger to the community and is a flight risk.
Contact reporter Adrienne Packer at apack er@reviewjournal.com or 702-384-8710.
(i) MORE INFO • River Run Riot Watch video of the riot: • Video clip 1 • Video clip 2 • Video clip 3