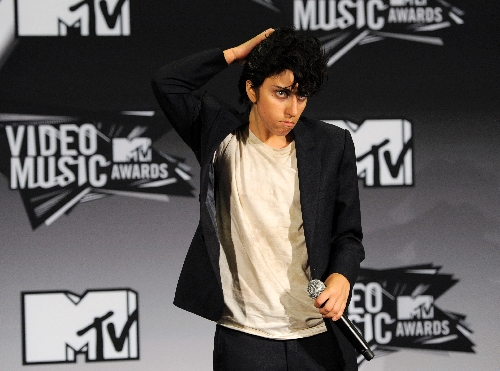 Lady Gaga was spotted rehearsing Wednesday at a Las Vegas studio, reportedly for her duet with Sting at what's being billed as the "the biggest live music event in radio history."
Hosted by Ryan Seacrest and sponsored by Clear Channel, the sold-out, live-streamed iHeart Radio Music Festival is being held at the MGM Grand Garden on Friday and Saturday.
Lady Gaga, known for her wild costumes and outrageous arrivals, checked into The Cosmopolitan late Tuesday and was seen entering Dream Vision Studios on Russell Road on Wednesday, with heavy security.
She's reportedly rehearsing at the studio all week, according to the website, LocalsLoveVegas.com, operated by former TV personality Ron Futrell.
The festival is a vehicle for Clear Channel's launch of the iHeart Radio app, which allows users streaming access to radio programming to many of the media entertainment giant's 850 stations. The shows can also be heard live on iHeart.com.
The lineup includes Coldplay, Steven Tyler, The Black Eyed Peas, Kenny Chesney, Jennifer Lopez, Alicia Keys, Carrie Underwood, Jane's Addiction, Nicki Minaj, John Mayer, David Guetta, Rascal Flatts, Bruno Mars, Kelly Clarkson and Sublime with Rome, with special performances from Usher and Sting.
'ABSINTHE' SET TO RETURN
It's all over but the shouting and maybe some ink drying. "Absinthe," the biggest little surprise of the year, has been extended, according to sources close to the show. The show, which was performed in a wooden, tentlike venue outside Caesars Palace, closed last Sunday. "Absinthe" will take place in a sturdier structure that has fire prevention add-ons that weren't required for the initial six-month run.
THE SCENE AND HEARD
Remember "Lord of the Dance" star Michael Flatley and the routine where he literally kicked his own butt? I'm guessing that's how Mike Tyson feels after last week's perverse off-the-rails rant about Sarah Palin. That was a disturbing departure from the guy who convinced a lot of people he was a changed man since his marriage to Lakiha Spicer, a devout Muslim, and embracing her religion.
The folks of "Pawn Stars" are promising a big announcement today.
SIGHTINGS
Former U.S. Sen. John Ensign, making a rare public appearance Wednesday at the grand opening of Billy Richardson's Barrymore's restaurant at the Royal House on Convention Center Drive. Ensign resigned in April amid an investigation by the Senate Ethics Committee and the FBI after admitting a sexual relationship with campaign aide Cindy Hampton and accusations that he sought to land lobbying business for her husband, Doug, one of Ensign's top staffers. At the restaurant, as Ensign sat in a corner with a mixed group, an all-female musical combo in the Royal House lobby, Dusty Sunshine, played the song "Perfect Man." When asked what he's been doing since returning to Nevada, Ensign said, "Some veterinary work and a couple projects."
Also spotted: Ageless comedy icon Marty Allen and Palace Station headliner Louie Anderson.
THE PUNCH LINE
"Chaz Bono was spotted shirtless on the set of 'Dancing With the Stars.' There were no survivors." — Conan O'Brien
Norm Clarke can be reached at 702-383-0244 or norm@reviewjournal.com. Find additional sightings and more online at www.normclarke.com. Follow Norm on Twitter @Norm_Clarke.