Gambling tweet stuns Tiger friend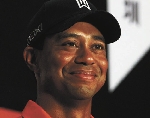 Was Tiger Woods tweeting the twooth about his "big night" in Las Vegas? A tweet on Woods' Twitter feed on Saturday is raising eyebrows in more ways than one about his weekend visit.
The tweet read: "Big night at the tables with Mayer. He's cool. We both walked away winners."
Mayer would be John Mayer, who performed at Woods' Tiger Jam benefit for youngsters, which returned to Mandalay Bay after a year hiatus. Mayer and Keith Urban headlined the event.
Vegas Confidential reported here on Sunday that Woods had lost more than $250,000 during his trip to Las Vegas. I checked again Tuesday, and my source stands by that information.
What came as a surprise to Woods' friends was not that he was gambling again, but that he would tweet about it when he appears to be intent on rebuilding his image. He recently opened a Twitter account and fields numerous golf-related questions.
"That's way out of character," said a former associate, referring to the gambling tweet.
"I just find it really hard to believe he would go public with that. That's not the same person," the source said.
It was well-documented through video that Woods went to the Atlantis resort in the Bahamas about two weeks before The Masters. That in itself surprised my source.
"You would have expected him to be working on his game," he said.
Then the source dropped a bombshell of sorts, if true.
"I heard he came back to Vegas right after The Masters, under the radar," he said.
I couldn't substantiate that claim, but it wouldn't be hard to be kept in the Vegas bubble.
Woods is no longer married and is free to do what he wishes, the source said. But he is concerned that Woods is behaving "like the handcuffs are off. No boundaries."
He raised the possibility that it could be a bogus tweet. But it's the same Twitter account (@TigerWoods) that has carried posts of what appears to be Woods religiously responding to fan queries. The site has more than 835,000 followers and claims to be his "official" site.
The Saturday post was the only tweet over the weekend, after more than 40 on Friday, the day Woods was at a private clinic at Rio Secco Golf Club.
His last tweet on Friday read: "Thanks for all the love and support. I got to go do a clinic now in which I can't hit balls :("
TRACKING CHARLIE SHEEN
After his nightclub-hosting appearance in Las Vegas, bad-boy Charlie Sheen flew to tornado-ravaged Tuscaloosa, Ala., where he reportedly spent $3,000 at a Best Buy on batteries and flashlights for residents left homeless.
From there he headed to Vancouver, B.C., to continue his "Violent Torpedo of Truth" tour. He sold about 3,000 tickets for an 8,000-seat venue, and the Vancouver Sun reported "Sheen started late and finished lame."
Sheen had comedian Jeffrey Ross roast him during last week's stop at the Trump Taj Mahal in Atlantic City.
Ross told the crowd it was great to be part of the "Apparently-The-Novelty-Hasn't-Worn-Off Tour."
THE SCENE AND HEARD
The Chippendales will be making an appearance on Ellen DeGeneres' show Friday, which is dedicated to Mother's Day. The show is at 3 p.m. on KLAS-
TV, Channel 8. …
Here's the link to the Steve and Andrea Wynn wedding video produced by famed director and choreographer Kenny Ortega: //bit.ly/k54UkR
SIGHTINGS
Bruce Willis, chatting with chef Michael Mina at American Fish (Aria) on Sunday night. … Hip-hop artist Xzibit and Greg Oden of the Portland Trailblazers, in separate parties, at N9NE Steakhouse (Palms) on Sunday night.
THE PUNCH LINE
"(Donald) Trump looked pissed at the (White House) Correspondents' Dinner. I hope this doesn't jeopardize Obama's chance at hosting (the) Miss USA Pageant." — Joy Behar
Norm Clarke can be reached at (702) 383-0244 or norm@reviewjournal.com. Find additional sightings and more online at www.normclarke.com. Follow Norm on Twitter @Norm_Clarke.