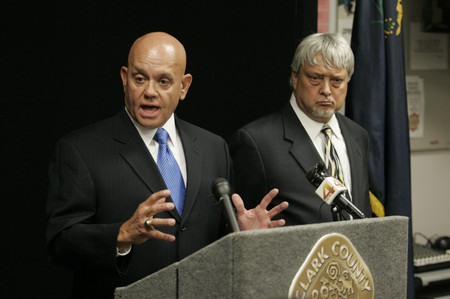 Impressionist Danny Gans' death last month was caused by a combination of heart and blood diseases and a powerful prescription painkiller used to treat chronic pain, the Clark County coroner said Tuesday.
The death was ruled accidental.
"Mr. Gans' health conditions placed him at greater risk for heart irregularities, and the hydromorphone was a factor that exacerbated those risks," Coroner Mike Murphy said at a news conference.
The official cause of death was acute hydromorphone toxicity because of chronic pain syndrome. Hydromorphone is a strong synthetic opioid commonly known as Dilaudid.
The contributing factors were hypertensive cardiovascular disease, which causes high blood pressure and thickening of the heart muscle, and polycythemia, a thickening of the blood caused by too many red blood cells.
"It want to be very clear that this is not an issue of drug abuse," Murphy said. "What I'm trying to be clear about is that we have an issue involving Mr. Gans' health and the hydromorphone, and as a result of the combination of those issues, Mr. Gans succumbed to his health conditions in conjunction with that hydromorphone issue."
Murphy would not reveal how much hydromorphone was in the 52-year-old's system, how long he had been taking it or whether it was prescribed to Gans.
He said that the coroner's office worked with Henderson police to obtain all of the records they had available, including medical records from Gans' physicians.
The entertainer died May 1 in the bedroom of his Henderson home. His wife had called 911 about 3:45 a.m. because he was having trouble breathing.
Gans' manager, Chip Lightman, said Gans had been dealing with "terrible pain" in his shoulder since 2006.
He had surgery in November, after his Mirage show closed, and another procedure in March.
"He was in terrible pain again in March from the shoulder stuff, so they went in again and got rid of some scar tissue and did some cleanup from the original surgery," he said.
Lightman said Gans might have been prescribed the hydromorphone after his surgeries, but he said he couldn't see Gans using it in large amounts.
"It would just be very odd for Danny to take too much pain medicine because it would dry his vocal cords out," he said. "He wouldn't really do that because it would hurt his voice."
Gans discussed some of his physical issues during an interview in February 2006, when he was about to reopen his show at The Mirage after a three-month break for surgeries on his right rotator cuff and left hand.
He said the cumulative wear and tear from years of baseball, golf, martial arts and the physicality of his nightly show caught up to him. At the time, Gans couldn't lift his right arm over his head.
"I had a lot of bone spurs in there (the shoulder) and a lot of scar tissue from hurting it — little tears — and I continued to perform," he said. "Maybe it would take four to six weeks to fix the tear that maybe I started three years ago. I said, 'Oh, you know, I'll just take more Tylenol and I'll be OK.'"
The pain eventually disappeared, but Gans said he would reaggravate the shoulder now and then.
"I'd swing a golf club or something, 'Ow! OK. I'll take more Motrin tonight. I've got a show I don't want to miss.' Because I had that one period in 2003, I missed a ton," he said. "That was a really bad year. I lost both my parents. I had an automobile accident. It was just a really rough time."
David Graham, a pastor who golfed with Gans at the Dragon Ridge Country Club on the last day of the performer's life, said Gans did not complain about any pain that day and never mentioned taking Dilaudid.
"He certainly was not an addict of any kind. He hated drugs," Graham said. "The only thing you could say about him taking pain medicine was he just had surgery."
Lightman said he knew the game exacerbated the pain.
"I know he was feeling pretty good, (but) he was exhausted from not sleeping the night before. Then he had his massage that he usually has on Thursday, then went to take a nap. Period. Nothing out of the ordinary."
Dr. Todd Schlifstein, a nationally recognized expert in pain management who practices at the New York University Medical Center, said hydromorphone is a commonly used pain medication that is four times stronger than morphine.
Schlifstein said Gans' cause of death, acute hydromorphone toxicity, meant his breathing was suppressed.
"He would have a hard time breathing," he said. "He would be gasping for air. When he tries to gasp for breath, he just can't do it."
He said it was "definitely unusual" that Gans died that way, "especially if Dilaudid is not new to him, if he's not opiate naive."
Usually a patient and doctor know how the patient responds to the drug over time, he said.
Schlifstein said that someone using the drug for pain management must use more of it over time to get the same effect, and the danger rises with increasing doses.
Dr. Mel Pohl, medical director of Las Vegas Recovery Center, which has a program that deals with chronic pain management, said the listing of polycythemia as a factor in Gans' death indicated that the condition could have played a critical role.
The disease thickens the blood, which slows circulation and lowers oxygen levels. Coupled with depressed breathing from the hydromorphone, and "you could have a potentially lethal brew."
"For him to take enough to stop breathing is a significant event," he said.
The question that Pohl said he has to ask is, "What was different on the night he died?"
Both Pohl and Schlifstein said it is very difficult to speculate on Gans' death without knowing his medical history.
"If the drug is prescribed and an individual follows a doctor's order, there shouldn't be any negative connotation regarding those who use pain medication," Schlifstein said.
"Not everyone who uses pain medication is a junkie or drug addict. Many people are now afraid to even tell people they use pain medication because it's got a bad rap after some people abuse it. People are much too quick to judge in this area."
Contact reporter Brian Haynes at bhaynes@reviewjournal.com or 702-383-0281. Contact reporter Mike Weatherford at mweatherford@reviewjournal.com or 702-383-0288. Contact reporter Paul Harasim at pharasim@reviewjournal.com or 702-387-2908.
Video of coroner's news conference
HYDROMORPHONE (DILAUDID)
Hydromorphone is a potent centrally-acting drug of the opioid class and is a morphine derivative. It is dispensed in many forms and is two to eight times stronger than morphine. It is a U.S. Drug Enforcement Administration schedule II drug and only legal with a prescription.
USES
Hydromorphone is used to relieve moderate to severe pain as well as painful dry coughing. The use of hydromorphone has increased by 228 percent since 1998.
SIDE EFFECTS
• High dose tolerance leading to dependence
• Troubled and slowed breathing
• Impairment of mental and physical performance
SOURCES: DEA, Physicans Desk Reference