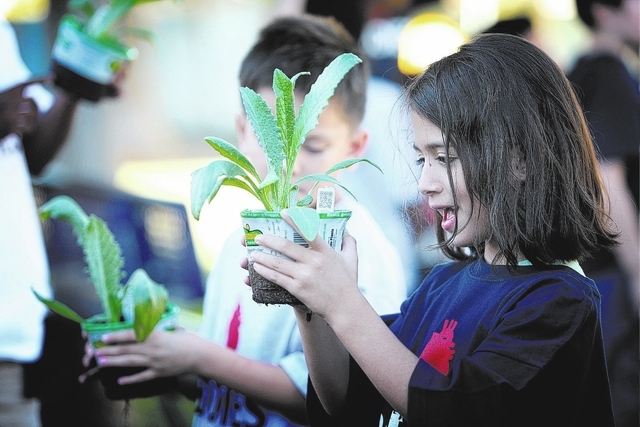 The Boys & Girls Clubs of Southern Nevada wants its members to know it's never too early to start talking about healthy eating and good nutritional habits.
The organization has partnered with "BODIES … The Exhibition" to start a garden to teach its children about taking care of their bodies.
"I ask children all the time what is the most precious gift they have," said Dr. Roy Glover, the medical director and spokesman for "BODIES … The Exhibition." "They tell me their iPads or video games."
But with more than 35 years' experience working in the medical field, Glover wants children to know that it's the human body.
"Nothing is more precious, because we live in it," he said. "We are born in it, and we take our very last breath in it. What is more important than that?"
Glover joined members and the staff of the Boys & Girls Clubs on Sept. 30, the last day of Childhood Obesity Awareness Month, to unveil a newly planted garden at the Donald W. Reynolds Boys & Girls Club, 2980 Robindale Road.
The garden will not only be a way for members of the club to get healthy snacks, but it also is expected to serve as a lesson on healthy living.
"It's good to start them young so they learn about healthy habits," said Max Fenster, the program director at the Reynolds Boys & Girls Club.
He said planning the garden started in May as part of the club's goal to educate on healthy lifestyles, which includes teaching on mind, body and spirit.
Glover said that when he was young, people didn't talk about the body and the importance of good health.
As obesity rates have grown — nearly 13 million adolescents are obese, according to the Centers for Disease Control and Prevention — he added that it's important to change the conversation and start to educate people on what they eat.
"About 17 percent of children 2 to 19 are obese," Glover said. "Studies show that if someone is obese during childhood, they will most likely have issues going into adulthood. Investing young is important."
Glover added that another benefit of starting with children is they can influence their parents in making healthier choices.
He said the discussion of proper diets is also timely.
"This is an especially good time to talk about it as we discuss health care in our country," he said.
At the presentation, Glover reiterated the message the program tells children.
"Your bodies need vegetables," he said. "They might not be as attractive at desserts."
He began to explain to the children about health-related issues, such as obesity or heart problems, brought on by not eating right.
"It can hurt your joints if you're too heavy and overweight," he said. "It can also hurt your heart."
To help the children better understand about eating right, staff members talked about their eating habits.
Ken Rubeli, CEO of the Boys & Girls Clubs of Southern Nevada, talked about learning to eat right after he became an ultramarathon runner.
"I am a junk food fanatic," he said. "I love dessert. I had to learn how to eat it in moderation."
He had to make changes as he became more active, he said.
Children don't just get to hear about what to eat. When the garden is in bloom, they are expected to have healthy snacks from it as well.
The club is growing lettuce, tomatoes and artichokes. Fenster plans to add cauliflower and broccoli.
Youths at the club and staff members are expected to take turns watering and tending to the garden.
"It's good (for the youths) to take ownership," Fenster said.
He added that with teaching about healthy living, having them be hands-on in the process helps to better instill the lessons of healthy living.
For more information, visit bgclv.org.
Contact Henderson/Anthem View reporter Michael Lyle at mlyle@viewnews.com or 702-387-5201.