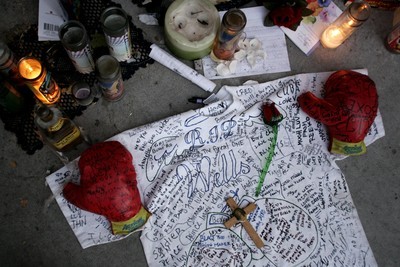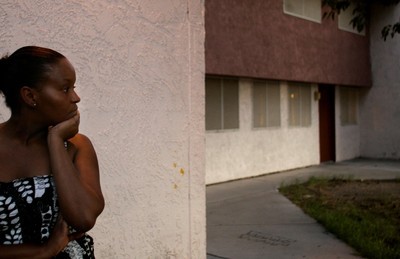 Slain former Olympic boxer Roshii Wells died disappointed with his professional fighting career, gunned down Aug. 11 in an eastern Las Vegas apartment complex.
But if Wells could have seen how many people attended a community event Monday at the same public-housing complex where he was killed, he would have smiled, said 22-year-old Jasmine Smoot, who was Wells' girlfriend.
"He thought everybody forgot about him," Smoot said about the 1996 bronze medal winner. "If he would have seen this, he would know the love is there for him."
About 200 people attended the Valley United Initiative on Monday at the Vera Johnson Apartments at 531 N. Lamb Blvd. The program links police and community leaders in hopes that the relationships will curb future violence.
The grass-roots project is an extension of an identical program called Safe Village launched last year in West Las Vegas. Police, pastors, community group leaders and neighbors establish alternatives for children and teens. They also respond when violence occurs. Monday's gathering was the second in less than two weeks in eastern Las Vegas.
On Aug. 7, about 50 community members gathered to memorialize the life of 16-year-old Clemente Carlos Garcia-Benitez. On July 28, he was found with a gunshot wound to the head in a drainage wash near his eastern valley home.
Smoot said Wells, 31, worked tirelessly to reignite his boxing career and practiced his craft at Johnny Tocco's Boxing Gym. Wells had one goal: get that elusive prize fight that could help his family move out of a dangerous neighborhood.
In the 1996 Olympics, Wells fought alongside other U.S. fighters who gained fame and fortune, such as Floyd Mayweather Jr., Fernando Vargas and Antonio Tarver. Wells had a professional record of 18 wins, 2 losses and 10 knockouts.
Smoot said improving the lives of his five children was Wells' main priority.
"He was such a good dad," Smoot said, holding back tears as she stood near a makeshift memorial. The memorial, made with boxing gloves and lit with candles, was set up near building 531 where Wells was fatally shot.
"He was taken from me so quickly," Smoot said. "It was unexpected."
Las Vegas police accuse 26-year-old Roger Randolph of firing three rifle rounds at Wells. Randolph was arrested Wednesday when Arizona troopers pulled him over on U.S. Highway 93, about 15 miles north of Kingman, Ariz.
Monday's event was part of a healing process, said Troy Martinez, a pastor and the event's coordinator.
"This is part of the puzzle," Martinez said. "These children need to know that what happened here is not normal and we're here to comfort them."
With the help of several groups, event organizers passed out grilled hot dogs. They also distributed about $1,000 worth of diapers and bath products to people at the housing complex. The event also provided free music from a rock band, a gospel group and a "positive" rap group that doesn't use cuss words, Martinez said.
Las Vegas police Capt. Christopher Darcy said the event is meant to engage residents with law enforcement in a positive way. Darcy pointed to the numerous children and open doors at the event.
"They're out here, and a week ago, that probably wasn't the story after what happened," Darcy said. "We can take what happened and move forward from it in hopes that violence like that doesn't happen again."
Gilbert Frances has lived in the apartments for just less than a year. Like many other residents who spoke with the Review-Journal, Frances said he feels safe at the complex.
Frances viewed the event as a positive as long as police don't turn the interaction with residents into harassment.
"It's something positive that's going on," he said. "It's good for the kids. It's good for the community. It's what's needed."
Contact reporter Antonio Planas at aplanas@reviewjournal.com or 702-383-4638.