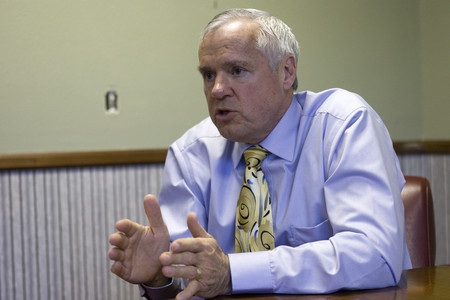 CARSON CITY — Gov. Jim Gibbons said Tuesday he hopes to cut state appropriations to public schools by 10 percent as he seeks to reduce state spending by $900 million between March and June 30, 2011.
Anticipating the need to roll back the salaries of teachers and other K-12 school employees in the face of declining revenues, he has ordered his lawyers to determine whether he can temporarily suspend by executive order the collective bargaining agreements with unions that bind school districts to pay specific salaries and benefits.
"It is tragic that because of collective bargaining some (districts) are forced to lay off junior employees, people with lower salaries," Gibbons said.
But the head of the state teachers association and a legal expert said the law doesn't let Gibbons suspend collective bargaining for a fiscal crisis.
Ending collective bargaining was part of the governor's eight-point plan announced in early January to cut state spending by implementing reforms to the public education system.
The proposal, opposed by Democratic legislative leaders as unpalatable and criticized by union officials as well, came before the Economic Forum predicted the state's budget shortfall would be so large.
Collective bargaining, allowed under state law for school districts and local governments but not for state workers, allows unionization of public employees and negotiations for wages and benefits.
Reducing school spending in the next school year would save the state about $150 million. But making such reductions earlier might be difficult because of contracts teachers and other employees have with school districts for the current school year.
Gibbons made his comments on cutting education spending and suspending collective bargaining after an hourlong meeting with four school superintendents, including Clark County Superintendent Walt Ruffles.
Rulffes said he spoke with the governor about shortening the school year as an option to save money. But Rulffes said he cannot cut salaries under current collective bargaining agreements.
"I have authority to make layoffs, but I don't have the authority to do salary cuts under the agreements with unions."
Lynn Warne, president of the Nevada State Education Association, said Gibbons cannot under state law suspend collective bargaining.
She noted that in the collective bargaining law (Nevada Revised Statute 288.150) local governments can suspend this right only "in situations of emergency, such as a riot, military action, natural disaster or civil disorder."
And collective bargaining can be suspended only for the duration of the emergency, according to the law.
NSEA officials figured Gibbons would seek this step and asked their legal staff to look at their options, she said.
"It isn't collective bargaining that caused this problem," Warne said. "It is the lack of his (Gibbons') leadership. We don't support cuts to education. You are talking about cutting an already emaciated budget. We need to look at the way we fund education in this state."
Carl Tobias, a University of Virginia law professor who often discusses constitutional law questions, doubts Gibbons legally can temporarily suspend collective bargaining. Even if he tried to suspend it, Tobias said, unions immediately would request temporary restraining orders that would tie up for an extended period what the governor wants to do.
"I suppose you can do almost anything in an emergency," said Tobias, a former professor at the Boyd School of Law in Las Vegas. "But labor law is mostly federal. He might be pre-empted by federal law."
Governors set the agenda for special legislative sessions. Gibbons will outline his proposed cuts in a televised State of the State speech Monday. He will announce during the speech when he will call the Legislature into session to deal with the state's economic woes caused by a recession and drooping tax revenues.
A $900 million cut is the equivalent of 22 percent of the expected state tax revenue over the next 16 months.
Gibbons said some state agencies will be asked to make greater cuts than others. Legislators will begin discussing the expected cuts during Interim Finance Committee meetings today and Thursday. Additional meetings are planned next week.
The 2009 Legislature approved a $2.6 billion, two-year general fund budget for public schools. About 39 percent of state appropriations go to support public schools.
Contact Capital Bureau Chief Ed Vogel at evogel@reviewjournal.com or 775-687-3901.