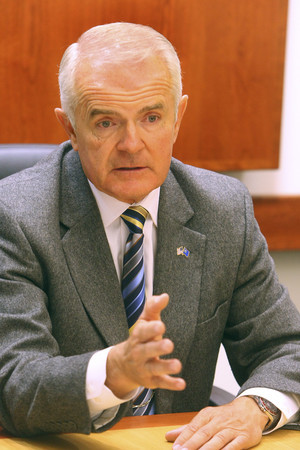 CARSON CITY — In the days before it was standard to place players' names on the back of their uniforms, vendors at Major League Baseball stadiums would scream, "Scorecards. Scorecards. You can't tell the players without a scorecard."
With his frequent reshuffling of key staffers, Gov. Jim Gibbons might have to resort to offering his own scorecards to help Nevada's citizenry, state employees and the Legislature keep track of his ever-changing staff.
In his 21/2 years as governor, he has run through four chiefs of staff and four media spokesmen. He also has replaced deputy chiefs of staff, legal counsels and legislative liaisons.
By contrast, Gov. Kenny Guinn had five chiefs of staff and four press aides over eight years. Most remain close to the governor, often getting together with him when he visits Carson City.
Gov. Bob Miller, who served 10 years, had four chiefs of staff and three press aides, and he regularly talks with his former staffers.
But former Gibbons aides say the governor has been disloyal to them, even after some moved to Carson City from Washington, D.C., where they served in his congressional office to help him achieve his objectives.
"He has shown a lack of loyalty toward members of his staff," one ex-Gibbons aide said. "We should not have been surprised. Look what happened to Robert."
Robert Uithoven, a political insider liked by both Republican and Democratic lawmakers, ran Gibbons' successful campaign for governor in 2006 and worked for him during his 10 years in Congress.
Uithoven seemed a shoo-in for chief of staff, but he did not get along with Gibbons' wife, Dawn, and at the time Gibbons' loyalty was with his spouse. They are now divorcing.
Uithoven never found a job with the Gibbons administration and now works as a private political consultant.
Uithoven takes pains not to say anything negative about Gibbons, but even he concedes some turnover under Gibbons was "forced" rather than voluntary.
"A lot has been said about our parting of ways," Uithoven said. "But Governor Gibbons and I have maintained a good relationship. Ultimately, people aren't going to measure his success based on his staff. He needs to put people around him who he trusts the most."
Gibbons bristles at the allegation he has failed to show loyalty to longtime aides.
"I am not going to answer that," he said, adding the question was "not worth a damn."
"People come and go," Gibbons said. "For the most part, they have taken jobs outside of government at pay levels far more than we can pay. These jobs are stepping stones."
Within the past month, several key staffers have left Gibbons' administration.
On the same day in July, Chief of Staff Josh Hicks, legal counsel Chris Nielsen and legislative liaison Jodi Stephens announced their departures.
Rather than give Deputy Chief of Staff Mendy Elliott the top job, Gibbons named former Deputy State Treasurer Robin Reedy to the post. Elliott, who learned she had been passed over at a cabinet meeting, found a job as deputy director of the Department of Employment, Training and Rehabilitation.
Two weeks ago, Energy Director Hatice Gecol fired her deputy director, Nick Vander Poel, in an incident that prompted her to call the Sheriff's Department. No one was arrested.
A source said Vander Poel, who is Elliott's son, had been sending e-mails looking for a job because he realized he would be fired after his mother was passed over for chief of staff.
Vander Poel was among a group of younger staffers who followed Gibbons from Washington to Carson City. All have left the administration for various reasons.
Las Vegas political consultant Jim Denton, who had been a faithful adviser to Gibbons for years, also has been cut loose and no longer speaks with the governor.
Rather than relying on staff and longtime political consultants for advice, Gibbons consults Robert Olmer, a Lake Tahoe skiing promoter, and Howard Weiss, a Reno businessman.
Ex-Gibbons aides paint a picture of an administration in disarray where everyone knows the governor has no chance to win re-election in November 2010 as his popularity ratings linger in the teens.
Legislators say the lack of stability in the administration hurts the governor because they don't see aides they know and trust.
"It is difficult for us in the Legislature when you have no continuity or experienced people in his office," said Assemblywoman Debbie Smith, D-Sparks. "More importantly, we have no relationship with the administration."
As an example, Smith said the current feud between Gibbons and the Legislature over whom should oversee the expenditures of federal stimulus funds could have been avoided.
Gibbons or one of his new aides should have had preliminary discussions with lawmakers before an ugly Interim Finance Committee meeting two weeks ago when legislators voted to give the controller's office management of stimulus funds, Smith said.
Before leaving the administration, Elliott had handled most stimulus fund matters since February.
Communications director Daniel Burns maintains the changes made by Gibbons were meant to improve the quality of his staff. In some instances, Gibbons helped them find new jobs.
Burns noted that one of Gibbons' new deputy chiefs of staff is Lynn Hettrick, the longtime former Assembly minority leader. "Who can argue about the hiring of Hettrick?"
Eric Herzik, a University of Nevada, Reno political science professor, said all the changes make it difficult for state agencies to know how to carry out Gibbons' mission.
"This is just further evidence of how dysfunctional his office has become," Herzik said.
"People can argue over whether his policies are appropriate or not, but look at his office. There is a constant learning curve for his staff. Government functions, but there is no continuity in the governor's office. That alienates legislators."
Contact Capitol Bureau Chief Ed Vogel at evogel@reviewjournal.com or 775-687-3901.