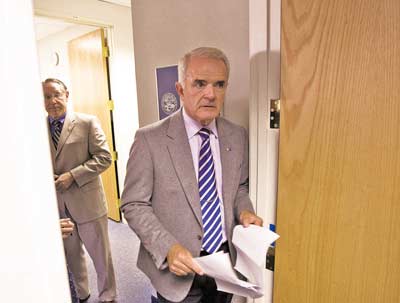 CARSON CITY — The crises, stumbles and embarrassments that have marked Gov. Jim Gibbons' 17-month tenure have diminished but not finished his career in politics, supporters contend.
Some say he still might have enough political capital to see him through the 2010 election, despite allegations he has been involved with a married Reno woman.
But others have already begun writing Gibbons' political epitaph, saying earlier scandals on top of a disappointing performance doomed him long before the ugly split with his wife of 22 years.
A bid for re-election, which he has said he will pursue, is 21/2 years away.
Voters will quickly forget. At least that's what Gibbons' supporters are hoping.
"People don't give a damn about this divorce," said Gibbons confidante George Harris, publisher of Liberty Watch magazine. "They give a damn about $4 gas and they give a damn about their home values going down. Just where is the evidence the governor had an affair?"
Harris acknowledged the governor made a mistake filing for divorce while in office.
Signaling that the governor recognizes the political toll of his split with Dawn Gibbons, sources say he is trying to quickly complete the divorce. He has already made three unsuccessful attempts to reach a financial settlement with his estranged spouse, a source said.
But before the first couple's marital tensions played out in public, the continual problems of his administration had just about extinguished any chance Gibbons had at getting re-elected, said Eric Herzik, a political science professor at the University of Nevada, Reno.
"If he were popular, he could get out of this," Herzik said. "But Gibbons already was on thin ice. His popularity was low. He is in a world of trouble in his own party."
Donors will be reluctant to contribute to a Gibbons re-election effort, he said.
Indeed, Republicans are already reaching out to other possible gubernatorial candidates, party insiders say.
"They will look for a neutral candidate," Herzik said. "They are looking for another Kenny Guinn."
Gibbons entered office amid allegations he had assaulted Chrissy Mazzeo after a night of drinking during the campaign. That was followed by reports the FBI was investigating allegations Gibbons, while a member of Congress, had steered military contracts to a friend, Reno businessman Warren Trepp, in exchange for cash and trips.
Even his swearing-in as governor was eclipsed by controversy when he insisted on taking the oath of office immediately at midnight Jan. 1.
More recently, Gibbons' response to Southern Nevada's hepatitis C outbreak — he blamed media "buffonery" for the public outcry over the crisis — and the state's foreclosure crisis, have been criticized as anemic and scattered.
Herzik acknowledges some of the governor's troubles are beyond his control.
"What kind of luck does he have when he is governor during the worst recession in 20 years," Herzik said of the economic downturn that has led to $914 million in state budget cuts.
With that baggage, a swift resolution to the divorce is key to Gibbons' political survival, according to some supporters and observers.
"Gibbons is human and these things happen," said Fred Lokken, a political science professor at Truckee Meadows Community College. "But the longer it goes on and the more public it becomes, the more destructive it is."
The governor filed for divorce on May 2, citing incompatibility, and requesting, as allowed by Nevada law, that the case be sealed.
In a motion to open the case, Dawn Gibbons' attorney, Cal Dunlap, alleged the governor's relationship with Reno resident Kathy Karrasch is the true cause of the split.
Gov. Gibbons denies the relationship is anything more than a 15-year-long platonic friendship.
Lokken said it was a mistake for Gibbons to have the case sealed and the trial held behind closed doors. The secrecy has led some to believe he has something to hide, Lokken said.
To resolve the divorce, the governor is willing to give up more than half of the couple's community property to Dawn Gibbons, according to one source.
The couple owns a ranch style home on 2.8 acres in cushy southwest Reno. Its value is listed at $661,000 on property tax rolls, but some say the actual value is closer to $1.3 million.
Dawn Gibbons said last year that the couple took out a mortgage on the house to cover legal expenses. The governor has hired Washington lawyers to defend him from the allegations he illegally aided Trepp. No charges have been filed.
The governor also owns 40 acres in Elko County, which he purchased for $575,000 using proceeds from a congressional pension, the first lady said last year. Gibbons wants to build a home there.
But other sources say the stumbling block to a quick divorce resolution isn't difficulty dividing the couple's property, but rather Dawn Gibbons' insistence on permanent support payments.
"Dawn is so narcissistic," a source said. "She strives to be the center of attention. Jim can't settle when she won't settle."
Conservative blogger and political consultant Chuck Muth said there are efforts to draft Rep. Dean Heller, R-Nev., to challenge Gibbons in the 2010 Republican primary. Other sources say Republicans will look to a business executive like MGM Chairman Terri Lanni or former Harrah's Entertainment Chairman Phil Satre to challenge Gibbons.
But Muth isn't writing Gibbons off if he can quickly end the marriage and stop the flood of negative news about his involvement with a married woman.
"He needs to get this (the divorce) settled. It is becoming a distraction," he said. "People won't volunteer and work for the party. It is a big downer for Republicans. Politically he has to get it done quickly."
Divorce is common among Nevadans, Harris noted. He believes voters are more concerned with Gibbons keeping his no-new-taxes pledge.
There are plenty of examples of politicians surviving allegations of infidelity.
New York Gov. David Paterson and his wife, Michelle, admitted in March to numerous affairs. Los Angeles Mayor Antonio Villaraigosa has gone through a messy divorce and admitted an affair with a TV reporter. Former New York City Mayor Rudy Giuliani left his wife and moved out of the mayoral residence, Gracie Mansion, and yet was seen for a time as a legitimate presidential contender.
The difference, however, between those politicians and Gibbons, noted Herzik, is they were popular with voters.
"Gibbons has no reservoir of support," he said. "When you are not popular, your problems are going to be magnified by your critics.
"Look, even the Elko paper has gone after him," Herzik said of the Elko Daily Free Press, which serves one of the most Republican areas of the state and was the first to report that Gibbons was involved with another woman. "It shows his support tank is empty."
Gibbons' divorce from his first wife, Toy, in 1983, was not granted until 17 months after he filed documents to end the marriage. Gibbons balked at paying alimony, but she ultimately received $600 a month.
If his current divorce takes that long to resolve, political insiders agree it would extinguish any remaining faint hopes Gibbons has for a political career.
Contact Capital Bureau Chief Ed Vogel at evogel@reviewjournal.com or 775-687-3901.