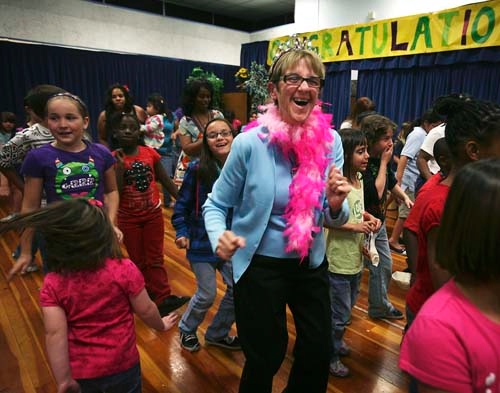 Students at Gilbert Elementary School do daily news broadcasts, an annual Shakespearean play and music and dance concerts throughout the community.
The Clark County School District magnet school for the creative performing arts is a popular option, attracting 1,200 applications for about 130 to 150 openings every year.
Now the North Las Vegas school at 2101 W. Cartier Ave., near Simmons Street and Carey Avenue, has earned national recognition as the country's top magnet school.
Magnet Schools of America recognized Gilbert with its Dr. Ronald Simpson Award for its commitment to high academic standards, curriculum innovation and diversity.
"We're a small school, but we're busy … with all the programs we do," Principal Sherri Brewer said.
Students are selected by lottery at the K-5 school, which has an enrollment of 440. The school has a dance studio, a television broadcast studio and a theater.
Because of a grant Gilbert received in conjunction with the Smith Performing Arts Center, Gilbert has guest lecturers this year that include musicians, dancers, actors and poets affiliated with the Kennedy Center for Performing Arts in Washington, D.C.
The school uses the arts as a "powerful instruction tool" to demonstrate lessons in core subjects such as science, math and English, Brewer said. Gilbert has shown sufficient academic progress for the past two years under No Child Left Behind, the federal school accountability law.
"Through the arts, you are able to go much deeper into those critical, higher level thinking skills," Brewer said.
Many of the teachers are artists themselves, said Brewer, who also acts in many community plays.
Magnet schools were created during the civil rights era to promote integration by offering unique academic programs to attract a diverse student body.
There are 4,000 magnet schools nationwide, according to the association.
Gilbert has drawn an even racial mix of black, white and Hispanic students. About half of the students qualify for the free and reduced lunch program. Brewer said the mix of ethnic, cultural and socioeconomic backgrounds "enriches us tremendously."
Other local schools recognized by the Magnet Schools of America with Awards for Excellence were Bridger Middle School, Knudson Middle School and Sandy Miller Elementary School.
Receiving awards for Schools of Distinction were the Advanced Technologies Academy, Bracken Elementary School, Hoggard Elementary School, Mackey Elementary School, Rancho High School, Valley High School, and the Northwest Career and Technology Academy.