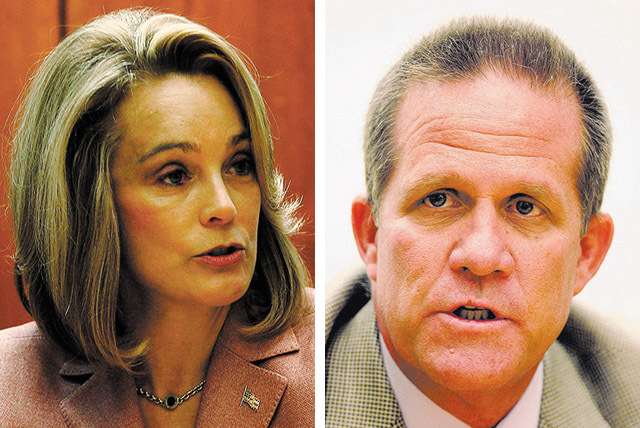 He's no Boy Scout, but the voice of former House Speaker Newt Gingrich echoed through Nevada on Wednesday in a robo-call recorded on behalf of Republican Sue Lowden's primary campaign for lieutenant governor.
Her opponent, state Sen. Mark Hutchison, meanwhile, again enjoyed the embrace of Gov. Brian Sandoval in a similar recorded call as both candidates fought to get early voters to the polls. Hutchison enjoys a substantial money advantage over Lowden.
Gingrich last made an impression in Nevada during his 2012 presidential campaign, which enjoyed the embrace of casino multibillionaire Sheldon Adelson but failed to catch fire with voters. Gingrich is now a panelist on the CNN show "Crossfire."
For her part, Lowden on Thursday embarked on a statewide campaign swing, working the media and meeting with voters after again attempting to raise the issue of trustworthiness with her opponent, whose recent mailer depicted him in a Boy Scout leader's uniform in violation of the group's policy against using scout imagery for political purposes.
According to information Lowden's camp is disseminating, the Scouts' rule reads, "Photos of candidates or Scouts in uniform or BSA marks and logos are not allowed in political campaign materials of any kind."
Looks like Lowden is trying to earn her merit badge for political knot-tying.
It's interesting and entertaining, and it's certainly added spice to a bland Campaign 2014, but it's still unclear whether Lowden's steady slicing of her opponent can overcome Hutchison's sizable financial advantage.
SHOOTING COVERAGE: If transparency is the byword when it comes to investigating police shootings, this has to be a good sign. The police fatality public fact-finding review of the shooting death in August by Henderson police officers of Edward Scheboth, who was armed, is set to start at 9 a.m. today at the Clark County Government Center.
It will be televised on the county's television station and will stream live at www.ClarkCountyNV.gov.
The fact-finding review replaces the traditional coroner's inquest process.
LATINO HONORS: Although it could be argued their influence with immigration reform only goes so far, U.S. Sens. Harry Reid and Dean Heller were honored Thursday evening at The Smith Center with American Latino Influencer Awards.
DEAR BOB: The late entertainer, businessman and civil rights activist William H. "Bob" Bailey left a remarkable legacy in Southern Nevada. Fortunately for us, he put some of his colorful life story into "Looking Up! Finding My Voice in Las Vegas."
The first chairman of the Nevada Equal Rights Commission, Bailey died Saturday at age 87.
ODDSMAKER ALERT: Veteran state Sen. Tick Segerblom wants to reintroduce a bill that would allow adults to bet on the outcome of the presidential race. Do Las Vegas bookmakers really want to be associated with such a notorious activity?
TAX TROUBLE: With the findings of guilty this week by a trio of scammers associated with the National Audit Defense Network, Las Vegas continues its reign as an American capital of tax fraud.
Estimated tax loss to the rest of us: $324 million.
ON THE BOULEVARD: Southwest Gas Corp. and Don Jean of Brandhaus will be among the honorees June 6 at the Evening of Hope fundraiser to benefit Candlelighters Childhood Cancer Foundation of Nevada, but the real stars on hand will be featured cancer survivors Karon, Zoe and Ryan. For tickets: candlelightersnv.org, or call 737-1919. … It's not due for publication until mid-June, but "Freeway Rick Ross: The Untold Autobiography" with Las Vegas crime author Cathy Scott promises to scorch some folks even as it reminds the public of the historical connections between the CIA and drug trafficking. … Southern Nevada resident Rex Kusler's latest Las Vegas detective mystery, "Smashed," is now available.
Have an item for Bard of the Boulevard? Email comments and contributions to jsmith@reviewjournal.com or call 702-383-0295.