Girl Scout values passed along to detention center teens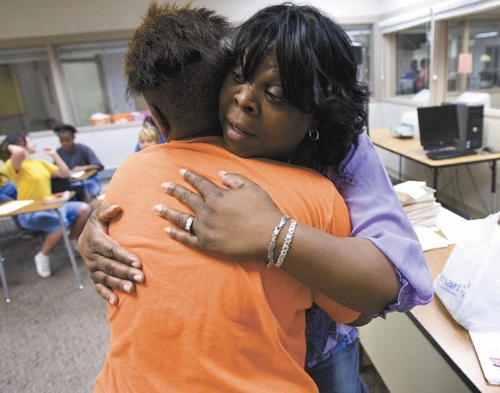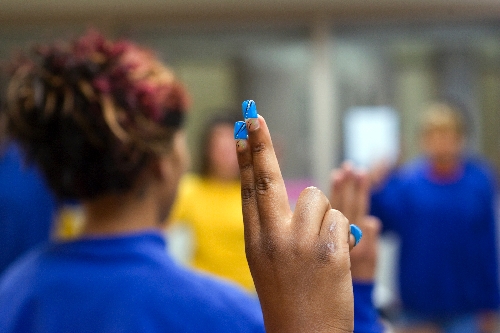 Ah, Girl Scouts. The cookies. The merit badges.
The jail time?
Twelve incarcerated girls who don't exactly jibe with Scouting's squeaky-clean image stood to recite the Girl Scout Promise one evening last week.
Their uniforms were Detention Center-issued: gym shorts with baggy T-shirts or sweatshirts.
Their charges were grown-up: prostitution, drugs, violence.
Though these girls, ages 11 to 17, weren't "official" Girl Scouts, they probably needed what the organization offers more than most. Structure. Nurturing. Life-skills training. A boost in self-esteem.
"Some of them got into trouble because of their backgrounds. Some of them because they tend to be followers and not leaders," said Karen Dunlap — "Miss Karen" to the girls — a membership and community development manager for the local Girl Scouts of Frontier Council. "They were listening to someone else instead of their own hearts and minds."
For the past several years, Dunlap has led a weekly Girl Scouting in Detention Centers program inside Clark County's Juvenile Detention Center, operating under the belief that even the most streetwise and troubled girls are underneath "just regular girls."
Each year about 150 girls go through the program. They are not part of an official Girl Scouts troop; nor do they hawk Thin Mints or work toward merit badges. But the program does focus on other Girl Scout priorities, including education, leadership development, career mentoring, preventing teen pregnancy and keeping the girls from getting further involved in drugs and gangs.
"They are motivated just like any other girl to make something of themselves," Dunlap said. "Except they get caught up in things other girls don't have to deal with."
They may not have a home, for example, or a responsible parent to talk to. They may not know where their next meal is coming from. They may face neighborhood pressures to do drugs or get involved in prostitution. Many of them already have children of their own.
"They're just children having to do grown-up things," Dunlap said. "They're basically raising themselves."
Dunlap talks with the girls about responsibility, regrets and goals. She challenges them, making them answer questions about themselves. Some of their regrets are heartbreaking.
"I wish I had followed my parole, because now I'm not with my daughter," a 16-year-old told Dunlap. "When I'm not there, she doesn't have anybody else."
Another girl said she regrets "letting my childhood affect me so much that I got so into drugs."
Several girls said they are high school dropouts. That doesn't stop them from dreaming about becoming doctors, police officers or social workers.
"We need some good social workers," one girl said.
A moment later, they were teasing each other and giggling again like any other teenagers.
It's especially important for girls to have access to programs that allow them to express themselves and build relationships, said Fritz Reese, director of the county's Juvenile Justice Services.
Typical detention centers for children were largely designed to deal with troubled boys.
Girls "need the positive engagement, the talk," Reese said. "It takes away depression and gives them something they can embrace once they get out."
An average of 24 girls are housed in the Detention Center on any given day, Reese said. Many are repeat detainees.
Dunlap never gets used to the disappointment of seeing a girl come back.
"It's really shocking to me," she said. "I feel like I failed them, or like they failed themselves."
She tells herself that if she reaches just one girl, the program has been a success. And some girls do straighten out their lives. They sometimes call Dunlap once they are released and volunteer to work with a Girl Scout troop or at one of several drop-in centers the local council operates in at-risk neighborhoods.
Dunlap runs into other girls, now young women, around town or at the grocery store.
"They say, 'Don't you remember me? I've never been back' to the detention center," she said.
Dunlap relishes those small interactions, evidence that some girls may put into practice what she has tried to teach them.
"You don't have to keep going down the same road," she said. "Every morning you get a blank piece of paper, and you get to choose what you put on it."
Contact reporter Lynnette Curtis at lcurtis@reviewjournal.com or 702-383-0285.
Girl Scouting in Detention Centers