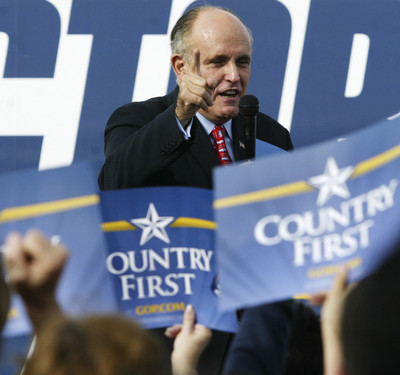 With three days left in a heated presidential race, former New York Mayor Rudy Giuliani spoke Saturday to campaign workers in Henderson to motivate a final push for more Republican votes.
He hammered on what has become a familiar Republican refrain: John McCain has far more experience to run the country than his Democratic rival, Barack Obama.
Giuliani portrayed Obama as a media darling whose lack of foreign policy experience would make him a threat to national security and whose plans for health care and tax reform smack of socialism. He mocked Obama's theme of change for the better.
"For six months, I see that thing: change, change, change," Giuliani said. "He's after the change in your pocket. We in Nevada don't like anybody taking our money."
His barb drew spirited boos from the couple hundred volunteers who took a break from their get-out-the-vote efforts so they could listen to Giuliani. The GOP faithful hailed from Nevada, California and Utah.
Giuliani rallied campaign workers the same day Obama stumped in Henderson. McCain and his running mate, Sarah Palin, are scheduled to visit Nevada on Monday.
Giuliani argued that Palin, Alaska's governor, is more qualified than Obama.
"He's never run a city. He's never run a state. He's never run a business. He's never run a military unit," Giuliani said. "The only thing he does is run."
In an interview before the speech, Giuliani scoffed at polls that show Obama leading McCain. He said that polls in 2004 put John Kerry ahead of President Bush, who solidly won that election.
Later, he told campaign volunteers not to fret about the numbers and to keep reaching out to voters.
"The networks don't select the president. The newspapers don't select the president," Giuliani bellowed. "You do!"
A few times the crowd chanted "Rudy! Rudy!"
Rep. Jon Porter, R-Nev, and state Sen. Joe Heck, R-Henderson, in tough races of their own, also spoke at the rally.
Porter introduced Giuliani by asking whether people remembered the Sept. 11, 2001, attacks. They cheered as Giuliani sauntered to the platform on the bed of a truck.
Giuliani was New York mayor when terrorists crashed jets into the World Trade Center. His decisiveness earned him widespread applause, including Time magazine's "Person of the Year" and an honorary English knighthood.
But critics later accused Giuliani of cutting corners on safety standards to speed ground zero's cleanup, leading to workers not wearing respirators and developing health problems. His administration also was blamed for putting the emergency command center in one of the twin towers, causing a breakdown in crucial communication during the attacks.
Giuliani has denied the accusations.
He jumped into the presidential race last year, but after finishing third in the Florida primary, he withdrew from the contest and backed McCain.
When asked whether he would run for president in 2012, he said he didn't know, given that McCain might run again.
Risa Anderson, 59, a Las Vegas high school dean, said she thought Giuliani did a good job boosting volunteers' morale.
"He gave us hope that we could win," she said.
Anderson, who is black, said she thinks Obama is a "fantastic young man" with the charisma to pull in the crowd, but she doubts he can lead the country. She said her family and friends have criticized her for supporting a white candidate.
"It's been rough," she said, "but I have the courage and integrity of character to stand for what I believe in."
Contact reporter Scott Wyland at swyland@reviewjournal.com or 702-455-4519.