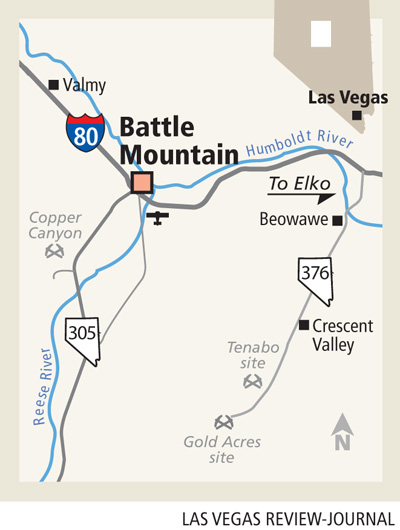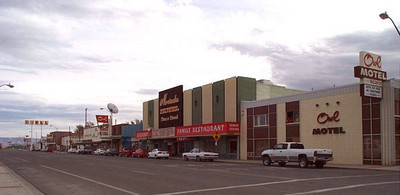 Several weeks ago, a story written by a free-lancer ran on page 11 of the main section in the New York Times.
It was not groundbreaking, nor particularly revelatory.
It concerned the small town of Battle Mountain in Northern Nevada, halfway between Reno and Utah in Lander County.
The town, whose main industry is gold mining, seems to be weathering the worldwide economic collapse just fine, thank you.
Gold prices are very high right now, which means unemployment in Battle Mountain is low, good-paying jobs are plentiful, and foreclosures are unheard of, the piece declared.
In the normal manner for how the news business often works, a Reno television station followed up with its own report, which was then followed by one from NBC News, which ran nationwide last week.
And so it was that seven years of ridicule began to vanish.
Battle Mountain, you might remember, was officially declared the "Armpit of America" by the Washington Post Magazine back in December 2001.
In a lengthy piece, humor writer Gene Weingarten called the town a place where "genius comes to die." It was a trailer-filled mess. It was barren and boring and had no architecture.
The lights in the S on the town's Shell station did not work, which provided a nice image for the writer to play with.
Townsfolk lived with that image. They ran with it, in fact, creating an "Armpit Festival" that lasted a few years.
But now, actual good news, not spin.
Now, redemption, right?
"I don't know if what we're seeing is redemption," says Gene Etcheverry, the Lander County manager.
"A lot of folks are a little bit leery" of all the attention.
Sarah Burkhart is one of them.
"We're getting slammed," says Burkhart, executive director of the Battle Mountain Chamber of Commerce.
What she means is this: Since that NBC story ran nationwide three days before she talked to the Review-Journal, she had received 600 phone calls.
Six hundred phone calls in three days. She works by herself.
"Everybody's looking for a job," she says.
Two guys from Oregon and one guy from the small Nevada town of Fallon just showed up, expecting work.
"Oh, my God," Burkhart says. She sounds exhausted.
Calls are coming from all over. Illinois. North Carolina.
"Minnesota must be in deep doo-doo," she says.
Burkhart has been telling callers that the jobs are all taken, that the mines have plenty of résumés on file already.
She is pleased that Battle Mountain is finally getting some respect, yes. But this? She's not so sure it's a good thing.
"I don't know what to do," she says, her voice a pitch higher now. "I don't have any idea."
Etcheverry says this will pass, as did the armpit thing. The town has cleaned up a bit since then, he says. Road projects. Water and sewer improvements. "We're pretty proud of our town," he says.
Which brings us back to Weingarten, he of the "Armpit" declaration.
What does he think of Battle Mountain now? Will he take back what he said then, given Battle Mountain's apparent resurgence?
"Well, there are two ways of answering this," he writes in response to an e-mail inquiry.
"The complex and unfunny way is to remind you that my story ultimately found much to like in the town of Battle Mountain; I conferred its title upon it as an act of mercy, to give it, at last, a national identity."
Indeed. Though Weingarten's piece was harsh for the first 5,000 words, the last 2,000 were less so. He seemed to come to admire Battle Mountain's people, the way they cared for each other and devoted themselves to family.
In the piece, he wrote that he was awarding the Armpit title on the town to save it. It was a way of igniting an economic renaissance.
An economic renaissance is what Battle Mountain got.
So, when asked if he would acknowledge the error of his ways, Weingarten gave a shorter answer:
"No."
Contact reporter Richard Lake at rlake @reviewjournal.com or 702-383-0307.