December 6, 2008 - 10:00 pm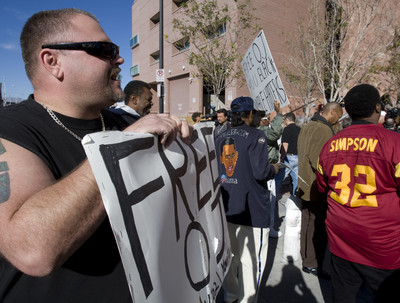 In 1995, Kim Goldman sat in a Los Angeles courtroom and watched as O.J. Simpson was acquitted in the murder of her brother and Simpson's ex-wife.
Thirteen years later in a Las Vegas courtroom, Goldman watched Friday as Simpson was handed a sentence that will keep him in prison for nine to 33 years, the result of last year's armed robbery and kidnapping of two memorabilia dealers at Palace Station.
"The back of his head looked the same as it did every day that we watched him in the criminal case" in California, she said of the double murder trial in which Simpson was acquitted of the slayings of Ronald Goldman and Nicole Brown Simpson.
Speaking after Simpson's sentencing, Kim Goldman told reporters she believes her family played a role in the former football star's Las Vegas case.
For years, the family tried to collect a $33 million civil judgment against Simpson. That, she said, compelled Simpson to steal sports memorabilia at Palace Station to prevent the Goldmans from seizing it.
"We feel very strongly that because of our pursuit of him, for all these years, it did drive him to the brink of this," she said.
As she spoke, some spectators applauded the Goldmans. But a few others shouted insults at her and her father, Fred Goldman.
"It has nothing to do with you!" shouted one man.
Hoisting a sign that read: "Free O.J.," John Post barked at Fred Goldman from behind a throng of television news cameras.
"You gonna go after his ramen noodles in jail now, Goldman?" Post screamed. "You gonna take his money to call home, gold digger?"
Post said he hauled his massive sign to the Regional Justice Center and took shots at Goldman because he believes the murder charges against Simpson crept into the trial and ultimately the sentencing.
"I think O.J. messed up, but the sentence was a little stiff," he said.
The Goldmans ignored the heckling.
"It's kind of bittersweet knowing that SOB is going to be in jail for a very long time where he belongs," Fred Goldman said.
Yale Galanter, Simpson's attorney, said it was inappropriate for the Goldmans to attend Simpson's sentencing. He said he tried to separate the Las Vegas robbery case from the Los Angeles murder case.
But their attendance inside the courtroom, he said, "reminded us all of how the criminal justice system can run afoul because the only thing Simpson should have been judged on is what happened here in Nevada."
Simpson and his co-defendant, Clarence "C.J." Stewart, were convicted in October of robbing and kidnapping the two memorabilia dealers in September 2007. Stewart was given a sentence that will have him spend 71/2 to 27 years in prison. Four co-defendants who took plea agreements will be sentenced next week.
Kim Goldman said she didn't consider Simpson's prison sentence as payback for her brother's slaying. Rather, she said it showed that the criminal justice system worked.
Fred Goldman said Simpson's prison sentence won't bring closure to the family.
"Ron is always gone," he said. "What we have is satisfaction that this monster is where he belongs — behind bars."
Las Vegas Review-Journal writer Adrienne Packer contributed to this report. Contact reporter David Kihara at dkihara@reviewjournal.com or 702-380-1039.