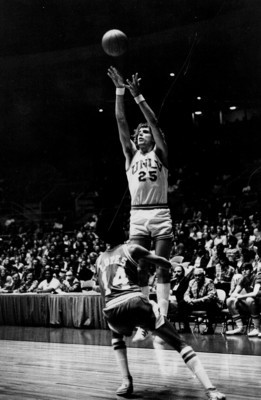 Instead of being courtside in his longtime role as radio analyst for the UNLV Rebels basketball team, Glen Gondrezick is playing a waiting game at UCLA Medical Center.
He's waiting for some good news, after learning Tuesday he's come down with pneumonia while checking in to begin a heart transplant procedure.
As he spoke from his hospital bed, it was clear his heart will be in Omaha, Neb., where the Rebels are playing Kent State in a first-round NCAA tournament game.
The 6-foot-6 Gondrezick's all-out hustle helped UNLV reach the Final Four for the first time in 1977 with a record-breaking 23 100-point games.
"People have said one of the reasons I'm in here right now is because I played so hard it put strain on my heart," he said. "That's what a cardiologist told me."
For 16 years, Gondrezick, 52, has been providing commentary for the Rebels.
The Findlay Automotive Group on Wednesday announced a fundraising event to assist him in what figures to be astronomical medical expenses. The company, founded by former UNLV player Cliff Findlay, hopes to raise more than $20,000 by donating $100 for every vehicle sold at Findlay dealerships March 28 and 29.
Others have set up a fund in Gondrezick's name at all local Bank of America branches. "Here I am struggling with a heart problem, and other people are showing me how big their hearts are," he said.
THE SCENE AND HEARD
When a blackout hit the Excalibur on Tuesday night and auxiliary power failed, comedy veteran Louie Anderson improvised. He told his audience he would stay if they did. The crowd gave him a big ovation, and, after stagehands came up with three high-powered flashlights, Anderson continued his show in the Thunder From Down Under showroom. He even gave the crowd an additional 15 minutes. The blackout also knocked out power at the Luxor, Mandalay Bay and the Four Seasons. …
The UNLV Rebels got a warm reception when they showed up for dinner Wednesday at Sullivan's steakhouse in Omaha. The manager, Mandy Tibbals, graduated from UNLV in 2005 with a degree in hotel management. The Winnemucca native had the female servers dressed in referee jerseys with red ribbons in their hair. Tibbals had reached out and invited the team to dinner. …
UNLV's NCAA Tournament opener against Kent State today will be shown on the 130-foot by 40-foot LED video screen at the entrance to the Miracle Mile Shops (Planet Hollywood Resort). Game time is 11:55 a.m. …
SIGHTINGS
Michael Jackson's assistants, removing boxes Tuesday from his Palms suite. Jackson vacated the premises about 10 days ago, destination unknown, after a three-month stay with his three children. … Members of Matchbox Twenty, wearing black wigs as a gag before Alanis Morissette's set on Tuesday at The Pearl (Palms). In the crowd: Andre Agassi and Steffi Graf. … UFC legend Randy "The Natural" Couture, lunching at BRIO on Wednesday. … Former U.S. Rep. Dick Gephardt and billboard mogul Phil Peckman, at lunch Wednesday at McCormick & Schmick's. … Former Golden Nugget co-owners Tom Breitling and Tim Poster, at Morton's on Tuesday to celebrate the release of Breitling's book, "Double or Nothing — How Two Friends Risked It All to Buy One of Las Vegas' Legendary Casinos." The launch party is March 28 at the Red Rock Hotel & Casino, with Earth Wind & Fire performing. … At Blush Boutique Nightclub (Wynn) on Tuesday: BMX star Carey Hart, TV stars Melissa Taylor, Jeff Bozz and Devin Haman of the show "Sunset Tan," and members of the music group Black Violin. … Bridget Marquardt of the hit TV show "Girls Next Door," dining Monday at Social House (Treasure Island). … Actor Verne "Mini Me" Troyer, making the rounds on his scooter Tuesday. He was at the Rojo Lounge (Palms Place) for Palms exec Jon Gray's birthday party and VIP opening of Sunset Tan salon before moving to Moon nightclub (Palms) and Privé nightclub (Planet Hollywood Resort). Also at Gray's party: Larry Rudolph, Britney Spears' former manager and a partner in Sunset Tan.
THE PUNCH LINE
"Is that green beer or New York City tap water?" — From David Letterman's Top Ten Things Overheard At The New York City St. Patrick's Day Parade
Norm Clarke can be reached at (702) 383-0244 or norm@reviewjournal.com. Find additional sightings and more online at www.normclarke.com.