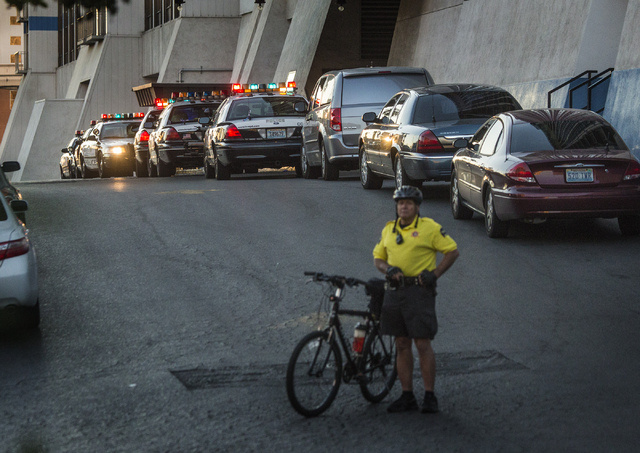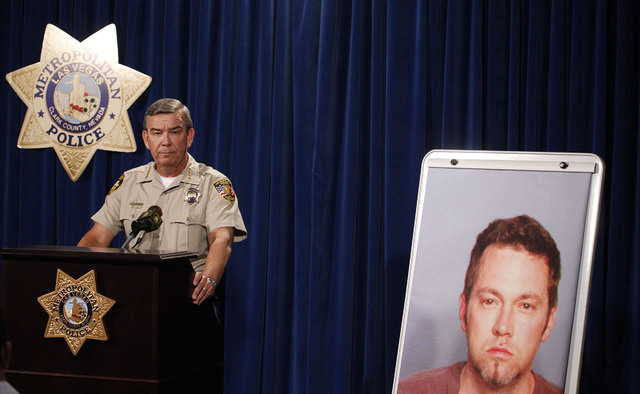 A "heroic" act from a brave citizen Monday morning may have saved lives after a gunman opened fire in a Strip casino.
But the man, whose name has not been released, sacrificed his own life in the process, Clark County Sheriff Doug Gillespie said at a news conference Monday afternoon.
"Today's security professionals and a heroic patron who lost his life prevented what could have been even more death and injury to people in the area," Gillespie said.
Police said the shooting suspect, Benjamin Frazier, 41, of Las Vegas, opened fire about 5:45 a.m. in Bally's, 3645 Las Vegas Boulevard South at Flamingo Road, after an argument at the entrance to Drai's After Hours nightclub.
Frazier asked club security whether he could go in and preview the crowd before paying a $30 cover charge. Police said he decided to pay the cover and went inside but came out shortly afterward demanding a refund because the club wasn't full.
He pulled a gun on the security manager during the argument and began firing as several people attempted to disarm him, police said.
The security manager was shot in the arm, and another Bally's guard was shot in the stomach. A patron who was leaving the nightclub and tried to help jumped on Frazier's back forcing him to the ground. In the struggle, the man was shot several times. He died at University Medical Center.
"Typical good Samaritan killed while trying to help," Sgt. John Sheahan said.
The Clark County coroner's office is withholding the man's name until his family is notified.
Other patrons and guards held Frazier until police arrived. Frazier, who had a head injury, will be booked in absentia on charges of murder and attempted murder. He will be booked into the Clark County jail after he is released from the hospital.
Gillespie didn't say how many shots Frazier fired.
"I want to underscore this incident today was a random act committed by an irrational man with a violent history. It could have happened anywhere, but it happened here," the sheriff said.
Frazier and the two security guards were taken to UMC and are expected to survive, Gillespie said. Frazier remained in a coma Monday afternoon, his uncle Robert Beckett told the Review-Journal.
Beckett said his nephew has battled issues with alcohol. Gillespie said a toxicology report will be part of the investigation.
"This is devastating. I'm celebrating my third year of sobriety, and I had hoped I was setting a good example," said Beckett, a local defense lawyer and former Nye County district attorney. "I don't know if alcohol was involved this morning, but there is a family history of alcoholism. I was hoping that all this was behind us."
Beckett said his family is "deeply saddened for all those involved" but he also wants to wait for more facts.
He described his nephew "Benji" as being very intelligent and a good father.
But Frazier has a history of violent crimes over 20 years in Las Vegas.
He was arrested on an attempted murder charge in connection with a June 30, 1996, incident at a topless club.
Frazier, then represented by defense lawyer John Momot, cut a deal with prosecutors and pleaded guilty to assault with a deadly weapon.
He was sentenced to two years of probation and ordered to perform community service and take impulse-control counseling.
Most recently, Frazier was charged with three counts of misdemeanor battery in connection with a fight Feb. 29, 2012, when he punched a bartender at a Strip casino and kicked another. He pleaded guilty in November 2012 to one count of battery and was sentenced to six months of probation and ordered to take alcohol counseling. Vicki Greco, Beckett's law partner, represented Frazier in that case.
Greco also represented Frazier in a drunken driving case earlier this year. He pleaded no contest in the Las Vegas Municipal Court case and was sentenced to one year of probation, she said.
After the shooting, Bally's employees stood guard and told patrons to put their phones away and not take pictures. Police taped off the entrance to Drai's as homicide detectives investigated Monday morning.
The shooting was the second deadly shooting on the Strip this year stemming from a nightclub altercation.
Ammar Harris, a pimp who bragged about his criminal life in Las Vegas, was arrested after a February shooting and crash on the Strip that killed three people. Police said the incident started after Harris and another man argued in Aria's Haze nightclub.
Harris is accused of shooting and killing Kenneth Cherry as he was driving on the Strip. Cherry's car then crashed into a taxi. Both the cabdriver, Michael Bolden, 62, and passenger Sandra Sutton-Wasmund, 48, were killed.
Greco also represented Cherry in several previous cases.
Gaming Control Board Chairman A.G. Burnett said he spoke with Gillespie after Monday's shooting.
Burnett, who has co-authored memos to casino operators with the sheriff concerning nightclub operations, said his understanding was the Bally's security force "did what they were supposed to do" before the suspect pulled a gun.
"We're going to intensify our efforts and our outreach," Burnett said. "This (incidents surrounding nightclubs) has to stop."
Gillespie said he doesn't consider Monday's shooting and the Harris incident as evidence of a trend, and he cited the number of tourists, venues and hotels in Las Vegas.
But that doesn't mean police are ignoring the shootings, either.
"It's an ongoing process in regards to the security in and around hotel properties, as well as the nightclubs," Gillespie said. "This is an event that I'm sure will develop continued dialogue in regards to keeping Las Vegas a very safe tourist destination."
Gillespie said Drai's does not have metal detectors. The security guards were not armed.
Drai's was moved temporarily to Bally's earlier this year after Bill's Gamblin' Hall was closed to be converted into a 188-room luxury hotel-casino.
The club operated at Bill's, which was formerly known as the Barbary Coast, as Drai's After Hours, a late-night, early morning club and restaurant one level below the casino. The club is expected to return to its former location when Caesars Entertainment finishes its makeover next year. Operator Victor Drai is also developing a 65,000-square-foot rooftop pool area with a day club and nightclub facility.
Gillespie also referenced Monday's shooting at a middle school in Sparks and thanked the families of the victims in each community.
"No matter what event, we are reminded each time how precious life is and how in many cases, certain citizens step forward and sacrifice their lives for the good of many," he said.
Review-Journal writers Howard Stutz, Francis McCabe and Brian Haynes contributed to this report.
Las Vegas police say one person is dead after a shooting Monday morning at Bally's on the Las Vegas Strip.