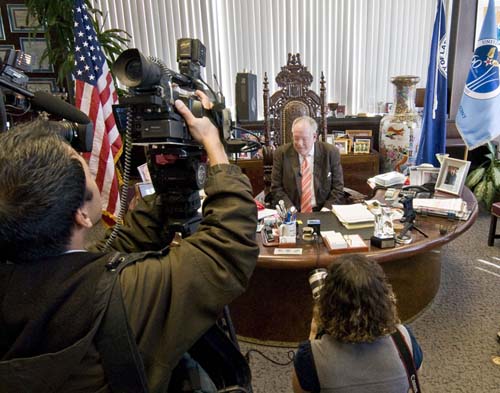 Las Vegas Mayor Oscar Goodman won't be running for governor of Nevada.
On Monday Goodman said he didn't want to be away from his wife, Carolyn, who wouldn't move to Carson City, a requirement for Nevada's governor.
"I love my wife more than life itself," Goodman said during a news conference in his 10th floor office at Las Vegas City Hall. "I would not want to wake up without my wife next to me."
Goodman, who recently changed his registration status to nonpartisan to keep open the possibility of running as an independent, said he was undaunted by the fact Nevadans have never elected a nonmajor party candidate to the governor's job.
"Every bit of empirical data I had reviewed indicated I would have been very competitive," he said.
Goodman said the only polls he conducted were with shoppers at Costco. But the former mob lawyer did acknowledge he discussed the idea of running with Celinda Lake, the self-proclaimed "godmother" of polling and issue framing for Democratic candidates.
"I talked to her and she is very sad that I'm not running," Goodman said of Lake.
Goodman's decision leaves the field to four remaining candidates, three Republicans and one Democrat.
On the Republican side incumbent Gov. Jim Gibbons is trailing former federal judge Brian Sandoval in statewide polls. Former North Las Vegas Mayor Michael Montandon is a distant third.
On the Democratic side Clark County Commission Chairman Rory Reid is the only candidate.
"You would suspect there is some relief in the Reid campaign," said political consultant Dan Hart.
Hart said Goodman would have been a formidable candidate and especially challenging to Reid. The most recent statewide poll that included Goodman as an independent candidate showed Sandoval chosen by 35 percent of respondents, Goodman at 33 percent and Reid at 20 percent.
Reid and Goodman "were likely to have drawn from the same well of voters," Hart said.
Goodman didn't endorse any of the current candidates and said he doesn't envy whomever wins.
The Economic Forum recently reported state revenue could fall as much as $800 million short of expenses, meaning big cuts and possible tax increases could be on the current agenda. And the prospects could be more daunting in 2011, when the next governor is in office.
"I think the state, in large part, is in the toilet," Goodman said. "The education, I don't know whether we are 49th or 50th, but whatever we are ain't good. Social services are virtually nonexistent. These are things I believe the state is responsible for."
The 70-year-old mayor is prohibited by term limits from running for a fourth term in 2011.
During his remaining 15 months as mayor, Goodman said he wants to intensify his role with the Las Vegas Convention and Visitors Authority.
"I want to go out and promote Las Vegas even more than I already have," Goodman said.
He ruled out the possibility of running for lieutenant governor, saying his ego wouldn't allow him to be "second chair." He also said there's no chance he'll change his mind about running for governor.
"This is irrevocable," he said. "I feel like I have a weight off my back."
Contact reporter Benjamin Spillman at bspillman@reviewjournal.com or 702-477-3861.