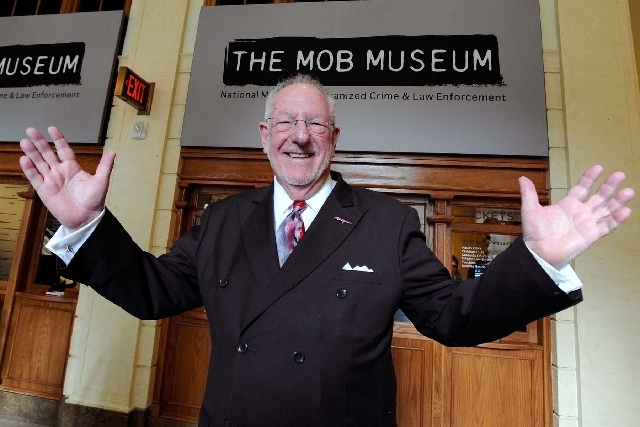 Oscar Goodman and I sat down by the big UFO-ish windows in his downtown steakhouse, Oscar's. There was a mystery afoot. He wasn't drinking gin, and someone had placed a water bottle in front of him.
"I didn't bring that. Water's for washing," Oscar said.
"Look what I brought," I said, pointing to a copy of his autobiography, "Being Oscar."
"Have you read it?"
"Not yet."
"You gotta read it," Oscar said. "There are three groups right now who are interested in putting it on Broadway.
"I'd love to see a musical with it, something like 'Guys and Dolls.' But right now, the main group is talking about a one-man show, like Chazz Palminteri doing 'A Bronx Tale.' That would be fine."
I told Oscar I always thought of him as a rare politician who spoke from the heart.
"I did," he said. "There's a reason for it. As a lawyer — and I was a pretty good lawyer — jurors could tell whether a guy was a phony or not.
"My favorite book growing up was 'Catcher in the Rye.' Holden Caulfield was kind of an idol, and he didn't like phonies, and I didn't like phonies."
Oscar's wife Carolyn replaced him as mayor. She's quieter.
Two Saturdays ago, Carolyn got up at 5:30 a.m. to go thank firefighters for battling blazes on Mount Charleston.
"I said, 'I hope you bring a TV crew,' " Oscar told her.
"I didn't tell anybody," Carolyn answered.
"I would have had a band," Oscar mused. "I would have had showgirls. I would have had Bombay Sapphire brought up to the firefighters. … We do things differently, which is good."
Oscar honestly never wanted to be president, he said, and he viewed the mayor's office as a place to do good work as Vegas' ambassador.
Oscar felt free to act boldly in office, because he already had his own money plus a famous career as a criminal defense lawyer.
"I know it sounds corny, but I looked at myself as being a public servant," Oscar said.
"I didn't need to be the mayor. I loved being the mayor. That's a big difference.
"I loved being loved. I don't deceive myself and lie about it. A lot of people say, 'I didn't care for the adulation.'
"Carol and myself joked that when I woke up, she would come to my side of the bed every morning and applaud, to get me started."
On Tuesday at the Stratosphere, Goodman will get applauded again when he gets roasted by Vegas celebs such as The Amazing Johnathan, Steve Rossi, Michael Wheels Parise, Zowie Bowie and Pia Zadora, with music from the Lon Bronson Band.
On Friday, Oscar turns 74.
"What do you miss about being mayor?"
"I miss the business of it. I was doing something every single second. Now, if I didn't have the book to write, I would have gone nuts."
He is also chairman of the host committee at the Las Vegas Convention and Visitors Authority. He greets, say, 600 people at a 7-Eleven convention, with showgirls, gin and gratitude.
He will talk about the past if you want, but he prefers the here and now.
"I don't have time for the past," Oscar said. "Your life should be: You don't have time to cry in your beer, and you don't have time to smell the roses. You have to keep on going. The moment you're not happy going to work, do something else.
"Life is short, but it could be very sweet, and I want to squeeze every single moment out of it."
Oscar never touched that water bottle.
Doug Elfman's column appears Mondays, Tuesdays, Thursdays and Saturdays. He also writes for Neon on Fridays. Email him at delfman@reviewjournal.com. He blogs at reviewjournal.com/elfman.