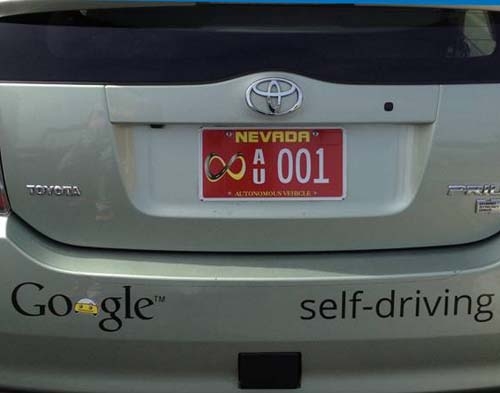 CARSON CITY – State Department of Motor Vehicles Director Bruce Breslow expects companies will be selling cars right out of the cartoon world of the Jetsons within five years.
Tell the robo-car where you want to go, sip your coffee and read the newspaper, and let the vehicle do the driving.
Nevada on Monday became the first state to officially embark on the road to driverless vehicles when it licensed Google to do testing on state and local roads for its "self-driving" Toyota Prius cars.
The catch is these cars really aren't driverless. State regulations require Google to have at least two people in the vehicles with immediate access to its controls. The Internet search company, headquartered in Mountain View, Calif., also must carry $1 million in liability insurance in case of an accident.
Google formally will be given its registration and red state plates with infinity symbols by Gov. Brian Sandoval at a May 23 news conference in Las Vegas.
Testing of the vehicles is nothing new. Google has been testing them for several years in California and in Nevada. Sandoval even rode in one last summer in Carson City.
Breslow said no state had a law for or against testing the vehicles. But Nevada, as result of a law passed last year, is the first to formally license the special cars for testing.
"These cars already can do anything any car can do, except for making a right turn on red," said Breslow, adding state law now makes it optional for drivers to turn right on red after stopping to make sure no other cars are coming. "I wouldn't have put the governor in the car if I didn't think it was safe."
But Assemblyman Lynn Stewart, R-Henderson, was not convinced during hearings last year on the enabling bill, Assembly Bill 511. He was one of six legislators to vote no.
"What about the lawsuits if something goes wrong?" asked Stewart on Monday. "This approval leaves us open to lawsuits. There are always going to be malfunctions."
"I just felt if there were an accident that the state could be at fault," added Assemblyman Harvey Munford, D-Las Vegas. "This is new technology. Other states have not found it to be worthwhile."
Breslow said Google, or the manufacturer of the self-driving vehicle, would be liable. Stewart disagreed, noting that everyone gets sued in this lawsuit-happy era.
Google owns eight of the self-driving cars which have been driven a combined 160,000 miles. One was in an accident in California last summer, but Google announced the accident occurred when a human driver was at the controls.
Former Assemblyman David Goldwater, D-Las Vegas, lobbied the Legislature on behalf of Google. He said Monday that it is only "several years" before driverless cars will be sold commercially.
He said the vehicles use lasers, global positioning systems, cameras and other technology to maneuver through traffic. Vehicles are clearly marked that they self-driving test vehicles.
"It is like riding in any car," he said. "It is no different than when you go to an airport and fly in a plane that is automatically controlled 90 percent of the time."
Contact Capital Bureau Chief Ed Vogel at evogel@reviewjournal.com or 775-687-3901.