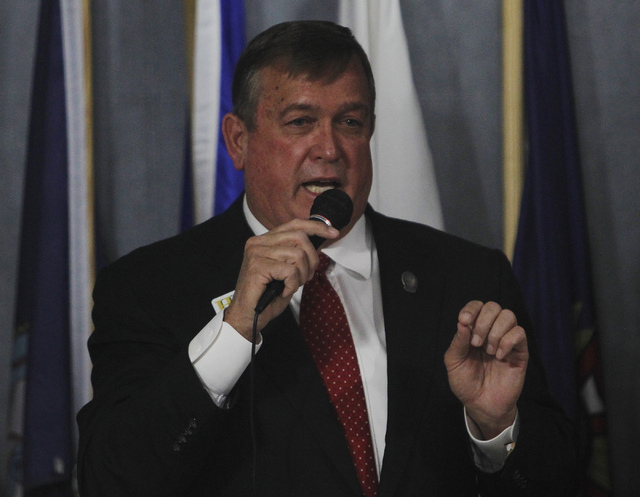 MESQUITE — Congressional candidate Niger Innis was the aggressor Thursday night against Assemblyman Cresent Hardy in their first GOP debate in Mesquite, a conservative rural community.
Innis criticized Hardy for voting for state legislation that implemented President Barack Obama's health care insurance program, including setting up the Silver State Health Exchange and expanding Medicaid.
Innis also accused Hardy of not doing enough as a lawmaker to try and return to Nevada some of the 86 percent of federally owned or controlled land in the state and not doing enough to defend a local rancher doing battle with the Bureau of Land Management over his grazing rights.
"You voted for SB440 to implement the Nevada health exchange act," Innis said to Hardy. "You also voted for the expansion of Medicaid. And we all know that Obamacare is a fraud."
Hardy argued that he is against Obama's health care insurance law and if he wins a seat in Congress he wants to try and repeal it.
"If I get an opportunity to vote I will vote to repeal the Obamacare act," Hardy said. "Those issues are best decided by the state."
Confronting Hardy, Innis told the assemblyman it would be good to think of "repealing a couple of bills that you voted for … before you get to Washington and talk about repealing Obamacare."
Innis told the audience of more than 70 people at the Mesquite Veterans Center that he spent the day with Bunkerville rancher Cliven Bundy, who is fighting the federal Bureau of Land Management, which is is preparing to round up about 500 "trespass cattle" owned by him. The BLM says Bundy has left the animals to roam on a 90-mile swath of federal land for 20 years without paying grazing fees. He stopped paying the fees in 1993 because he said he didn't like where the money went or how the range was being managed.
Innis said the federal government is trampling on Bundy's rights and he turned to Hardy and asked why he wasn't doing anything to help.
"Cresent, God bless you, I know you're a decent man," Innis said. "But one of the things that I will do in Congress is not just move legislation. I will be a loud, active voice for liberty and for individuals that have been trampled upon by the federal government."
Hardy, a fifth-generation resident of Mesquite, responded with some heat, saying he had met many times with Bundy and had worked with colleagues in Utah and in the Nevada Legislature in an effort to gain more Nevada control over federal lands in the state.
Hardy said he also talked to the Metropolitan Police Department and asked why local officials weren't protecting Bundy from the BLM.
"Our county (law) enforcement is supposed to represent us as individuals," Hardy said. "I don't know why they aren't stopping the federal government from being here."
Innis shot back, "My question to you, Cresent, is … why have you not been a louder voice on behalf of the people in this region?"
Innis said a BLM office had unstrapped his gun when he approached him.
"The tension in Bunkerville is outrageous," Innis said. "I told them I'm going to be standing side by side with them."
"I have been an active voice," Hardy replied. "To say that I'm not actively involved would be inaccurate completely."
The two Republicans also clashed on taxes with Innis accusing Hardy of voting for several, including a proposed tax hike in Clark County to pay for hiring more police officers. Hardy said he voted only to give Clark County the authority to vote to raise taxes for more cops, which it didn't do.
Innis said he plans on Friday to sign a pledge not to raise taxes, which Hardy also has signed as a federal candidate. But Innis noted Hardy didn't sign the pledge as a state lawmaker, despite his anti-tax rhetoric.
"Past behavior is a sneak preview of future behavior," Innis said.
"I wish Mr. Innis would kind of understand there are things that go on in the Legislature," Hardy said. "I did not vote for a tax on more cops. What I voted for is the opportunity for the citizens of Clark County to decide."
The hour-long debate was hosted by the Virgin Valley Tea Party at the Mesquite Veterans Center. It was moderated by Geoffrey Lawrence of the Nevada Policy Research Institute, a conservative think tank based in Las Vegas.
Hardy has served two, two-year terms in the Assembly and was first elected in 2010.
Innis, who moved to Nevada a few years ago from New York, is the national spokesman for the Congress of Racial Equality. He also has worked for TheTeaParty.net and is a frequent conservative commentator on national TV and radio programs.
The winner of the June 10 Republican primary will likely face the freshman incumbent U.S. Rep. Steven Horsford, D-Nev., in the June 4 general election. The congressional term is two years. The annual salary is $174,000.
Created after the 2010 U.S. Census, the 4th Congressional District spreads across seven counties in Southern Nevada, including parts of Clark and Lyon counties and all of White Pine, Nye, Mineral, Esmeralda and Lincoln counties.
Nine candidates are running for the seat. They include four Republicans, Hardy, Innis, Carlo Poliak and Mike Monroe; three Democrats, Horsford, Sid Zeller and Mark J. Budetich Jr.; one Libertarian, Steve Brown; and one registered with the Independent American Party, Russell Best.
Contact Laura Myers at lmyers@reviewjournal.com or 702-387-2919. Follow her on Twitter: @lmyerslvrj.