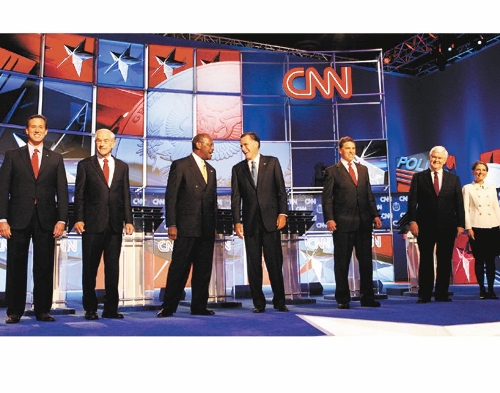 The debate wrapped up with candidates getting a chance to say why they're the best choice to defeat Obama, plus cries from participants for more time to talk and one, Gingrich, complaining the format was set up to "maximize bickering," not get answers.
Santorum, who in a recent poll got only 1 percent of respondents who said he could beat Obama, got the first chance.
"What is relevant is to look at the track record," said Santorum, referencing his electoral track record. "No one in this field has won a swing state. Pennsylvania is a swing state. We win Pennsylvania, we win the election."
Romney and Perry traded more jabs, with Romney seeking to emphasize his experience in business and with the Olympics.
"That for me is the distinguishing feature that is going to get me elected the President of the United States," Romney said.
Perry took issue with Romney and said his governorship in Texas resulted in more jobs than Romney's performance in Massachusetts.
"What we need is someone who will draw a bright contrast between themselves and President Obama, I will draw that contrast," Perry said.
Romney came back with a parting shot.
"Almost half the jobs created in Texas were created for illegal immigrants," Romney said.
Cain jumped in touting his business experience and seeking to draw a contrast with Romney.
"His business executive experience has been more Wall Street oriented, mine has been more Main Street," Cain said.
Cooper then sought to shut down the event but the remaining candidates protested, with Bachman jumping in with a parting message.
"I am the most different candidate than Barack Obama on this stage," she said.
Gingrich followed with criticism of the format and a plug for himself.
"I think I would be the strongest candidate because of sheer substance," he said, adding he would seek several, three-hour debates with Obama with no moderator, only a timekeeper, similar to the Lincoln-Douglas debates of 1858.
–Benjamin Spillman
*****
Paul takes tough stance as candidates spar on foreign aid (posted 6:45 p.m.)
Paul took the toughest stance on foreign aid in response to an audience question.
He called foreign aid, "taking money from poor people in this country and giving it to rich people in foreign countries." And added: "I would cut all foreign aid," including aid to Israel.
Cain again gave a muddled response, this time on a defense related question.
Moderator Anderson Cooper asked him about an earlier statement saying he would consider trading prisoners at Guantanamo Bay if al-Qaida terrorists had captured Americans.
"I could see myself authorizing that type of a transfer," Cain said, before saying he wouldn't negotiate with terrorists.
Cooper followed up asking if such a trade would be negotiating with terrorists and Cain backpedaled, saying he didn't remember the details of the previous question.
"I don't recall him saying it was al-Qaida related," Cain said.
Candidates got the chance to say whether or not they would cut defense spending to help balance the budget.
"Defense spending is on the table," Bachman said, referencing the proposed $500 million cut mentioned by the questioner. "But we cannot cut it by $500 million."
Gingrich said "I'm a hawk but I'm a cheap hawk." But he added putting up the $500 million number as a target was "suicidally stupid."
Ron Paul said, "We have an empire, we can't afford it."
Santorum said: "I would absolutely not cut one penny of military spending."
–Benjamin Spillman
*******
Candidates address housing crisis, bailouts (posted 6:26 p.m.
Around the midway point of the debate, the candidates finally addressed the foreclosure crisis, which is more acute in Nevada than anywhere else.
It was a tricky question for the contenders, as Republicans in general support hands-off policies but didn't want to appear callous toward homeowners and people facing foreclosure.
Santorum sought to throw the rest of the field off balance by accusing Perry, Romney and Cain of supporting the Troubled Asset Relief Program, or TARP, derisively referred to as a bank bailout.
"The problem is in the first place, several people up here, the quote "business people," supported the TARP, supported the bailout," Santorum said.
Both Cain and Perry seemed to waver a bit in their responses. Perry denied he sent a letter supporting the bailouts, saying he supported action on the economy but not the specific legislation, even though Santorum said the bailout legislation was the only plan on the table at the time.
"I know what the intention was, you can read it any way you want," Perry said.
Cain acknowledged he supported the concept of the bailouts, but added he later balked when he heard the details.
"I supported the concept of TARP," Cain said. "I was then against it, and I am owning up to that."
During a subsequent question about the Occupy Wall Street protests, Paul said people are right to point the finger of blame for the economy toward big banks and the government, particularly the federal reserve.
"The bailouts came from both parties," Paul said. "Guess who they bailed out, the big corporations."
–Benjamin Spillman
*******
Perry, Romney get personal on immigration (posted 6:06 p.m.)
During a discussion about immigration, Perry accused Romney of hiring illegal immigrants.
"You hired illegals in your home and you knew about it for a year," Perry said
The attack drew gasps from some audience members but it was tough to tell if it stuck, as "boos" filled the hall as Perry tried to talk over Romney during the response.
Still, Romney did acknowledge that illegal immigrants worked for a lawn care company that worked at his home.
"We hired a lawn company to mow our lawn and they had illegal immigrants to work for them," said Romney, who said he went to the company and told them to send only legal workers to his home.
"I'm running for office for Pete's sake we cant have illegals," Romney said he told the company.
But Perry may have undermined his attack by continuing to pester Romney during the response, giving Romney a chance to turn it around by seeking to portray Perry as boorish.
"This is a tough couple of debates for Rick and I understand that and you are going to get testy," Romney said.
–Benjamin Spillman
*******
Candidates quick to attack frontrunners (posted 5:57 p.m.)
Although the introductions were cordial, it didn't take long for the knives to come out, with frontrunners Romney and Cain the main targets.
The first question from an audience member was about taxes, specifically about how the federal government should address income tax and a potential sales tax, as proposed by Cain's "9-9-9" plan.
It didn't take long for the respondents to turn it into an attack on Cain's plan.
Bachman described a possible federal income tax a slippery slope.
"Anytime you give congress a brand new tax it doesn't go away," said Bachman.
The attack put Cain on the defensive while others piled on.
Perry repeatedly called Cain "brother" throughout his attack on Cain, and previewed a plan of his own he said is forthcoming.
"I'll bump plans with you brother and we'll see who has the best ideas to get this country working," Perry said.
Cain called criticism of the plan "knee-jerk" and urged viewers to read more on his website.
"It is a jobs plan, it is revenue neutral, it does not raise taxes on those who are making the least," Cain said.
Cain also characterized it as a simplification that is mostly opposed by bureaucrats and accountants who he says benefit from a complicated tax code.
"They don't want to throw out the current tax code and put in something that is simple and fair. They want to continue to manipulate the American people with a 10 million word mess."
Almost as quickly as the pack turned on Cain, they then turned to Romney and sought to hang a health care plan he implemented as Massachusetts governor around his neck.
They compared it to the Patient Protection and Affordable Care Act of 2010, a signature accomplishment of the Obama administration that many Republicans vehemently oppose.
"Your plan was the basis for Obamacare," Santorum said.
It led to some early feistiness, with Romney seeking to defend himself while others spoke over him.
"This is something that was crafted for Massachusetts," Romney said of the state program. "It would be wrong to adopt this as a nation."
–Benjamin Spillman
*******
Candidates introduces themselves to boisterous audience (posted 5:34 p.m.)
After an opening ceremony, moderator Anderson Cooper of CNN gave all seven candidates a chance to introduce themselves to the boisterous audience in the convention center.
It was an opportunity for all to give short definitions of themselves and they clearly tried to capture the spirit of their campaign, be it family values, the economy or admiration for the United States Constitution.
Former U.S. Senator Rick Santorum, R-Penn., mentioned his seven children and name-dropped daughter Isabella, 3, who he said had minor surgery today.
"I love you and will take the red eye home tomorrow to be with you," Santorum said looking directly into the camera.
Rep. Ron Paul, R-Texas, stuck to his theme as the liberty candidate and plugged his trillion dollar budget cut proposal.
"I'm the champion of liberty," Paul said. "I'm the only one who has offered a balanced budget in a sincere method."
Former Godfather's Pizza CEO Herman Cain tried to have it both ways, mentioning his wife of 43 years and his 42-year career in business.
"I solve problems for a living," Cain quipped.
Former Massachusetts Gov. Mitt Romney, the frontrunner being pursued by Cain, followed suit, emphasizing his career in business and leader of the winter Olympics in Salt Lake City.
"I also solve problems … and I hope to be your president," Romney said.
Texas Gov. Rick Perry, who wants to establish himself as the anti-romney, who is mistrusted by many hard core conservatives, sought to contrast himself with the frontrunner.
Perry described himself "a proven job creator and a man who is about economic growth. An authentic conservative, not a conservative of convenience."
Former House Speaker Newt Gingrich used the introduction ingratiate himself to the Nevada audience by riffing on comments more than a year ago by President Barack Obama who said people shouldn't waste money on trips to Las Vegas.
"Unlike President Obama, I'm glad to be in Las Vegas, I think it is a great place to have a convention," Gingrich said, before shifting to the "class warfare" theme Republicans use to hammer Democrats. "When I am president we are going to replace class warfare with cooperation so all Americans can get off food stamps and onto paychecks."
Rep. Michelle Bachman, R-Minn., also took the opportunity to drop a Nevada-centric line.
"This is one night where i hope what happens in Vegas doesn't stay in Vegas," she said.
–Benjamin Spillman
*******
Analysts offer last-minute thoughts on candidates (posted 4:50 p.m.)
With the curtain about to go up on CNN's much-hyped GOP debate at the Sands Expo Center, analysts offered some last-minute armchair analysis on the front runners, Godfather's Pizza chain CEO Herman Cain, Texas Gov. Rick Perry and former Massachusetts Gov. Mitt Romney.
Political analyst and former adviser to four past presidents David Gergen said Cain has a chance to use the Las Vegas as a springboard to credibility.
"If he can convince people he is a serious candidate and not just the flavor of the month he can be the anti-Romney," Gergen said of Cain.
Ari Fleischer, press secretary to former President George W. Bush, said Perry needs to recover from speaking gaffes in previous debates and show a crisp delivery to stay in the race, which has seen Cain pass him as the leading alternative to frontrunner Romney.
"He has the ability to do it," Fleischer said of Perry. "He just needs to be articulate and on point. I just can't understand why he has not done that (previously)."
Kevin Madden, a spokesman for Romney during the former governor's 2008 presidential campaign, said Romney's challenge will be to maintain whatever momentum he already has.
In short: don't screw up.
"When he gets up on stage the contrasts emerge," Madden said of Romney's polished presentation. "He has the most command and control on all the issues everybody cares about."
— Benjamin Spillman
*******
Protesters gather outside Sands Center (posted 4:00 p.m.)
By 3:30 p.m. about 50 protesters had gathered along the sidewalk outside the Sands Expo Convention Center, saying they wanted to send a message to the Republican candidates.
They chanted, "Talk to Nevadans!" and carried signs that read, "Job creation now!" and "Stop corporate greed!"
"Basically, everybody's mad at the Republicans," said Laura Martin, a local activist who showed up because she's upset at Republicans who want to repeal the new federal health care law. "They're not listening to us."
Astrid Silva, a member of Dream Big Vegas — a group of students who advocate for comprehensive immigration reform that includes a path to citizenship for students who came to the U.S. as children — said Republicans haven't taken Hispanics seriously.
Candidates have refused to appear on Spanish-language television because they know their conservative views on immigration could sink them, Silva said.
"They are hiding their views because they know immigration and jobs are the top two issues for Latinos," Silva said. "We are 26 percent of the electorate. They need to listen to us and pay attention."
— Laura Myers
Reid lashes out at Romney on foreclosure comments (posted: 2:20 p.m.)
Several hours before Tuesday's CNN debate, U.S. Sen. Harry Reid, D-Nev., demanded Mitt Romney apologize for saying in an interview with the Las Vegas Review-Journal that the home foreclosure crisis should "run its course" so private investors can buy houses that homeowners can no longer afford.
Nevada has the highest home foreclosure rate in the nation with about two-thirds of homeowners "underwater," owing more than a house is worth.
"Mitt Romney owes the thousands of Nevada families struggling to keep a roof over their heads an apology," Reid said in a statement. "Once again, Mitt Romney is demonstrating he's more concerned with big Wall Street banks than middle-class families. With the highest foreclosure rate in the nation, Nevadans can't afford someone in the White House whose response to this crisis is 'tough luck'."
In the Monday interview with the Review-Journal's editorial board, Romney said that the home foreclosure crisis has lingered because President Barack Obama has been trying to prop up homeowners with programs that don't work and so the best solution is to let some homes go into foreclosure.
"Don't try to stop the foreclosure process. Let it run its course and hit the bottom," Romney said. "Allow investors to buy the homes, put renters in them, fix the homes up and let it turn around and come back. The Obama administration has slow walked the forclosure process … that has long existed and as a result we still have a foreclosure overhang."
— Laura Myers
*******
All eyes will be on Cain, Perry debate performances (posted: 1:27 p.m.)
The hottest spotlight will be on Herman Cain and Rick Perry at Tuesday's GOP presidential debate at the Sands Expo Convention Center in Las Vegas that begins airing live at 5 p.m. on CNN.
Even before the candidates take the stage, the pundits are wondering whether Cain, the former CEO of Godfather's Pizza, can defend his position at the top of the polls against Mitt Romney, the man to beat in a Republican field full of conservative challengers.
Cain also needs to defend his 9-9-9 plan that's been getting lots of criticism for proposing setting personal income, corporate and national sales tax rates at 9 percent each to replace the current tax code.
Cain said he knew that he would get more scrutiny as his campaign did better. "You've got this big bull's-eye on your back, and that bull's-eye is just getting bigger," Cain said in an interview with CNN.
As for Perry, the Texas governor has turned in four lackluster debate performances in a row, and so the question is whether he'll use his first campaign stop in Las Vegas to score some much needed points.
"All eyes are going to be on Herman Cain, but my question is, 'Does Rick Perry show up?'" CNN commentator John King said in a live shot at mid-day Tuesday outside the Venetian, where the Sands debate takes place. "And is he as feisty at the end as he is at the beginning?"
CNN, which is co-sponsoring its third debate so far this campaign season, was running a near-constant stream of pre-debate analysis Tuesday, building excitement for the fifth face-off since Labor Day.
Tuesday's Las Vegas debate will be the last one until Nov. 9, when the Republican candidates still in the race will meet again in Michigan.
A new poll CNN of Republicans nationwide showed Romney with 26 percent support followed by 25 percent for Cain and 13 percent for Perry, a big drop-off since his late entry in the race in August.
Others sharing the Las Vegas stage will be U.S. Rep. Ron Paul of Texas, U.S. Rep. Michele Bachmann of Minnesota, former House Speaker Newt Gingrich and former U.S. Sen. Rick Santorum.
Former Utah Gov. Jon Huntsman was boycotting the debate to protest Nevada Republicans' refusal to move their GOP presidential caucuses from Jan. 14. New Hampshire's secretary of state wants Nevada to move later in January so the state can set its first in the nation primary date to Jan. 10 and still have a week between contests.
Iowa's first caucuses are scheduled for Jan. 3 and South Carolina's primary is scheduled for Jan. 21. All four sanctioned early voting states had to move up their voting after Florida broke the Republican National Committee rules and sets its primary for Jan. 31.
At least 250 members of the media from across the nation and around the world were credentialed to cover Tuesday's debate. The press filing center was set up in a separate hall from the debate. Tables covered in white linen were lined up on a football field-size floor in front of more than a dozen big screen TVs and huge black speakers.
CNN brought in its biggest talent for the presidential debate show.
Anderson Cooper was moderating the debate. And Wolf Blitzer, Erin Burnett and John King were doing analysis in shows before and after.
During the day, each of the candidates was getting a chance to tour the debate hall and get comfortable with the set-up that will include at least 1,500 members of the audience. Some of those sitting in the "red zone" will get to ask questions of the candidates as well.
And no debate would be complete without a few celebrities on hand.
Wayne Newton, a well-known Las Vegas entertainer, is planning to attend the debate and he'll be interviewed by King on CNN, too.
And the national anthem will be sung by Anthony Crivello, who sings in the "Phantom Las Vegas Spectacular" show at The Venetian.
So is it unusual for a presidential debate to be held at a hotel-casino, although The Venetian's Sands is an attached convention hall?
Yes.
During the 2008 campaign, Democrats Barack Obama and Hillary Clinton debated twice in Las Vegas– once at the Cashman Center and once at the University of Las Vegas. The two candidates ended up splitting Nevada delegates, and Obama went on to win the White House.
There are no reports whether he won anything at the tables, however.
— Laura Myers