GOP, Democratic Party send envoys to Las Vegas
October 24, 2008 - 9:00 pm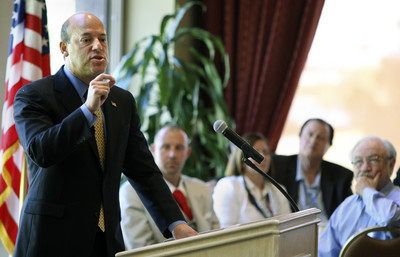 On one side of Las Vegas Thursday, Democratic National Committee Chairman Howard Dean was all smiles as he gave an "attaboy" to Democratic campaign workers. On the other side of town, former White House Press Secretary Ari Fleischer took a grave tone as he warned a group of Jewish Republicans not to trust Democratic presidential nominee Barack Obama.
Both men are touring the nation for their respective parties as the election looms into view, and both happened to choose Thursday for their stops in Nevada, one of the nation's most closely contested states in the race between Obama and Republican nominee John McCain.
Dean walked through offices for Obama's campaign and that of congressional challenger Dina Titus on Sunset Road near the intersection with Pecos Road, shaking hands and taking pictures with staffers.
"No pressure, but if we don't win, this country's going to go down the drain," he joked. He commended local Democrats on turnout so far, which appears to favor their party, but urged them not to get comfortable: "Early voting is a major part of our strategy, but we can't let up," he said. "There's 12 days to go and it's not over until Election Day."
Obama, he said, represents "generational" change for the country. Dean, the former governor of Vermont and a 2004 presidential candidate, once was the front man for a youth movement himself, but lost that year's primary to Sen. John Kerry of Massachusetts.
As DNC chair, Dean has sought to make Democratic inroads in the Western U.S., helping Nevada get an early presidential caucus and Denver land the party's national convention in August. "I do believe the road to the White House leads through the West," he said. "That's why I'm here."
Shortly after Dean's visit, Fleischer, the first press secretary to President Bush, gave a speech to the Las Vegas chapter of the Republican Jewish Coalition. Billed as an "insider's look" at the election, the talk was more of a red-meat speech to the small core of GOP faithful still loyal to Bush, whom most Republicans have sought to distance themselves from lately.
Fleischer spent most of his remarks sowing doubts about Obama's potential loyalty to Israel based on his statements and associations with "some of the most unsavory, frightening people."
Rather than attending a campaign event at the Chicago home of the 1960s radical William Ayers, Fleischer said, Obama should have said "no thank you."
Obama, Fleischer said, has lent an ear to various advisers who have expressed degrees of sympathy with Palestinians or doubts about Israeli policies. In a debate, he noted, Obama did not initially name Israel when asked to cite America's top three allies, and he has promised to negotiate with Iran.
"I believe if Barack Obama had been president when Israel was building its security fence, he would have pressured Israel not to build that wall," Fleischer said.
Contact reporter Molly Ball at mball@reviewjournal.com or 702-387-2919.