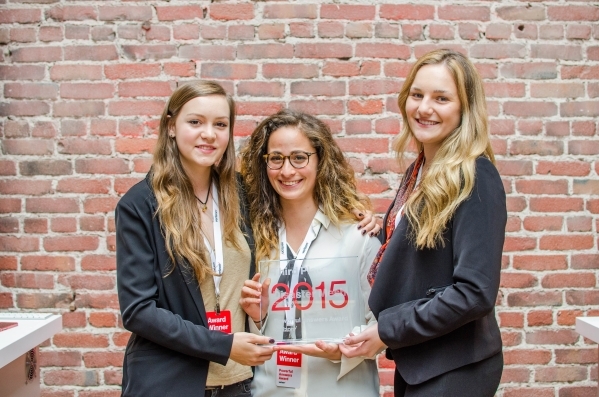 More than 1,400 student entrepreneurs set out to develop ideas that would have a global impact in a summer program held last year.
This year, the ideas generated by those young entrepreneurs were judged by Verizon's 2015 Powerful Answers Award contest.
Katelyn Dunn, senior class president at Bishop Gorman High School, and her two peers, Margaux Giles and Karla Dana, took third place for their concept, Disaster Mesh, an air-deployable, wireless mesh network created for disaster relief. Their win came with a $250,000 prize to develop it further.
"The thing that is most impressive is her follow-through with the project," said Bridget Michlik, director of advancement at Bishop Gormandi, 5959 S. Hualapai Way. "This was, you know, such an infancy of an idea, and they took it and really fostered it and grew with it and weren't intimidated by the process and the experience of all the other contestants. They ran with it. It never crossed their minds that they couldn't do it. That's something we really try to foster here at Bishop Gorman, that sense of that entrepreneurial spirit."
Dunn was involved in a summer program held at Singularity University in Mountain View, Calif., during 2014's summer break. It was there that the idea for Disaster Mesh was formed.
"Our final project was to come up with a way to use cutting edge and exponential technology to solve one of the world's major problems," Dunn said, adding that the project had an empathy aspect to it. "And we connected on our want to help those affected by natural disasters. We had had an idea for a Wi-Fi box that people could use, sort of like a giant hotspot."
The trio located people who had either experienced a disaster or knew of someone who had and found three people who told them that one of the greatest needs was for survivors to be able to communicate with family.
Originally, it was seen as a way to do only that, "but after doing some research, we found that was already kind of happening," Dunn said. "So we just bounced around an idea of how we could provide connectivity to the masses, and once we found this idea of a mesh network, we settled into that and tailored our approach."
The official description of the idea reads, "The DisasterMesh EPN (Ephemeral Physical Network) uses small devices, or 'Seeds,' that serve as the network's nodes, spread over the disaster area. These nodes are in the shape of the maple seed, allowing them to float down softly. The devices will be produced in mass numbers and air dropped into the disaster location by plane, helicopter, or drone. The aerodynamic 'Seeds,' or access points, are optimized for extreme weather conditions. Once the survivors connect to the network, they are directed to a landing page consisting of six options survivors can easily select: (1) 'I'm trapped,' (2) 'I need medical help,' (3) 'I need shelter,' (4) 'I need water,' (5) 'I need food,' (6) 'I'm okay, continue to network.' The collected information, GPS coordinates and names of the survivors are then organized and distributed to relief organizations."
Disaster Mesh's components are still in conceptual form. The Verizon money will help the trio build it out in the next year. Testing will follow to ensure it works. They will then deploy it both nationally and internationally, likely leasing it to entities such as the Federal Emergency Management Agency and the American Red Cross.
The empathy aspect of the project had the trio going online to find "really sad and upsetting photos," Dunn said. "It was not the best activity. One of my colleagues found a picture of a woman after the Haiti earthquake. She was carrying two jugs of water through, like, miles and miles of rubbish, and she was barefoot, and I personally connected with that. It hit me the most out of all the ones we looked at that day, and the same effect happened to the others on (the team) as well."
For now, Dunn and her peers are proceeding with the design, aiming for the day it will be a viable product to help others. Dunn, who enjoys computer programming, is working on that end of it.
She said Bishop Gorman has been supportive even when the balance of her school work and Disaster Mesh were at odds with each other.
Oddly, Dunn hadn't planned to spend her summer at Singularity University. She only learned about it two weeks before it was held and signed up for it on a whim.
"It was the best thing I ever stumbled upon," Dunn said.
— To reach Summerlin Area View reporter Jan Hogan, email jhogan@viewnews.com or call 702-387-2949.