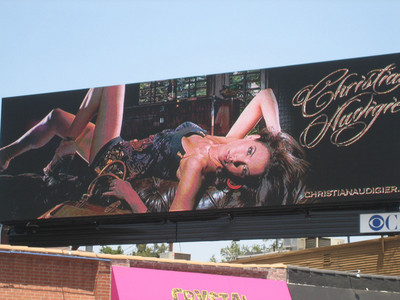 You couldn't miss beleaguered Nevada Gov. Jim Gibbons at the Ultimate Fighting Championship event Saturday.
He was seated on the apron of the octagon, near the judges, and in full view from most camera angles.
Later, he was spotted on the dance floor at Tao nightclub at The Venetian, chatting with former Nevada Attorney General George Chanos and "Titanic" actor Billy Zane.
An old saying comes to mind: When you're being run out of town, act like you're leading a parade.
You'd never know this was a governor with abysmal approval ratings, a messy divorce, one of the state's worst budget crises and a never-ending string of negative headlines.
Gibbons' high-profile seat at the UFC event at Mandalay Bay and the appearance at Tao suggest he's living in a "Happy-Days-Are-Here-Again" world.
He was spotted snapping photos of celebrities at the UFC fight and in a private sky box at Tao with a couple who appeared to be in their mid-30s.
SARAH CAMPAIGN UNDER WAY
Sarah Larson's first billboard as the face of Christian Audigier's clothing line was unveiled over the weekend on Melrose Avenue in Hollywood.
Larson's status with Audigier has been in question since she did not appear at the opening Friday of Christian Audigier the Nightclub at Treasure Island.
Kenya Knight of Nous Model Management in Los Angeles said Larson "had family in town" and had a commitment in San Diego, and was unable to attend the opening.
CHANNEL 13 SHAKEUP
KTNV-TV, Channel 13, morning anchors Rikki Cheese and Ron Futrell were informed this week that they are being moved to reporting jobs.
They were teamed up about five years ago with weatherman Mark Pfister.
Casey Smith, former morning anchor at KLAS-TV, Channel 8, has moved to the morning anchor desk with Tiffany Sargent. Evening anchor Steve Wolford will take on the additional duties of the 4 p.m. newscast.
The morning team of Cheese, Futrell and Pfister reached No. 1 in the 6 a.m. time slot about two years ago. Futrell, the station's sports director for 20 years before the switch to news, confirmed that he is out as anchor but declined to comment on rumblings that his contract won't be renewed in five months.
Futrell said he has no plans to leave Las Vegas. "My family is here, my life is here, so I'm staying here in some capacity." He added that Cheese "has been an absolute joy to work with."
THE SCENE AND HEARD
Turns out, Caesars Palace headliner Elton John vacated his suite at the hotel about two years ago. A falling-out? Not according to an insider, who says it was a case of Elton and his team falling in love with the Rio's Palazzo Suites. …
Today's Women in Communication luncheon at Maggiano's at Fashion Show mall features a roundtable discussion with four local female TV anchors. The lineup includes: Paula Francis of KLAS-TV, Channel 8; Monica Jackson of KVVU-TV, Channel 5; Tricia Kean of KTNV-TV, Channel 13; and Kimberly Wagner of KVBC-TV, Channel 3. Tickets: call 991-9991 or visit www.women incommunicationslv.org.
SIGHTINGS
At the Palms Place Swim-With-the-Fishes pool party Tuesday; Lindsay Lohan's galpal DJ Samantha Ronson; illusionist David Blaine; motocross legend Carey Hart; UFC's Dana White, Chuck Liddell and Lorenzo Fertitta; chefs Paul Bartolotta and Jeff Henderson; Planet Hollywood's Robert Earl; UNLV basketball star Joe Darger; author Michele Jaffe; Luxor President Felix Rappaport; Jeff Beacher; food critic John Curtas; and Las Vegas dealmaker Jack Wishna.
PUNCH LINE
"It was so hot today, John McCain offered a $300 million prize to the first person to develop a prune Slurpee." — Jay Leno
Norm Clarke can be reached at (702) 383-0244 or norm@reviewjournal.com. Find additional sightings and more online at www.normclarke.com.