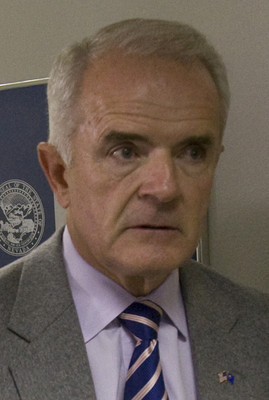 Gov. Jim Gibbons' club-hopping continued this week.
He was spotted at the Hard Rock Hotel, chatting with celebrities at "Wasted Wednesdays," the kickoff event for the newly opened Wasted Space lounge, site of Nicole Ritchie's blowup at a fan last Saturday.
The governor walked over to a table where former state attorney general George Chanos was seated with actor Billy Zane, Arizona Cardinals quarterback Matt Leinart, A.J. McLean of the Backstreet Boys, John Dolmayan of System of a Down, and former major leaguer Marty Cordova.
Gibbons was seen on the dance floor at Tao nightclub at The Venetian on Saturday, conversing with Chanos and Zane after hanging out with a younger couple in a Tao VIP area.
A bottle of tequila, a brand known as 1800, was on Gibbons' table, according to spies.
In an interview last October, first lady Dawn Gibbons said the governor "has a glass of wine once in a while."
Gibbons told police he had two glasses of wine the night of the incident with Chrissy Mazzeo, the 32-year-old cocktail server who accused the governor of making unwanted sexual advances on Oct. 13, 2006.
Gibbons was seen earlier Saturday with the couple at the Ultimate Fighting Championships event at Mandalay Bay.
The governor obtained an unidentified number of tickets to the UFC event through the Nevada Athletic Commission, which is standard practice for a state event, according to Elisabeth Shurtleff, the commission's public information officer.
"There was nothing inappropriate" about accepting the tickets, she added.
Gibbons and his party were seated on the apron of the UFC octagon, which would qualify as the best seats in the house. The UFC confirmed that their highest-priced tickets for the event went for $800 each.
State law requires elected officials to file annual financial disclosure statements that list all gifts valued at more than $200 along with who gave them.
"We're keeping a record of all the gifts and we'll disclose those as appropriate," said Ben Kieckhefer, the governor's press secretary.
Senate Democratic Leader Harry Reid got in hot water in 2006 when he accepted ringside tickets from the Nevada Athletic Commission to three professional boxing matches. He received the comped tickets while that state agency was trying to influence him on federal regulation of boxing.
According to the Associated Press, which broke the story, "U.S. Senate ethics rules generally allow lawmakers to accept gifts from federal, state or local governments, but specifically warn against taking such gifts — particularly on multiple occasions — when they might be connected to efforts to influence official actions."
THE SCENE AND HEARD
David "The Bullet" Smith, who holds Guinness world records as a human cannonball, will perform his daredevil feat today at 11 a.m. at Findlay Toyota, 7733 Eastgate Road in Henderson.
SIGHTINGS
ESPN's "Sports Center" anchor Stuart Scott, with his wife at the pool at New York-New York on Friday. He's been filming at ESPN Zone. … NFL Hall of Famer Lawrence Taylor and Jason Taylor of the Miami Dolphins, dining at The Country Club (Wynn) on Thursday. St. Louis Rams running back Steven Jackson had dinner there Thursday night. …
International magician Hans Klok, filming a Dutch documentary Friday inside Miracle Mile Shops at Planet Hollywood Resort & Casino. … Talk-show host Montel Williams, dining at Rick Moonen's RM Seafood inside Mandalay Bay on Thursday night. Chef Moonen served up sushi and lobster and crab tempura to Williams and friends. …
Chef Kerry Simon, hosting a private birthday dinner for Nick Ribis, owner of the Las Vegas Hilton, and a large group of his friends at Simon at Palms Place Thursday night. There are rumblings that Ribis and Simon are working on a deal for a restaurant in one of Ribis' Atlantic City casinos. …
The witty troika of Bobby Slayton, David Brenner and George Wallace, breaking bread at Empress Court at Caesars Palace. …
Bette Midler, holding a surprise book signing after her show Wednesday at the Colosseum at Caesars Palace. She made the announcement during her show and spent from 10 p.m. to 2 a.m. signing books for the 400 who gathered on the Colosseum steps…
Basketball legend Julius "Dr. J" Erving, cooling off with Perriet-Jouet champagne at Caramel Bar & Lounge at Bellagio during "The Dark Night" movie ticket release party on Wednesday evening.
THE PUNCH LINE
"Osama bin Laden's teenage son, Timmy bin Laden, has released a poem calling for the destruction of America and the killing of all its allies. Imagine a kid writing something like that. Here's my question: Where are the parents?" — Jay Leno
Norm Clarke can be reached at (702) 383-0244 or norm@reviewjournal.com. Find additional sightings and more online at www.normclarke.com.