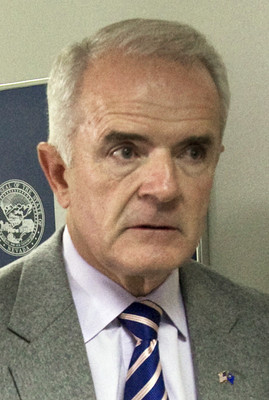 CARSON CITY — Gov. Jim Gibbons will not appeal a judge's decision to let the public read legal briefs and other documents he has filed in the divorce case against his estranged wife, former Assemblywoman Dawn Gibbons, his lawyer said today.
"The governor does not agree with the court's interpretation of the law concerning the sealing of divorce files. We believe such a ruling will eventually be overturned," said the governor's lawyer, Gary Silverman of Reno.
"However, the governor will not seek a stay or seek to overturn the decision in his case. He will obey the court's ruling and abide by it," Silverman said.
The decision means that Washoe County Family Court Judge Frances Doherty in March will open briefs and other documents filed in the divorce case to public inspection. She also could decide to open the divorce trial to the public.
Silverman said it was his opinion, but not the governor's, that the Doherty decision "jeopardizes innocent people to identity theft and criminals, inhibits honest claims on delicate subjects, and has no public use except to encourage voyeurism, gossip and ugliness. Just what the press ordered."
Dawn Gibbons' lawyer, Cal Dunlap, said today that he does not know of anything that his client wants sealed in the divorce case. She is living in an apartment on the grounds of the Governor's Mansion.
Dunlap said that because of a confidentiality agreement with Silverman, he could not say what advantage Dawn Gibbons might gain having the records opened to the public.
He also refused to make any comments about the governor's relationships with other women.
Nonetheless, Dunlap said the public has showed interest in learning about the extramarital affairs of people such as former President Bill Clinton and former presidential candidate John Edwards.
"If a public official tells his wife 'I found another person and I am going to leave you for another woman,' while telling the public it was a mutual decision to divorce and 'I am not sleeping around,' then that would be interesting to the public," said Dunlap, emphasizing he was only giving an example of why records should be opened in some cases.
He added that community property in Nevada divorces is divided equally among the affected parties and it might be interesting for the public to find whether a public official is spending community property "wining and dining other women."
Dunlap said he does not want to complete the divorce until property mutually owned by the couple is settled. The couple put their Reno home up for sale in November for $1.5 million.
He said the governor also should be ordered to sell 40 acres of land he purchased in Elko in 2007 for $575,000. The governor does not want to sell this land, he said.
The sale of community property is important because prices could change dramatically.
"In this day and age it is depleting (in value)," Dunlap said. "What is worth $1 million today might be worth a half-million next year."
Doherty on Friday ruled that records in the case should not have been sealed, but she gave the Gibbonses a 60-day period to prepare arguments over what portions of the divorce case should be sealed.
The governor filed for divorce May 2 from Dawn Gibbons, who has been his wife for 22 years. He cited "incompatibility in marriage."
They have a son, Jimmy, a cadet at the U.S. Merchant Marine Academy in New York. Jim Gibbons has two children from a previous marriage.
On May 5, Carson City District Judge Bill Maddox ruled that all records in the case would be sealed and that the trial would be conducted in private.
He acted under a 1931 law that allows one party in a divorce action to seal records and request a closed divorce hearing. The law states such requests "shall" be honored by the judge in the case.
Dunlap filed a motion to open the case to the public in June, saying that the real reason Jim Gibbons wanted a divorce was because he had been involved with another woman. The lawyer called this woman a "marital intruder" who virtually stalked the governor.
The woman was later identified as Kathy Karrasch, the estranged wife of Reno podiatrist C. Craig Karrasch. Gibbons later compensated the state for the costs of sending more than 700 text messages on a state-owned phone to Karrasch during a two-month period in 2007.
The governor denied he had an affair with Kathy Karrasch, calling her a good friend whom he has known for more than 15 years.
He later also denied reports that he was anything more than a good friend of Leslie Durant, a married Reno woman with whom he had been photographed at public events. She is a former Playboy magazine model.
Because Doherty's ruling is not being appealed to the state Supreme Court, it's not expected to affect other prominent Nevada divorce cases, some whose records have been sealed for more than 50 years.
Contact Capital Bureau Chief Ed Vogel at evogel@reviewjournal.com or 775-687-3901.