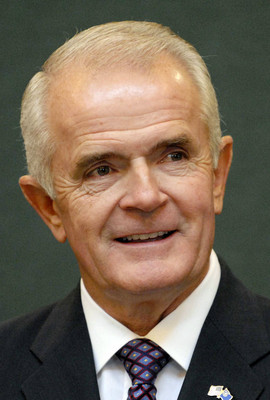 CARSON CITY — Gov. Jim Gibbons has posted a large banner over the entry to his office in the Capitol that reads: "The people of the state of Nevada deserve a government that works for them, not against them."
Gibbons' communications director, Daniel Burns, said the message is not meant as a stab at the Legislature, with which Gibbons has vast differences, but a reminder to staff members that their job is to serve the people.
"He didn't make it up," Burns said about the phrase, explaining that it often has been used by the military and governors in other states in their state of the state messages.
"We should have it in every state office," Burns said. "It is a statement that the governor wants every state employee to think about."
He said the idea came from Mendy Elliott, Gibbons' deputy chief of staff.