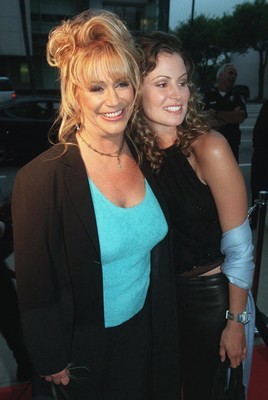 LOS ANGELES — Marilyn Chambers, the pretty Ivory Snow soap girl who helped bring hard-core adult films into the mainstream consciousness when she starred in the explicit 1972 movie "Behind the Green Door," has died at 56.
The cause of death was not immediately known. A family friend, Peggy McGinn, said Chambers' 17-year-old daughter found her body Sunday night.
Chambers, also known as Marilyn Ann Taylor, and then-husband/manager Chuck Traynor were fairly high-profile Las Vegas residents during the 1980s, when they co-owned a local gun and survival store. Chambers also performed on Las Vegas stages in the 1970s.
Chambers and fellow actresses Linda Lovelace and Georgina Spelvin shot to fame at a time in the early 1970s when both American social mores and the quality of hard-core sex films were changing.
For the first time, films like "Behind the Green Door" and "Deep Throat" — released in 1972 and starring Lovelace — had decent acting and legitimate if fairly thin plots.
But "Behind the Green Door" brought something more in Chambers, who had begun her career as a legitimate actress and model.
While the film was still in theaters, the public learned that its star was the same young blonde smiling and holding a freshly diapered baby on boxes of Ivory Soap. The manufacturer quickly replaced her, but it was later discovered that she also had a small role in the 1970 Barbra Streisand film "The Owl and the Pussycat."
In October 1974, Chambers performed in the dinner-theater comedy "Mind With the Dirty Man" at the Union Plaza, a period when she was attempting to spin her notoriety into nonporn endeavors. She returned to the Plaza stage in early 1978 for "Last of the Red Hot Lovers."
By 1979, Chambers was back in sex films and onstage for a short-lived engagement in the one-woman show "Sex Surrogate" at the Jolly Trolley casino. The show drew the ire of local officials because full nudity is banned in casinos with unrestricted gaming.
In 1981, Chambers was a Clark County resident and well-known enough that a routine summons for jury duty caused a courthouse stir and generated newspaper coverage. She was dismissed after explaining to the judge, "I'm an entertainer, and I have to be in Cleveland Wednesday for an engagement."
In 1982, Chambers and Traynor invested in The Survival Store, backing operating partner Bob Irwin in the gun store and shooting range at Interstate 15 and Spring Mountain Road. Chambers popularized the "machine gun and bikini" image used to promote the store before she separated from Traynor, controversial for his earlier marriage to Lovelace (Linda Susan Boreman) and her allegations of abuse.
Chambers remained in Las Vegas through the 1980s after her separation from Traynor, who died in 2002. She dated Bobby D'Apice, who later made headlines as the Crazy Horse Too shift manager sentenced to prison for breaking the neck of a customer.
The Las Vegas Review-Journal contributed to this report.